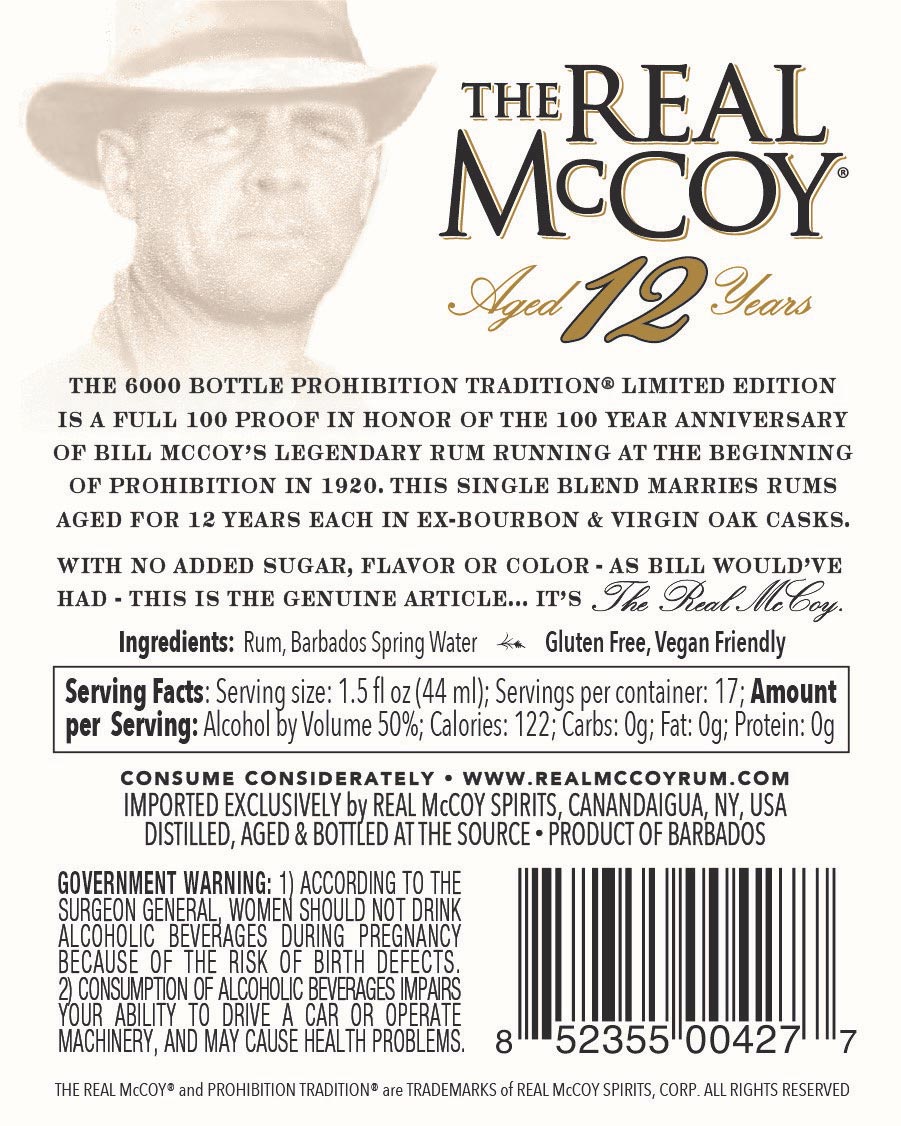 With a goal of transparency, the brand tackles trade bureaucracy
By Dana Slone
The Real McCoy Rum became the first beverage alcohol brand to list Ingredients and Serving Facts on its bottle label.
The U.S. Alcohol and Tobacco Tax and Trade Bureau (TTB) approved the new labels for the 2020 limited edition of The Real McCoy, entitled the "Prohibition Tradition," which arrived on shelves in the United States and Europe in September. "We feel a responsibility to provide transparency to our consumers," said The Real McCoy Founder and CEO Bailey Pryor.
The disclosure of ingredients indicates that The Real McCoy Rum is made of "Rum and Barbados spring water." This is important information, said Pryor, for consumers who are currently not given the opportunity to see if producers of beer, wine and distilled spirits are adding sweeteners, sulfites, animal-based clarifying agents, chemical suspension agents, food-coloring products, preservatives, gluten, propylene glycol and other additives to their products.
"I am allergic to sulfites, and I had a histamine reaction to an alcohol drink at a holiday party that was so extreme I had trouble breathing for more than an hour," said Pryor. "It was terrifying. Transparency in alcohol labeling is a public safety issue. We need new legislation that mandates the listing of additives, especially allergens, on all alcohol labels. If this were in place today, I could have read the label and avoided suffering through an allergic reaction that came close to taking my life."
Among additional concerns are indicating if animal-based clarifying agents are used, information that should be disclosed to vegans and vegetarians, sugar content for diabetics, and for suspending agents and other additives. "I think the addition to alcohol of allergens, animal products, carcinogenic chemicals, gluten and sweeteners should be revealed to consumers, so that they can make informed decisions about what they are putting in their bodies," said Pryor.
The U.S. Food & Drug Administration (FDA) requires the disclosure of ingredients and nutritional information, including Serving Facts, on all prepared foods and nonalcoholic beverages, but there is no government organization that provides oversight and mandates a uniform disclosure format for beverage alcohol, he explained.
"It took us three years to get Ingredients and Serving Facts approved by the TTB. This is not a failure on their part; they are just doing their jobs in an environment that is lacking adequate legislation. We need producers, legislators and consumers to band together for the common good. This happened in the prepared food industry in the 1970s and 1980s, and the world is a better place as a result. Yes, it took some getting used to, but in the end, I think everyone agrees that we are better off with full disclosure than no disclosure at all."
As with food labels, Pryor wants to broaden the case for alcohol beverages. "I think a lot of brands want to be transparent," he explained, "but the process has not been put in place with the TTB like it had been with the FDA." Copying the information from the FDA was the start, as well as font color and size, among necessary label requirements.
Pryor said since his label has set a precedent with the TTB, which included third-party lab tests to verify stated ingredients, his hope is to empower other brands to also voluntarily disclose ingredients. And he is happy to help anyone who wants to register their label similarly.
Multiple suppliers have contacted him from within the rum category since his label was approved. While label real estate is precious for marketing the brand, Pryor said, customers want and need more information regarding allergens and ingredients, which he said could have saved him from the allergic reaction he experienced. If the TTB approves the label, it is just a matter of reregistering the label, he said. If a supplier has an issue, they can cite the example of The Real McCoy Rum.
Pryor, who is based in Stonington, Connecticut, co-founded The Real McCoy Rum in 2013 and its award-winning rums are produced by renowned Master Distiller Richard Seale of Foursquare Distillery in Barbados. His goal is to put together "a coalition" to educate suppliers and legislators at state and national levels. Contact bailey@realmccoyspirits.com to get involved.