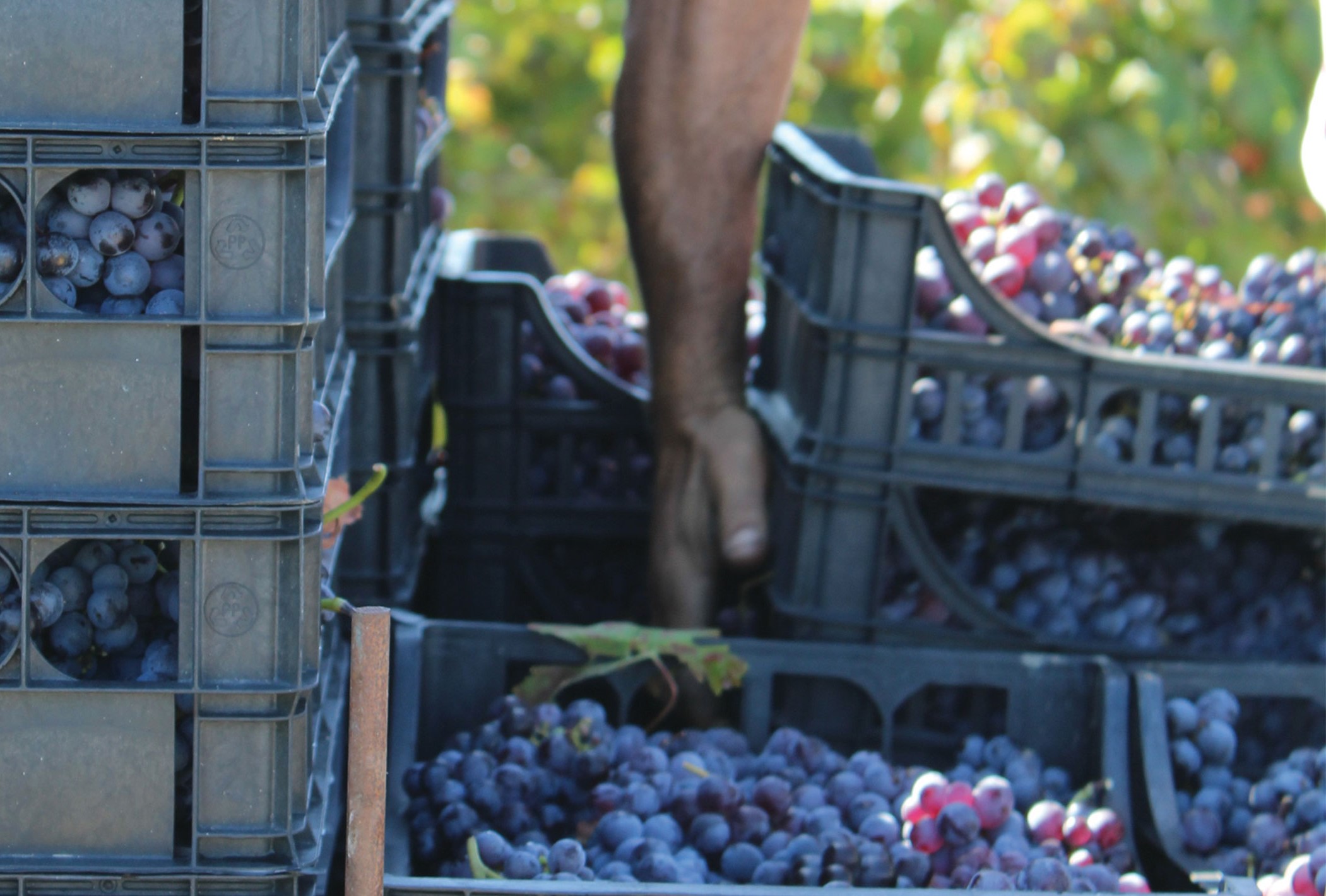 A focus on local grapes, terroir-driven winemaking, and a burgeoning natural wine movement push this overlooked region into the spotlight
By Amy Zavatto
Despite the fervor for once-obscure Italian regions and indigenous grapes, even the most zealous Italophiles haven't tasted much, if any, wine from Calabria.
While this mountainous, sea-rimmed region is home to more native grape varieties than any other region in Italy, and land well-suited to natural winemaking, Calabria—sparsely populated and economically challenged—has been too busy focusing on survival to fine-tune its winemaking tradition.
But that's changing. A growing group of producers is reclaiming Calabria's wine heritage; after all, the slender toe of the country's long boot is where the Greeks planted Italy's first vines, declaring its rich sea-to-mountain landscape "Enotria," or "land of wine." By dialing into their flagship grape variety, Gaglioppo, and elevating many other indigenous varieties, Calabrian winemakers are now crafting world-class wines.
Overcoming Hardship
Historically, Calabria has not had an easy time of it. It is bordered by the Tyrrhenian Sea to the west and the Ionian to the east, with the Strait of Messina narrowly separating the region from Sicily. All this accessibility by boat made Calabria a favorite for settlers and conquerors from the 8th century BC until just about 150 years ago, resulting in an oppressive feudal system that lasted until the 19th century. Plagued with devastating earthquakes, periods of mass exodus, and peasant revolts, Calabria as a region was held back on the world stage into the 20th century.
"Calabria is one of the least populated regions because of emigration and economics," says Marco Salerno, a New York-based Italian wine specialist and part-time winemaker with family roots in both Calabria and Sicily.
Decades ago, coops selling in bulk were the dominant agricultural path to bring in money. "People who don't know wine history and see all these different regions like Barolo and Tuscany, but 15 years ago Barolo didn't exist as we know it today," says Salerno. "Calabria was a main export hub for wine for Rome and Naples, and the wines were shipped all over the world [hundreds of years ago]."
But in more recent years, the region has suffered from serious infrastructure challenges and lack of collective regional support. Calabria has no unifying consortium to promote its wines internationally or support individual producers. Though the region has three airports, only one receives daily international flights, and while there are two rail lines to transport passengers through the rough countryside, the drive by car is a test of internal grit between the many mountain passes and constant road work on main highways.
Not only do these infrastructural challenges hinder curious visitors from becoming familiar with Calabria's wines, but they may also hinder production. Calabria produces just 4.9 million cases of wine per year, compared to nearby Sicily's 69 million annual cases, and a mere fraction of that wine makes its way to export markets. U.S. importers might bring in one Calabrian wine, but the region has nowhere near the representation of Tuscany or Piedmont.
In a world where Sicily's Nerello Mascalese and Campania's Aglianico have achieved recognition among the U.S. wine trade and in-the-know consumers, Calabria's 100 native varieties (the most of any region in Italy) should theoretically be a treasure trove for wine lovers. But it's important to note that before Sicily had Carricante and Nero d'Avola, it had Syrah. The recultivation of that grape in the '80s and '90s drew new attention to Sicilian winemaking, paving the way for international discovery of its native grape varieties.
Calabria has dabbled in international grape varieties, but it never had Sicily's Syrah moment. The closest it came was when Librandi, Calabria's best-known wine export, turned heads with Gravello, a Gaglioppo/Cabernet Sauvignon blend, which won the region's first Tre Bicchieri award.
Shifting Approaches
Some rogue Calabrian producers have been crafting single-producer, Calabria-specific wines for decades, but without collective momentum and a ready export audience, these wines were a bit ahead of their time. Armando Susanna, for instance, co-founded Cantina Enotria in 1974 with Cataldo Calabretta and Gaetano Cianciaruso and began making artisanal, terroir-expressive wines from the Cirò DOC.
Nearly 50 years later, these wines are finally resonating with a market seeking discovery and authenticity. "Wine lovers are always looking for new products to discover," says Armando Susanna, the founder's grandson and namesake. "I think that when authentic and territorial products are offered, if they are good, they have no problem finding their own space on the market."
While Librandi (also located in Cirò DOC) has been selling in the U.S. for decades, they have also noticed a change in market reception. "Selling Librandi today is certainly easier than it was 20 years ago," says Ted Campbell, a senior vice president at Winebow, which imports Librandi. "We used to be more focused in metro markets with educated buyers and consumers. Now, there are lots more applications and other markets in the U.S. today." The winery's heritage, family ownership, and focus on native varieties resonate with modern trade members.
While the early '70s saw wines from Tuscany and Soave entering the U.S. market, Americans—who were just getting their mouths around words like Chianti—weren't ready for the wild, rustic nature of Calabria's key red grape, Gaglioppo, which accounts for about 90 percent of Calabria's production, let alone other local charmers like Magliocco, Greco Bianco, Mantonico, and Pecorello. Local vintners hadn't quite figured out the best techniques for managing these varieties, considering that most were focused on quantity rather than quality.
In the case of Gaglioppo—a thick-skinned, late-ripening grape with rustic tannins—a singular approach didn't do much for the grape's reputation. However, the next generation of Calabrian producers has focused on methods of growing, vineyard management, and production that better express Calabria's native varieties. Producers now know that long macerations and higher altitude plantings tease out Gaglioppo's floral and savory nuances, while some blend it with grapes like Calabrese (genetically the same grape as Nero d'Avola) to soften tannic edges.
In 1993, Nicodema Librandi, cofounder of Librandi, created a spiral-shaped vineyard dedicated to experimenting with indigenous Calabrian varieties, some of them which were nearly extinct. Librandi sought out old vines from all over the region and partnered with the University of Milan to produce the first officially registered clones of Gaglioppo, Mantonico, and Magliocco.
"We want to be Calabria, not 'southern Italy,'" says Nicodema's son Paolo Librandi, who now runs the winery alongside his brother, Raffaele (who is the current president of Cirò's consortium). "We have a strong identity and strong production, so we need to invest in what is specific to us for people to recognize us."
The work of some of these early pioneers has spawned a new generation of winemakers who are invested in crafting high-quality wines from native varieties. "What makes me positive about the future is the number of quality producers, which has grown enormously in the last 10 years," says Librandi. "This change is everything—it means there are young people working hard to be recognized in the market."
A Natural Wine Movement
While the quality of Calabrian wine and amount imported to the U.S. is increasing, these wines are still hand-sells because of overall lack of familiarity. But the region has started to garner support from the U.S. wine trade due to a growing natural wine movement within Calabria.
"There are dynamic Calabrian producers, who are the next generation and often are found in the natural wine corner," says Walter Speller, the Italian wine specialist for Jancis Robinson's Purple Pages. "They are the risk takers and the rebels."
One such group of mavericks getting attention is the Cirò Boys, an informal collective of natural and organic producers that includes Cataldo Calabretta (grandson of the Cantina Enotria cofounder) and Francesco de Franco of 'A Vita. Their collective work is part of what they like to call the Cirò Revolution—a focused effort to express the terroir of Calabria through its native grapes.
Currently, these producers are working on the Cru Microvinification Project, an ongoing initiative started in 2019 that goes further in exploring and noting the differences of the Cirò DOC's unique sub-regions through the Gaglioppo. "Together, we vinified small batches of wine pertaining to vineyards from each sub-region, all made up of Gaglioppo," says Salerno, who has been participating in the project. Reminiscent of the terroir and altitude studies ongoing with Malbec in Mendoza, the Gaglioppo study documents the variety and quality of Cirò's vineyard land, adding a new point of discussion to this overlooked wine region.
Among Calabria's nine other DOCs, Cosenza is echoing Cirò's path with a number of ambitious natural winemakers like Dino Briglio of L'Acino, Eugenio Muzzillo of Terre del Gufo, and Vittorio Maradei, championed by small importers and popular natural wine events like Raw Wine, offering the kind of exposure that previously eluded many small Calabrian producers. "There is so much mass market wine from everywhere that tastes alike," says Michel Abood of Vinotas Selections, who imports Le Moire. "These wines are not just vibrantly alive, but also beautifully respectful of their terroirs and grapes."
Holly Berrigan, the owner of MYSA Natural Wine, a natural wine club and online retailer based in Northampton, Massachusetts, has recently noticed that Calabria is a great source of natural wine at excellent value. "I've had some great [conventional Calabrian wines] in Italy and only had natural producers in the U.S.," she says, "which have been great representations of their most popular styles, with tons of life and at some of the most affordable price points in the natural wine space."
Of course, placing Calabria's future hopes on these natural wine producers comes with challenges, too. "Their international recognition will take time, not least because the volumes they produce are small and the wines often controversial," says Speller. "What needs to be factored in, too, in my opinion is that these mavericks are associated with the natural wine camp first and Calabrian second."
Yet any wine or movement that helps bring the increasingly high-quality wines of Calabria into the wine conversation is a positive, most agree. "What the wine needs is a little bit of promotion by sommeliers, maître d's, and people who sell wine in the retail sector," says Librandi. "If you put wines that say Cirò or Calabria in big chain stores, sometimes the average consumer just doesn't know what to expect."