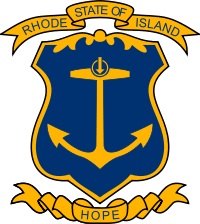 Rising cases extend the "Pause," state agencies add new funds
From Staff Reports
With Gov. Gina Raimondo calling for a state "Pause" beginning on Nov. 30, Rhode Island businesses dealt with their latest hurdle in the COVID-19 pandemic with new restrictions put forth. Through this latest executive order, offices, in-person higher education, gyms and recreation facilities – including the Twin River casinos in Lincoln and Tiverton – were required to close temporarily for two weeks. Other new restrictions included a prohibition of social gatherings for residents with anyone outside of their households.
Facing an inundated hospital system and with the opening of the state's two field hospitals, the goal of the Pause, originally scheduled for two weeks, was to reduce the state's test positive rate to 5% or less by cutting down on social gatherings and any other indoor environments that may be increasing the spread of the virus. In December, the Centers for Disease Control and Prevention reported that Rhode Island had more cases per capita than any other state. As of press time, the test positive rate in Rhode Island was 7%.
On Dec. 10, Gov. Raimondo announced an extension of the Pause, for one additional week, until Dec. 20, due to continued high test positivity rates. On Dec. 9, hospitalizations in the state reached a high of 461, according to the RI Department of Health, and on Dec. 10, there were 948 new virus cases reported and 14 deaths.
"We've seen no decline in hospitalizations and we haven't seen a real significant decline in percent positive since beginning our pause … There is a decline in mobility but not as much as we had hoped to see … because of all of that and because we have pretty scary numbers, we have very high case numbers," she said. "The name of the game between now and the end of the year is 'stick with your household, protect your household.'"
During the Pause, bars were closed and bar seating remained prohibited. Restaurants are mandated to reduce their indoor-dining capacity to 33% occupancy. Other restrictions require that only members of the same household are allowed to be seated together indoors, not to exceed five people per table, and up to two households outside. The state also remains under a stay-at-home advisory, requiring residents to remain in their homes from 10 p.m. until 5 a.m. on weeknights and 10:30 p.m. until 5 a.m. on weekends.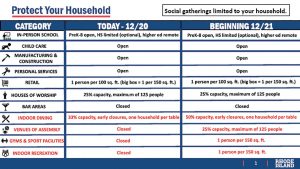 While some of these restrictions remain in place after Dec. 20, restaurants will be able to increase their indoor-seating capacity to 50%. Patrons seeking indoor dining must still be seated only with members of their own households. Bars and bar service will continue to be suspended. Customers are permitted to order alcoholic beverages with their meals or takeout. Catered events and private events are prohibited.
"The two-week 'Pause' has been just one more difficult period for the restaurant industry on the heels of an incredibly difficult year. It has made an already financially devastating situation worse for business owners and staff and has erased any potential profit from what would typically be a very busy holiday season. Restaurants remain the most heavily regulated sector during the pandemic, despite a lack of any meaningful data showing that they have contributed to Rhode Island's steep positivity rate," said Dale J. Venturini, President & CEO, Rhode Island Hospitality Association. "The RI Hospitality Association is continuing our conversations with the governor's office to advocate for the reinstatement of bar seating in restaurants and to significantly increase the percentage of indoor dining, as well as continue our plea for additional financial relief for the industry and its employees beyond current economic-relief programs."
According to data from the National Restaurant Association, 110,000 restaurants have closed permanently in 2020 due to the coronavirus pandemic and an additional 10,000 are expected to close by the end of the year. In Rhode Island, dozens of restaurants have closed permanently due to the pandemic, with more expected to follow if aid doesn't arrive soon.
The Rhode Island Hospitality Association (RIHA), in partnership with the National Restaurant Association, has continued to lobby in support of the state's restaurants to seek more financial aid. The National Restaurant Association's Blueprint for Restaurant Revival calls for passage of the RESTAURANTS Act, a second round of the Paycheck Protection Program, a long-term loan program and tax breaks, among other measures. Funding is available through the CARES Act through the end of the year, but Congress must vote in favor of the spending bill before the new year.
As restaurants and other small businesses continue to wait for federal aid, there are several state economic-relief programs available for small businesses. The Coronavirus Relief Fund grant program is for Rhode Island bars and restaurants whose businesses were directly impacted by the early closing times mandated through Executive Order 20-95. Grants of between $2,000 and $10,000 are available to qualifying businesses who are able to prove the financial impact of the early closing times.
The Pause Economic Relief program is available for businesses impacted by the state's Pause. Through the program, $50 million is available in total, with grants of up to $50,000 available for each business through the Division of Taxation's Economic Relief program. Upon announcing an extension of the Pause, Gov. Raimondo also made another $30 million in relief funding available for businesses who continue to be impacted, extending the application deadline until Dec. 14.
The RI Hospitality Education Foundation also offered a second round of grants from its Employee Relief Fund. The fund provides $250 one-time grants to food service, lodging and tourism employees who have been laid off during the pandemic and are facing financial hardship.
Grassroots efforts are taking shape in other ways, too, as residents recognize the community role restaurants play. A family in Providence began a campaign to support restaurants via takeout during Hanukkah this year, calling the initiative #eightnightsoftakeout. The Birnbaum family, Carolyn and Ari, with daughters Julia and Miranda, ordered to-go meals from a different area restaurant on each night of Hanukkah. Through sharing on social media, the family hoped to spread awareness about the difficulties restaurants are facing and encourage people in Providence and other communities to support neighborhood venues during the holidays.
Meanwhile, RIHA's #BYOBlanket campaign continues to warm diners as winter progresses through its supplied heat lamps, blankets and other equipment to participating venues. Resource websites include reopeningri.com and rihospitality.org.