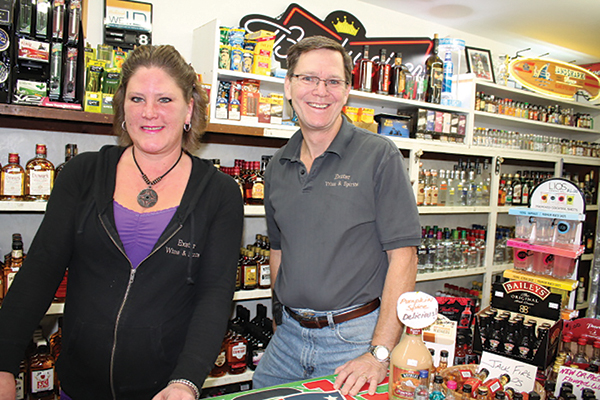 Exeter Wine and Spirits
254 Nooseneck Hill Road
Exeter, RI
Square footage: 3,000
Years in operation: 2 years under current ownership
By Savannah Mul
After working for 30 years in manufacturing, Ben Phillips purchased Exeter Wine and Spirits about three years ago. "My wife [Mary] and I decided to do something for ourselves and we purchased [the store]. It's a lot of work, not for the faint at heart, but it's truly amazing," said Phillips. He believes the store's success comes from communication. "We ask what customers want and [in turn] when they ask, we respond."
Since owning the store, Phillips has seen the most sales growth in craft beer. "People are now speaking about it as they would a fine wine," he noted. "All the flavors are really amazing; it's not just the IPAs, porters and stouts.
"We have six doors of bonafide craft beers, six doors of commodity beers and seven doors of imports. Beer makes up about 60-percent of sales, and we focus on value wines for the everyday consumer," Phillips said. "We have amazing cooler space here, it provides us with flexibility." Wine and spirit sales are tied almost evenly.
Six months ago, Phillips started a "Beer of the Month" program with help from a sales representative. "We pick a brand and showcase it," he said. "So the people who haven't tried it get to, and it opens up options for them. We like to expand their knowledge and options."
"I pick what I like and what I think our customers would like," Phillips said. "A lot of people don't want to buy something they haven't tried. Every Friday night we also do beer or wine tastings; mostly beer, it's my passion." December's "Beer of the Month" is Gray Sail Brewing of Rhode Island. Throughout the month, the featured beer is offered at a discounted price.
Phillips said one of the most successful promotions took place in August, with Two Roads Brewing from Stratford, Connecticut. Before the promotion, he used to sell around eight cases a month, but during the promotional month, he sold a total of 66 cases. Now, he continues to sell about 10 to 12 cases of Two Roads beer each month. The beer promotions provide an "uptake in business and keep people shopping in Rhode Island," he said.
Exeter Wine and Spirits is also a convenience store, which allows "the shopper to do one stop shopping and get what they need here," said Phillips. As much as he enjoys the alcohol business, he said it is the customers that make it "the most enjoyable." Owning the store has been "almost like cooking for the whole family. It's a blast," he said. Store employee Camille Cunningham added, "The customers around here are fun. It's a close-knit town. It's like a family up here, really."