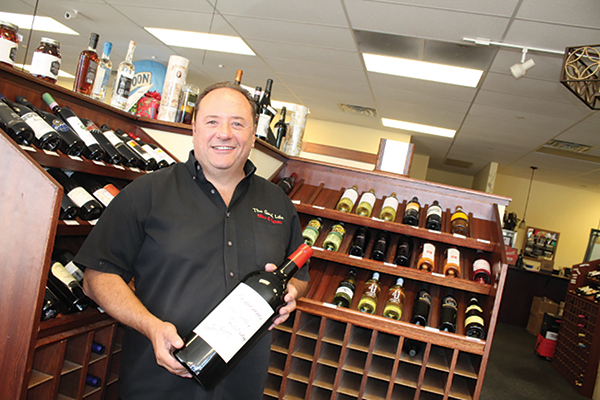 The Good Life Wine and Spirits
1249 West Main Street
Waterbury, CT
Square footage: 4,800
Years in operation: 5
By Savannah Mul
Nelson Veiga is passionate about quality, whether found in wine, food, service or in life. Veiga is the owner of The Good Life Wine and Spirits and neighboring restaurant 1249 Wine Bar. As a Maitre Sommelier Diplome, his goal is to educate his customers about different wines and encourage them to try new ones.
In order to achieve this, he offers wine classes every Tuesday night that focus on a different region or particular appellation. "It's really about customer service, what we do," Veiga said. "We provide a service, so we can educate the community be [it] in wine, spirits or craft beer."
Veiga's store serves a variety of customers, whether they're looking for those rare single malt whiskeys, high-end bourbons, or one of 100 different wines for under $10. "It's about the consumer, not about the retailer. This is a service you're providing to consumers."
Veiga said he has been lucky to witness many trends within the wine industry and notes one in particular that recently took off – red blends. He carried about 30 different red blends before they gained popularity in the recent years, but noted "we grew that to 60, we had to double our order to keep up with demand. We saw it happening, red blends just took off!"
Recently, Veiga has been turning his attention, and his customers', to Mezcal. It's a "perfect solution for that smoky Scotch lover," he said, noting that he has seen the spirit increase in sales over the recent months. Waterbury is also home to a "huge craft beer market," which helps drive store sales.
Before Veiga entered the beverage-alcohol industry, he studied hotel management in Switzerland. It was during his stay there that he fell in love with wine and continued on to study oenology in France. He returned to the United States as a wine educator in Florida and opened retail locations there. When he moved back to Connecticut in early 2000s, the Waterbury native scouted the location of what would become The Good Life.
"We believe we're sort of an oasis here in the desert," Veiga said. A few years back, The Good Life received the Customer Service of the Year award from Connecticut Retail Merchants Association. "We love the business. Waterbury has been wonderful to us and I'm glad to share my trade with my hometown."
The Good Life Wine and Spirits are preparing for the holiday season and will offer holiday beer, wine and spirits baskets, and gift wrapping for products purchased for any occasion.