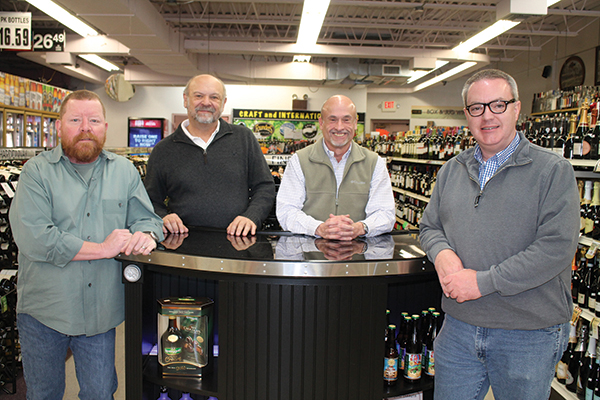 Liquid Assets
995 Pontiac Avenue
Cranston, RI
Square footage: 3,700
Years in operation: 1½ years under current management
By Savannah Mul
The term "liquid asset" now holds a whole new meaning for David Radivonyk, who previously worked in finance for 32 years. Instead of referring to numerical assets on a balance sheet, the term now represents his business name, Liquid Assets, a fine wine and spirit shop.
When Radivonyk retired, he said, "I got bored. I put myself through college working in a package store and always liked it. It took me about a year to find this location [in Cranston], and after some long months it all came to fruition."
Radivonyk also looked in Newport and Woonsocket, but the Cranston store was in the "best shape … with a great location." Liquid Assets was previously Healy's Liquors; and the previous owners helped Radivonyk during the first few months for a smooth transition.
"[Since owning it] we've changed it around a lot and bought new wine racks. We're always trying to improve it," he said. Along with those improvements came a brand new point-of-sales system and a substantial increase in products, which Radivonyk said store employee Tom Buckner has been instrumental in helping with. Buckner, who was previously employed at Healy's Liquors and brought on to work at Liquid Assets, said the store went from offering a handful of single malt scotches to now carrying between 60-65 different brands. Liquid Assets has 19 cooler doors and carries more than 3,000 SKUs of wine. Since owning the store, Radivonyk said sales in organic wines continue to increase, and he fills two wine racks of organic vintages for his customers. "We also do a very good craft beer business," he said.
Cameron Tabor, store employee and woodworker, built a bar at the store for the staff to conduct weekly tastings on Fridays and Saturdays. At every in-store tasting, the staff will keep a log book of what beer, wine or spirit was tasted to ensure that if a customer comes in a month or two later, they can give them exactly what they're looking for. Tabor also built shelves for Liquid Assets to store the 50 ml bottle purchases, which have shown strong sales at the store. "We may need [to] build another," Radivonyk laughed.
Radivonyk said the customers are what make it the most fun and enjoyable experience. "About 90 percent of our customers are loyal and repeat customers," Buckner said. Radivonyk added, "we're in a very diverse neighborhood … the other 10 percent are people moving to the area or word of mouth recommendations." Buckner said once new customers find out about the selection, variety and service, they quickly convert to loyal shoppers.
"It's a fun business with a lot of hours," Radivonyk said, "but the customers keep me going."