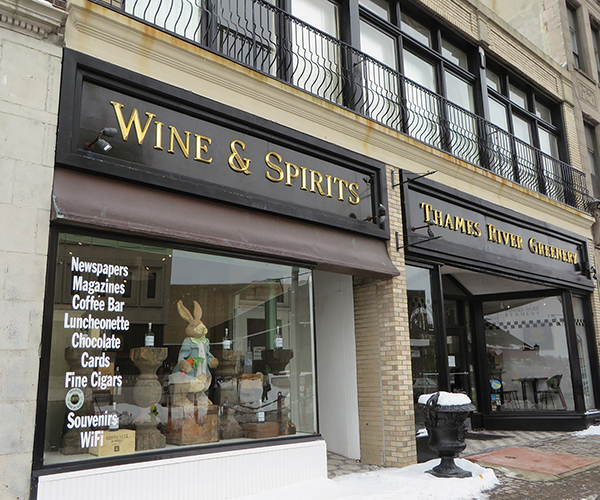 Thames River Wine & Spirits
70 State Street
New London, CT
By Bob Sample
Square Footage: 2,000
Years in Operation: 40
It would be safe to say that very few spirits stores start out as part of a flower shop. Then again, Thames River Wine and Spirits is unusual among retailers in general, and package stores in particular.
Thames River Wine & Spirits is in the heart of downtown New London. It's owned by the florist next door – Thames River Greenery – whose original focus was on plants and flowers but diversified into a gourmet-lifestyle emporium, offering fine coffee, baked goods and chocolate as well.
"Fine wine, spirits and beer became a natural extension of that," said Fred Argilagos, who co-owns Thames River with founder Charlotte Hennigan. Wine accounts for about 70 percent of the store's floor space. Down below, a granite wine cellar wows both casual browsers and serious shoppers.
Thames River prides itself on offering unusual and one-of-a-kind vintages that customers can't get anywhere else. That formula has brought the store steady business growth. More recently, its growth has accelerated as downtown New London itself has begun a rebirth – including being chosen as the site of the new National Coast Guard Museum.
The store's offerings come from all over the world, with a heavy dose of wines from France, Spain, California and South America. The store has become a destination for shoppers seeking gifts or wines for dinners, weddings or other special gatherings. "We have no mass-market brands in our store; you can get those anywhere," said Argilagos.
The store's spirits selection takes up about 25 percent of the floor space. The store tries to feature the wares of the region's growing cadre of craft distilleries. In addition, the store carries "boutique batches" produced by both small and medium-sized distillers. "Bourbon is an especially hot category right now," Argilagos noted. "We also offer a great single malt scotch section."
The beer section focuses on both international beers and craft brews. "It's small but carefully curated," said Argilagos. "We offer about 35 SKUs at any given time, but we constantly rotate them so that the customers always see something different."
The store's customer mix is heavily influenced by the presence of both the Navy's submarine base in nearby Gales Ferry, and the large Electric Boat engineering-and-manufacturing facility in Groton. Customers visit to try the latest new thing, whether it's a craft beer, a new wine or a trendy new spirit. In addition, the store's wares appeal to older consumers as well. Many of them have lived all over the world, and their palates are sophisticated, Argilagos pointed out.
Thames River keeps them coming in with weekly tastings of wines and craft beers. These take place every Friday from 5 to 8 p.m. and are publicized via weekly email blasts. "Our mailing list was up to 6,211 the last time I checked," said Argilagos. Thames River has a Facebook page, but the store hasn't focused heavily on its social media presence just yet. "Improving our social media presence is one of my goals for 2015," he said.