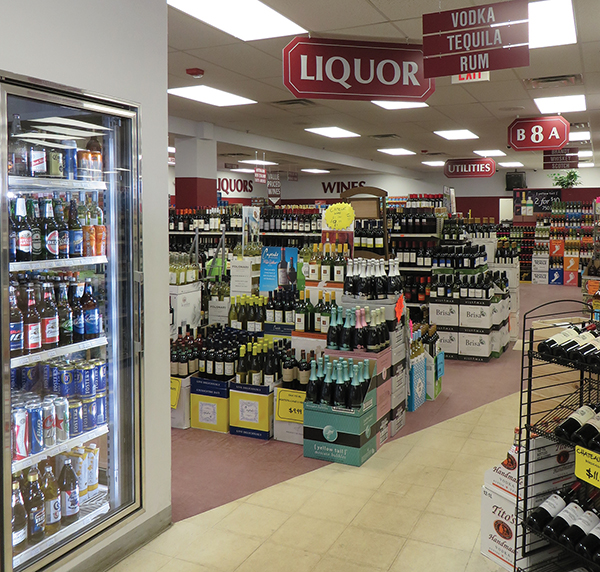 Phred's Drug and Liquors
1300 Oaklawn Ave.
Cranston, RI
By Bob Sample
Square Footage: 13,500 square ft., 6,500 of beverages
Years in Operation: 59
Shopping for spirits in the same place that you pick up prescriptions is common in many parts of the U.S., but unusual in New England. One exception is Phred's, which for almost 60 years has offered beer, wine and spirits, along with everything else you might find in a neighborhood drugstore.
Almost half of Phred's 13,500-square-foot store is occupied by alcoholic beverages, with approximately 40 percent devoted to beer, another 40 percent to wine and 20 percent to spirits.
"People come from all over the state to see what we're about," said Josh Martini, manager of Phred's beverage department. "Plus, we're a neighborhood drugstore. We have customers who have been coming to us for years."
Phred's is owned by Michael Rossi, Jr., the grandson of the store's founder. Martini grew up nearby and the Rossi family gave him his first job. He's worked at Phred's ever since. The store caters to both older, established customers and young newcomers to the Cranston area. Loyal customers like the store's biweekly specials, such as "two-fer" promotions and bottles priced under $10. "We offer a full range of higher priced bottles as well," noted Martini.
The store is within walking distance to four different bars and nightclubs, three of which offer live music of one kind or another. Both the store flyer and direct mail promotions go to households all across Rhode Island. Constant word of mouth from satisfied longtime customers also helps promote the store. When he took the reins, Martini began trying different ways to court the younger set.
"Every Friday we have a wine or beer tasting from 4 to 7 p.m.," Martini pointed out. "We'll give away a free slice of pizza from a popular local restaurant, the Original Italian Bakery. Our event helps promote the restaurant too, because once people try the pizza, they head to the Original Italian Bakery to buy a whole pie."
Besides pizza, Martini serves up finger foods that pair well with beer, wine and spirits. Recent samplings have featured fresh-caught shrimp, ravioli and other pastas, and locally grown produce. The accent at all such events is on the fun, unusual and offbeat. One recent tasting featured Viniq, a new liqueur with a shimmery cast. Another tasting featured Kah Tequila, which is sold in one-of-a-kind ceramic skull-shaped bottles.
Martini especially likes it when experimentation results in a bona-fide hit. One example is Mercer's wine-flavored ice cream, a specialty dessert that comes from Boonville in Upstate New York. It is available in eight flavors: peach white zinfandel, cherry merlot, chocolate cabernet, strawberry sparkling, red raspberry chardonnay, port, riesling and spice. "We're one of the few outlets in Rhode Island that sells Mercer's," said Martini. "My wife found out about it on Pinterest – so I thought, why not bring it in? I'm glad, because people love it."