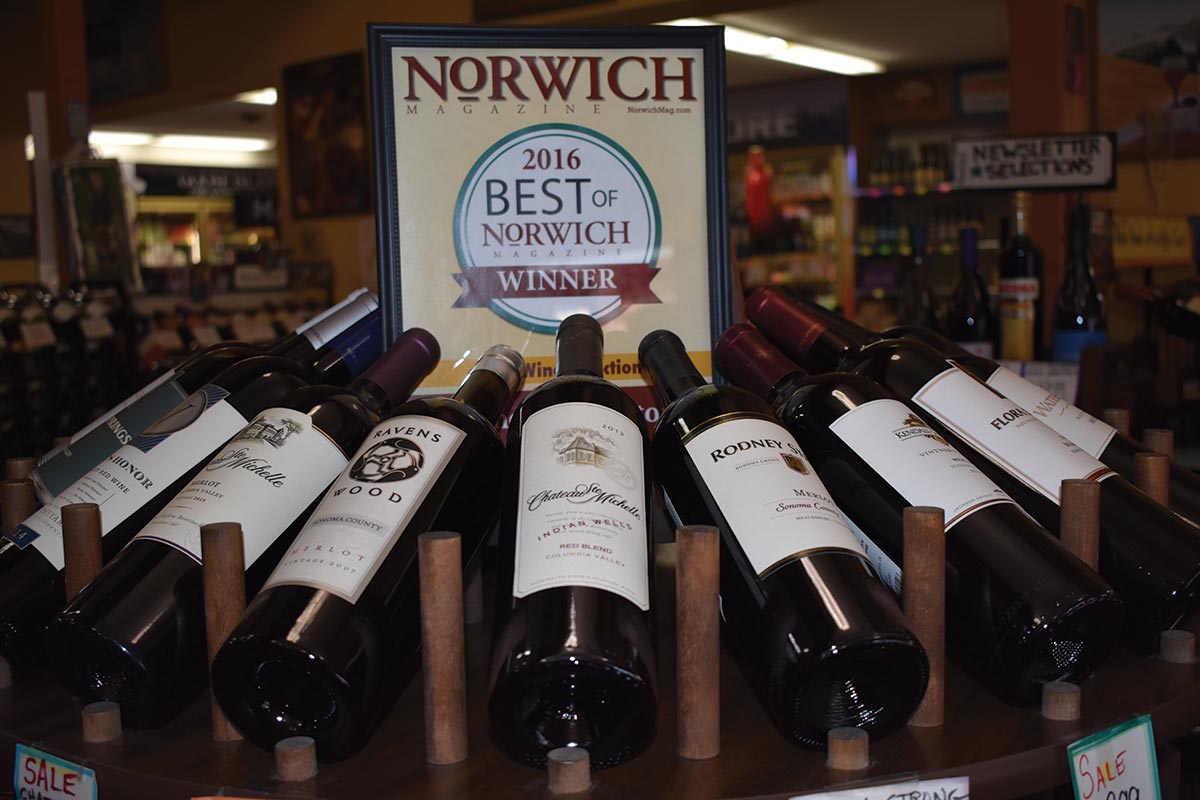 Towne Liquor Store
32 Town Street
Norwich, CT
Square footage: 4,500
Years in operation: 70
By Sara Capozzi
Norwich's family-owned Towne Liquor Store celebrates its 70th anniversary this year. Among the photos of family and friends and other memorabilia that owner Betsy Eichholz has collected throughout the years at the store, there is a Wonder Woman figurine on a shelf. To Eichholz, the vintage statuette symbolizes the members of her family – all women – who have run the business for three generations.
In 1948, Eichholz's grandparents, Meyer and Fannie Stepnor, purchased the store. When Meyer passed away, Fannie took over ownership and management with Marian Silverstein, Eichholz's aunt. Silverstein went on to own Towne next, eventually hiring Eichholz as its General Manager.
"She was my mentor. She taught me a lot about the business," Eichholz said. "She was in the business when there were no women in the business. She was really into wine, so she started to build up the business. Then, when I came along, we built it up more."
Eichholz was working in accounting when her aunt let the store manager go and needed her help. Eichholz decided to try it for a day and ended up never leaving. "The first day I came to work it was like coming home," she said. "It's much more than a job."
Eichholz has worked full-time at Towne Liquor for the past 34 years, eventually taking over ownership when her aunt retired. She currently employs ten full- and part-time employees, who are highly trained on the store's products and have wine pairing expertise.
"Our selection, our service and our knowledge set us apart," she said. "We give a lot of service in here." Towne's customers come from "all walks of life" and Eichholz makes sure there is "something for everybody."
The store carries about 5,000 SKUs, with a focus on fine wine, craft beer, and boutique bourbons and scotches. Eichholz also enjoys supporting local breweries and distilleries by carrying their products, such as Foggy Harbor, a local vodka made in Preston, Connecticut. She stays up-to-date on trends by reading industry magazines and talking with sales representatives, wholesalers and customers.
"I always say if we don't have it, we'll get it," Eichholz said. "We go out of our way to help people and to research a product they want and try to find it for them."
After 70 years, Eichholz said the store has become "a fabric of the community. The town has been very good to my family and that's why we give back." Over the years, Towne Liquor has made donations to thousands of charitable organizations in the area, including the Yantic Fire Department, NAACP, Women & Girls Club, local hospitals, schools, rotary clubs and golf tournaments.
"I'm proud we're still here, I'm very proud," Eichholz said.