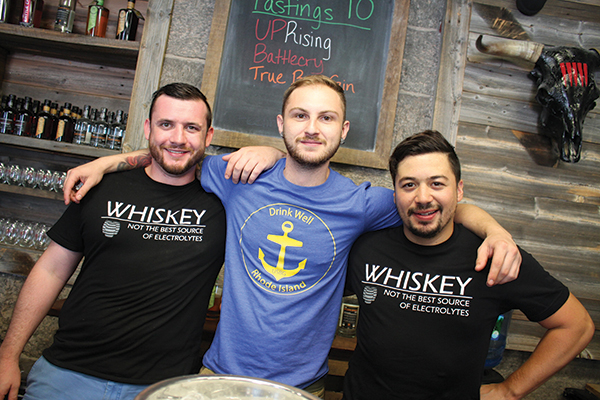 Ocean State gets its day in the spotlight
By Savannah Mul
Providence was selected as the host city for the 2015 United States Bartenders Guild (USBG) Leadership Conference. Bartenders, bar managers, distributors and USBG members from all around the country visited the state for the four-day trade gathering August 23-26, using the Renaissance Providence Downtown Hotel as a base.
Chris Almeida, USBG RI Chapter President, lobbied hard for Rhode Island to become the chosen destination, the final decision being between the Ocean State and Washington D.C. "We came up with a cool way to showcase Rhode Island and our package was chosen," he said.
The conference consisted of educational events, chapter discussions of what can be done to improve membership and boost USBG events, financial responsibilities in the industry, and more. Frank Martucci, General Manager of Beverage Operations for Twin River Casino, hosted USBG members for a lunch and happy hour on August 25, during which the group discussed USBG initiatives and the USBG National Charity Foundation, of which Martucci is board member.
Martucci said the conference benefits everyone involved because it educates members, informs them about new brands and trends, all while helping them set up for future longevity behind the bar. "The whole conference has been great," Martucci said. "It's really cool for people to come to Rhode Island from New Orleans, Pittsburg and Chicago who have never visited the state before … Social media and emails are all nice, but face to face [communication] is great to understand what happens in different parts of the country in the industry."
Martucci said the National Leadership Conference helped boost Rhode Island tourism because many outings during the conference were at restaurants and bars. The Ocean Cliff in Newport, Twin River Casino, Coast Guard House in Narragansett, The Dorrance in Providence, and the Sons of Liberty Distillery in South Kingstown were among destinations for conference attendees, helping to showcase the state.
Kyle McHugh, National USBG Vice President, said "it's really inspiring being part of it [USBG], people leave here wanting to affect change to their market." Throughout the conference, McHugh said there are many discussions between different chapter members, enabling idea sharing and improvement for use back with home chapters. McHugh said 52 different chapters participated in the National Leadership conference, which is comprised of over 200 volunteers. He said every volunteer in the organization believes in making a difference to better the industry and their community.
USBG Detroit member Liz Cosby said she is excited to return back home to work on local USBG initiatives. "I was writing notes all week of things I want to bring back to my chapter. Every state has different rules and laws and every market is different. I learned so much of other states. It's really interesting how where you live affects your job," she said.