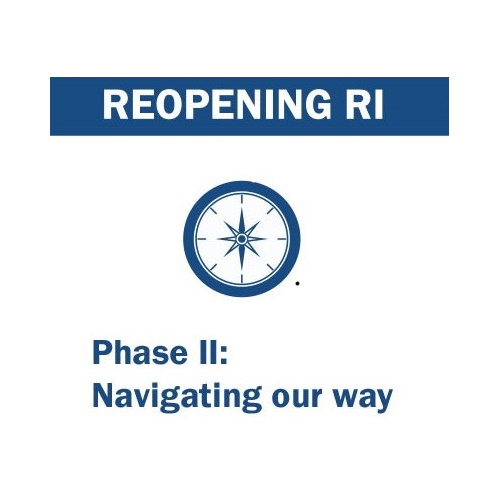 Rhode Island guidelines for indoor dining, which can start June 1 as part of in Phase II of Reopening Rhode Island plans, were issued in detail and posted on May 28.
A detailed, posted PDF states that, "Restaurants may begin limited indoor dining in addition to outdoor dining (subject to applicable municipal approval) as well as pick-up, delivery, and drive-through operations. The guidance includes guidelines, recommendations, and requirements that will assist establishments in following the general business guidance that is required of all establishments. Establishments are reminded that these guidelines will continue to be updated as additional activities are permitted in future phases of the reopening and in accordance with updates to Center for Disease Control and Prevention (CDC) and RIDOH regulations and guidance."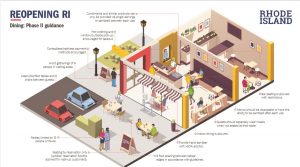 Guidelines, which created with input from the Rhode Island Hospitality Association and Commerce RI, include:
An establishment's indoor dining capacity is limited to 50% of an establishment's regular seating capacity.
The maximum party size is 15 indoors and outdoors. There is no maximum table limit.
Customers are strongly encouraged to minimize the size of their party, to minimize the number of non-household members they dine with, and to keep their party to 8 people or fewer.
Additionally, no more than 8 customers are allowed at a single table.
Parties of 8 or more customers are recommended to be seated at two or more separate tables, and it is recommended strongly that restaurants seat such larger parties outdoors, where possible.
It is recommended that, to the extent possible, establishments maximize spacing between individuals.
Restaurants are recommended to help prevent socializing or mixing between tables or between different parties.
Tables must:
Be separated by at least 8 feet from table edge to table edge or to allow 6 feet spacing between seated customers at different tables; and
Be at least 6 feet away from areas with regular customer foot traffic (e.g. routes to bathrooms, entrances, and exits).
Tables may be closer together provided that physical, non-porous barriers (i.e. plexiglass, plastic) of an appropriate height (tall enough to fully separate seated customers) are installed between tables.
Self-service seating (e.g. in a fast food restaurant) is prohibited.
Bar seating is permitted, provided that either:
There are no active work areas or working staff behind the bar; or
There is a physical barrier (e.g. plexiglass) separating customers from the bar space.
This physical barrier cannot have a gap on the bottom. Food and drinks should not be passed under or over the barrier.
In addition, parties must be seated at bars (no service to standing customers), and parties must be spaced at least 6 ft. from other parties.
Restaurants must still collect the name and phone number of at least one person per party for contact tracing. Restaurants will be required to continue with the employee and customer screening procedures implemented in Phase 1. Outdoor dining has been allowed, with its own set of guidelines, as of May 18 in the state.