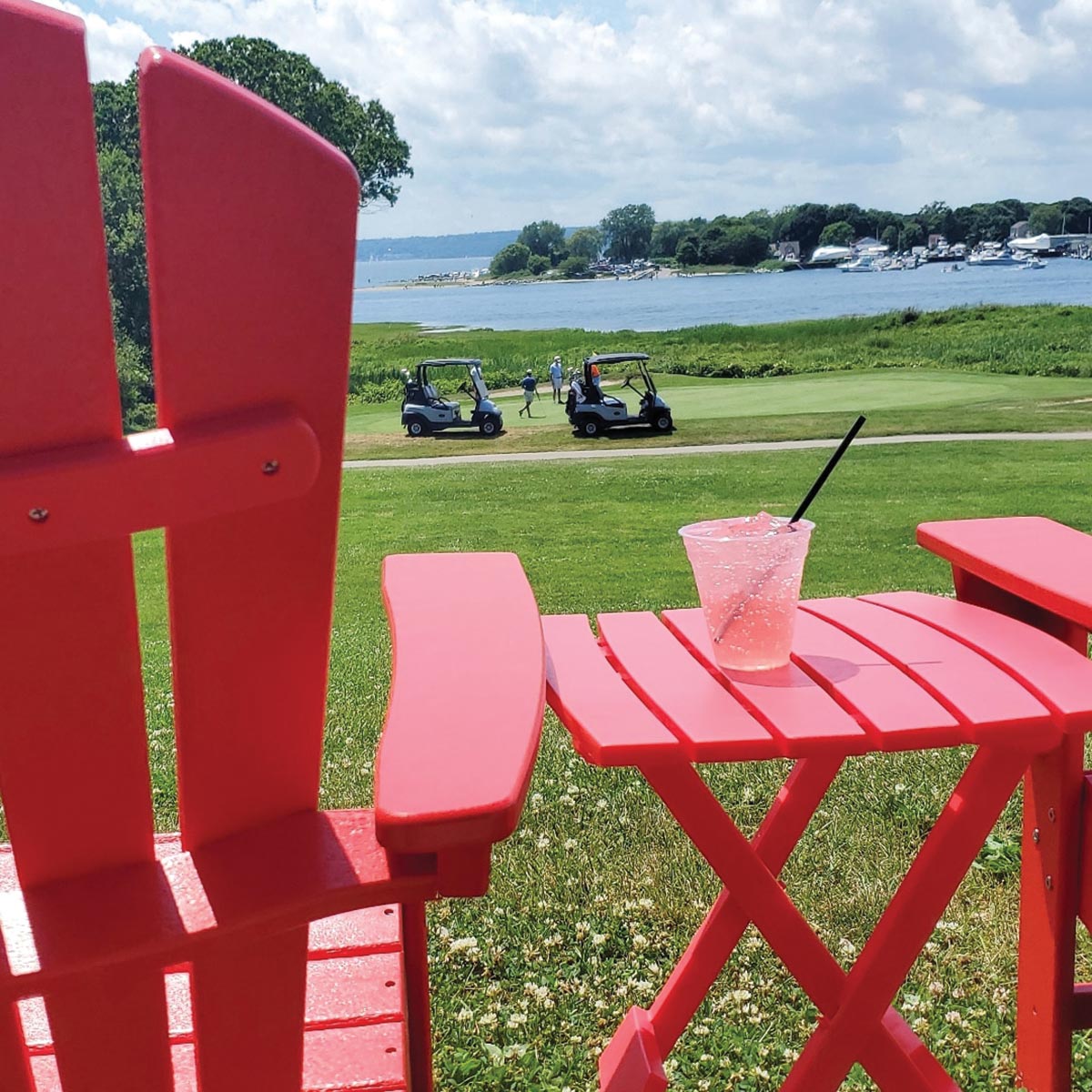 The Ocean State's hospitality industry summer slam is slowed
By Sara Capozzi
Rhode Island's hospitality industry continued to deal with business conditions under COVID-19-era restrictions in June and July as the state rolled out its phased reopening under phases two and three of Gov. Gina Raimondo's plan.
Under phase three, which began on June 30, restaurants were allowed to increase indoor dining capacity from 50% to 66%, keeping separate parties spaced apart. Bars were allowed to open for seated service only, while nightclubs were ordered to remain shuttered. Catered events and social gatherings were capped at 50 guests indoors and 100 guests outdoors.
Neighboring state Massachusetts allowed its reopening plans to continue to move forward into its third phase, leaving the reopening of areas deemed high-risk, which include bars and amusement parks, until its phase four, not to go into effect until an effective treatment or vaccine for the virus is available. On June 6, Connecticut Gov. Ned Lamont announced that the state would remain in its phase two indefinitely, keeping eateries operating at 100% capacity outdoors and 50% capacity indoors, but not allowing bars or nightclubs to reopen.
In the Ocean State, enforcement officers have been sent out to patrol venues to make sure they are complying with health protocols, and Gov. Raimondo announced during a press conference on July 8 that stricter enforcement of COVID-related rules may be coming down the pike if more venues are found in noncompliance. In addition, she announced travelers from states with a COVID-19 positivity rate of 5% or higher must quarantine for 14 days or test negative for the virus upon entry. Phase four was expected to commence in the beginning of August, with the number of guests allowed at indoor gatherings expected to increase to 100 people indoors and 250 people outdoors, but no additional guidance had been given as of press time.
Rethinking traditional events
Across the state, venues and caterers faced uncertainty as they entered the usually busy summer event, wedding and tourism season. Coronavirus health fears, travel restrictions and state mandates meant the usual large-scale public festivals and private bookings were postponed or canceled.
With the ushering in of the state's newest phase on June 30, it appeared that some cornerstone opportunities for commerce would be allowed – at a reduced scale. There were catering companies who were forced to close amid no economic lifeline by the time July rolled around, but others remained operational with smaller-scale events and meal preparation becoming the focus.
Pranzi Catering & Events, a full-service catering, event and rental company serving the greater New England area, didn't stop selling during the shutdown, according to Nicole Mattiello, Vice President of Marketing. The company continued to produce its cold food line, Nicole's Gourmet, which is served at 40 gas stations, convenience stores and grocery stores in Rhode Island and Massachusetts.
The Pranzi staff also donated their time, creating, boxing and delivering individually wrapped lunch items to frontline workers funded by sponsors and donors. The company did "take a loss" with the cancellation of corporate events, graduations and the sprawling CVS Golf Classic annual June event, Mattiello said.
Most weddings and social events originally planned for the spring and summer were rescheduled to next year. Still, some customers have opted to keep their dates, albeit with smaller guest lists. Mattiello has started catering micro-weddings and other small-size gatherings, along with delivering individually wrapped lunch items to business meetings or doctor's offices. While strict sanitation protocols have always been in place at Pranzi, the company has taken extra steps to keep guests and employees safe, with staff in masks and by providing hand sanitizer to guests.
"People are definitely adapting, and as far as the corporate business, a lot of people are requesting individually wrapped foods and boxed lunches, individually wrapped breakfasts," Mattiello said. "The point from the CDC is to try to avoid high-touch surfaces, so even something like a food station, we're sending extra staff to serve from the station so the guests aren't touching the same thing or we're making individual cheese-and-cracker plates versus a crudité station."
Pranzi continues to offer its beverage program, too, giving guests the choice of four levels of custom packages, ranging "from top shelf to standard selections," Mattiello said. "We also prefer to use local [brands] of beer and specialty spirits such as Sons of Liberty, Narragansett, Revival and Whalers, to name a few." The company has also begun to offer single-serve passed beverages and signature cocktails such as Blushing Brides, Aperol Spritez, Margaritas, Mojitos and Sangria.
The Pranzi team has a number of weddings coming up later in the summer and fall, averaging between 125 to 150 guests. With all the rescheduling into next year, dates in 2021 are more in demand, even during off-peak times of year.
"There really is no more wedding season [anymore]," Mattiello said. "We have weddings next year [scheduled] in December, before Christmas, the day after Christmas, we have a wedding New Year's Eve, we have weddings in January, February, March and then in April we start right back up again. Because of the push and the loss from 2020, there's a big push for next year. A lot of people are doing weddings in what used to be the off-season."
A different kind of club scene
The Misquamicut Club of Watch Hill offers guests a country club experience, with its golf course, tennis facility and beach access. Banquet space is located in its main building with a banquet room, two dining rooms, lower terrace and a patio with a few guest rooms available for overnight rentals, according to Food and Beverage Manager Christine D. Yost. The beach club has cabanas and a full-service restaurant, with lunch available through the club's servery and an a la carte dinner is served on weekends.
While a number of members canceled their membership during the spring shutdown, the Misquamicut Club is seeing its customer base return. Currently the club's capacity is members only and capped at 144 people – half its usual capacity. "The club made the decision that we are not allowing guests; it is members only at this time and for the foreseeable future," Yost said. "It ensures to our membership that we know where everyone came from and who's been in contact with who. It limits our contact tracing if we just have it to our members and their immediate families."
The club's 125th anniversary celebration was originally slated for this summer, but is now rescheduled until next year. "As far as events this summer, I don't think we'll have any," Yost said. "I think we'll just do a la carte dinners and regroup next year for any kind of event." Smaller events have gone on: The club recently hosted a dinner for 60 at its golf club and is planning for some smaller, members-only golf tournaments with between 40 and 60 guests. Meals at all of the club's dining areas are run with health protocols in place, such as socially distanced seating and mask wearing. Lunch is run like a takeout service with food boxed and placed in separate to-go bags.
"Our beverage service is pretty much the same," she said. "We did hold off on opening our draft beer but I did just open that up." Under the regulations, bar seating is not allowed. Bartenders make drinks behind the bar and waitstaff bring cocktails to seated guests wearing masks and gloves. There is also a takeout window at the bar for members to order a drink if they're headed out to the golf course. While disposable water bottles have been offered in lieu of water service, the venue has started using individually wrapped, biodegradable plastic straws with beverages, a safe yet environmentally friendly option.
"It's been different but I wouldn't say it's necessarily been difficult adapting to what's going on," Yost said. "We're just staying flexible and reworking our food and beverage program so we can still offer as much as we can safely to the members and also to ensure the safety of our staff. We're trying to make it as enjoyable as we can and provide the best service and quality food given the restrictions and wanting to make sure everyone is having fun and staying safe and healthy."
Lighting the way
Located on the Greenwich Bay in Warwick, Harbor Lights is a scenic, popular venue for weddings, galas and upscale corporate affairs. Due to its large outdoor space, the facility has been able to adapt easily to accommodate guests amid new health-related restrictions.
"Our restaurant is an outdoor restaurant so that has really benefited us," said Michelle Violette, Director of Operations, Harbor Lights. "We have separated tables and added extra tables outside of the restaurant overlooking the bay to try to get somewhat near what our normal capacity would have been without restrictions but at this time we are still unable to open our bar for seating and service as we do not have another space to use for a service bar."
The venue has taken necessary and mandated precautionary measures to protect staff and guests. With the bar and pool closed due to regulations, its food truck, which used to be located at the pool bar, is now set up at the marina, offering walk-up service. "We have started a new service where you can order online from the truck and have it delivered right to your boat dockside in a net near our gas dock, and you do not even need to dock the boat," Violette said. "So many people are spending more time on their boats and we are hoping this service takes off."
Harbor Lights has also transformed its terrace that overlooks the water into an outdoor space where guests can sit in socially distanced groups, order food and drinks, and listen to live music, which has been popular.
"It has really given people the ability to do something close to normal," Violette said. The majority of weddings planned for the summer have been postponed, with some couples opting for micro-weddings with a small outdoor ceremony and dinner reception on the venue's outdoor patio.
"Weddings and events are the largest portion of our business, so losing these will have a dramatic effect on our overall season," she said. "2020 was shaping up to be one of our best years, but this pandemic has certainly affected that. We are looking forward to phase three, when the restrictions are lifted a little and then we will use our creativity and really start to make events happen again."
Eating, drinking, safely
Joe Paglia, Owner of Arturo Joe's in Narragansett, said business at his restaurant, which has been in operation for 24 years, has been difficult, both with guests not yet ready to try indoor dining and some staff not willing to return to work. Arturo Joe's also offers catering and the business has taken a hit since most of its events have been canceled in the spring, including weddings and graduation parties. The restaurant has done large takeout orders but nothing to the extent they used to do, Paglia said.
"It's getting there," Paglia said. "Takeout is really strong right now. I don't know if a lot of people know we have seated dining yet in Rhode Island [and] I think people are still a little nervous to come in, which I understand. Narragansett, South County, is a tourist community. We need the summer dollars to get us through the winter and it could be a long winter for a lot of restaurants let's just say."
Jason Kindness, Owner and Managing Partner of Kai Restaurant & Bar in East Greenwich, said while the new regulations are challenging, the key to keeping business flowing smoothly has been daily check-ins with his team.
"It's been pretty different, that's for sure," Kindness said. "I think that obviously these are uncharted waters for all of us; the way my staff and I have been handling it is a lot of communication on a daily basis before the shift and going into it, knowing that there's going to be curveballs coming at us that we don't see coming … talking about how we can tweak things to make it not only more efficient but keep everything as safe as possible for our customers."
Reopening in early June, Kindness said that the nature of Kai Restaurant has made it challenging to introduce physical-distancing regulations, but he and his team are making it work. "Kai Bar has been a mix-and-mingle place from the get-go. People in the past would just walk in and find some seating, it was pretty free-flowing. Obviously now we've got to catch people at the door and take their information and then seat them, make sure they are wearing a mask until they are seated to protect the other guests. Trying to manage that in a place like this has definitely been challenging. I feel for the most part our guests have been pretty helpful with complying."
With guests currently not allowed to order at the bar, one bartender is behind the bar making all of the drinks with another two bartenders serving them tableside. Kindness has also modified the food options to allow for more ease of preparation. "Being kind of a beverage-forward place, we simplified the [food] menu to make everything quicker and easier," he said. His advice to others in the industry right now is "to stay positive and keep our heads up and be mindful. Keep your finger on the pulse of what makes your guests feel comfortable, while also not giving up your brand or the safety of others."
Trade events see a way forward
With the slow uptick in events being held across the state, some Rhode Island wholesalers have begun taking part in small tasting events. Ten area wholesalers took part in a private tasting in June at the Ocean House, including MS Walker and Johnson Bros. of Rhode Island.
"Health protocols were very much in place," said Ian Magiros, On Premise Key Account Specialist, MS Walker, of the event. "It was properly executed and tastefully executed. It was at the utmost level of hospitality without being sterile. I think it's really dictated by the guests right now of where the comfort level is."
Over the summer, Magiros plans to lead a wine education lecture series, open to the public with social-distancing measures. "How that goes I think will start to dictate how other things go for in-house events by restaurants and in-house events by retailers," he said. "As much as retailers and restaurateurs want to start having wine dinners and want to start having in-store tastings again, I just don't know if the risk of a free-for-all [is what] they're willing to endure yet."
Magiros said he expects the summer season to yield results for businesses and memorable experiences for visitors. "We are one of the strictest states, one of the best states currently if you look at the [numbers] for safety and not relapsing and everything else. With that being said, I don't think there's that many people traveling; I feel like the Fourth of July is kind of what Memorial Day is to our industry as a whole … it's the kickoff of summer because we've been kind of cooped up and have had this extended cabin fever, we haven't been able to get out."
With more people staying closer to home and travel restrictions, despite many public event cancellations from road races to seafood festivals to boat shows, there are still showcase events and venues adapting to COVID-19's grip. July 11 kicked off Newport Polo and the annual brand showcase that is Newport Mansions Food & Wine Festival is still on the calendar for September, though each will be following state guidelines.
Shawna Dietz, Premium Portfolio Manager, Johnson Bros. of Rhode Island, was also pouring portfolio selections at the recent Ocean House tasting. "This year, events are few and far between, but any opportunity to get back out there to share the world of wine and spirits, I am saying yes," Dietz said. "It's a social circle indeed and I miss my fellow colleagues. Before there were so many events, it felt like three to four times a month there was a tasting, a wine dinner, a trade show, you name it. Now people are trying to figure out what with the new restrictions you can do."
The entire spring-into-summer trade tasting season was waylaid for wholesalers. Dietz says the company is planning for a fall trade show under whatever restrictions are in place, if they are able when the time comes. As far as future events and what they could look like, Dietz said, "This industry will be changed indefinitely. People are ready to get back out there and celebrate, but a lot of businesses just aren't able to easily adapt with the restrictions that are in place to properly socially distance. Things are changing once again and if you have the space to socially distance, then more than likely you will see events over the course of this year for those that have the space."
Magiros said he sees tourism and its financial impact picking up steam as the summer goes on and into the fall. "I think we'll see a stronger September for business … we're off to the races at this point."