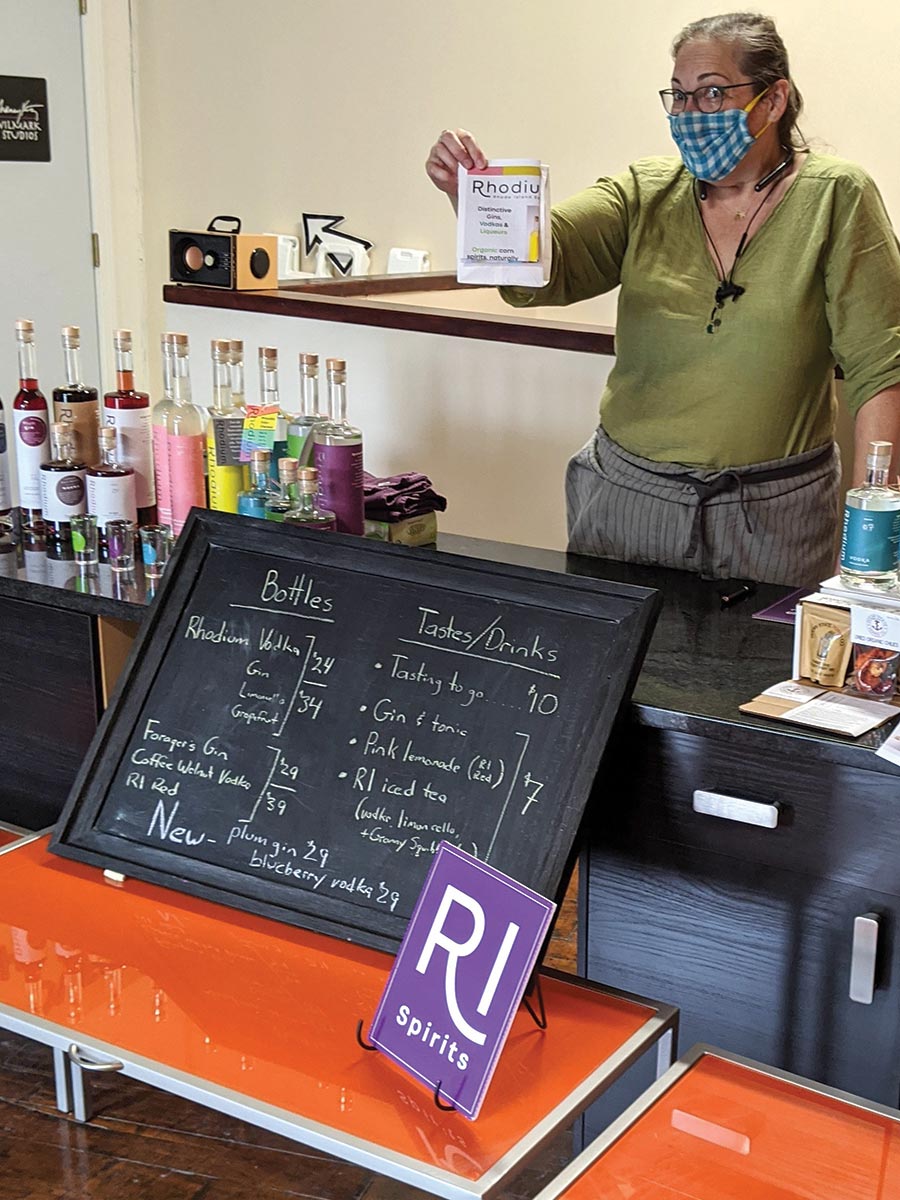 Pawtucket-based Rhode Island Spirits unveiled a new street-side lobby area and outdoor pop-up bar outside of its tasting room on Blackstone Avenue in Pawtucket during the fall and holiday season. Guests can purchase bottles from the Rhode Island Spirits Rhodium line, along with to-go cocktails and takeaway tastings, which can be enjoyed at home or in the outdoor seating area, featuring new space heaters provided through the Rhode Island Hospitality Association and the State of Rhode Island's Take It Outside campaign. The area is set up with COVID-19 safety guidelines in place. Also available at the pop-up bar are Rhode Island Spirits' newly released seasonal spirits: Plum Gin, Rhodium Gin flavored with wild-foraged beach plums and Italian plums, resulting in a spirit that is fruity but not too sweet; and Blueberry Vodka, Rhodium Vodka distilled with locally grown blueberries and a touch of cane sugar. Both spirits can be enjoyed on their own or added to a glass of prosecco or sparkling cider. While Rhode Island Spirits' distillery and tasting room remain closed to the public, the new lobby space is open Saturdays and Sundays from 1 to 6 p.m. through December. Consumers can also place online orders for pickup. The spirits line is distributed in the state for retail and on-premise via Horizon Beverage Co. of Rhode Island.
Rhode Island Spirits Co-owner and Co-founder Cathy Plourde with packages of takeaway tastes showcasing the seven core Rhodium spirits: Rhodium Grapefruitcello, Rhodium Limoncello, Rhodium RI Red Vodka, Rhodium Coffee Walnut Vodka, Rhodium Foragers Gin, Rhodium Gin and Rhodium Vodka.
Guests enjoying the outdoor seating area at RI Spirits' street-side pop-up on 59 Blackstone Avenue in Pawtucket, which includes space heaters and a firepit.