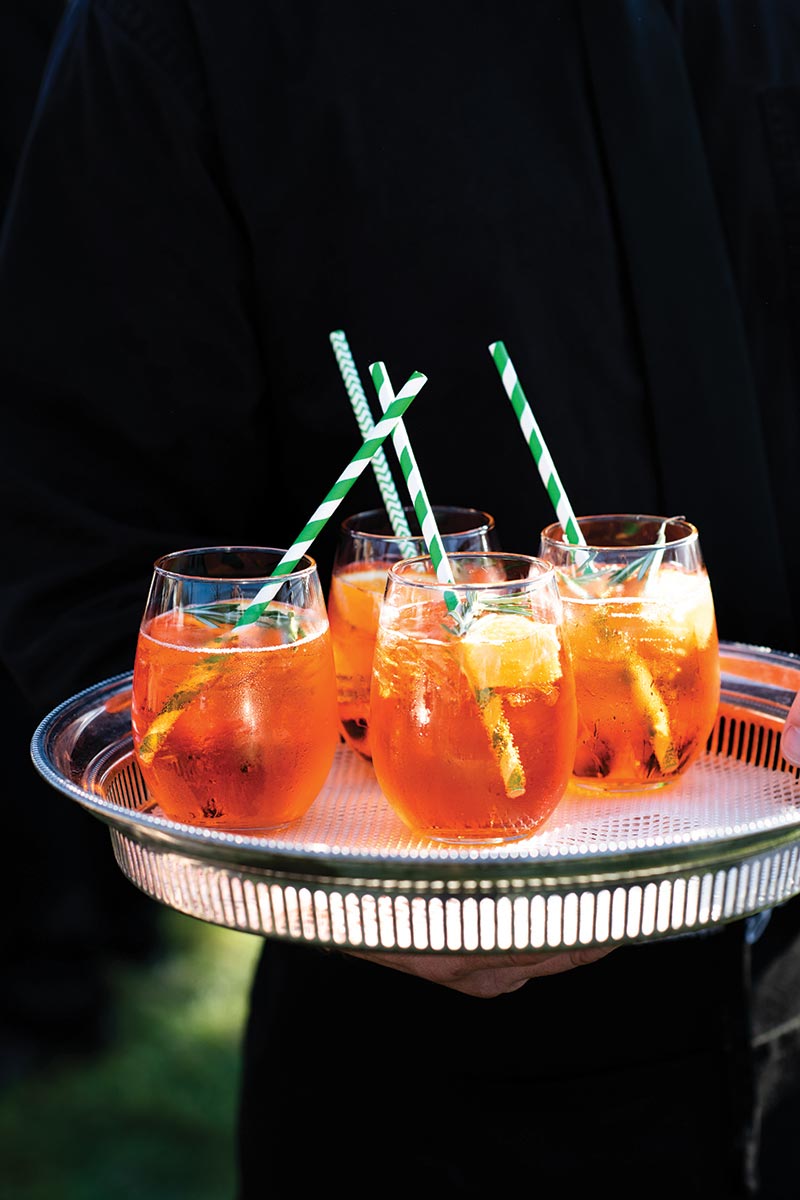 What may 2023 bring? A range of voices weighs in.
By Sara Capozzi
It's that time of year again. Turn the page on 2022 and look forward to the brand-new year. The industry has seen its twists and turns for the past few years, with the pandemic, supply chain and labor issues creating challenges and opportunities. Meanwhile, consumers adapted to new habits and ways of spending their time and money. Still, tastemakers and sellers see all of that reflected in a variety of trends. We asked a sampling of local industry experts about their predictions on what 2023 will bring in cocktails, wine and more. Here's the statewide snapshot.
On-Premise's Promise
Brian J. Warrener, Associate Professor, Johnson & Wales University College of Business, expects the continued effects of the pandemic to impact on-premise. "Providing food and beverage services fundamentally changed during the pandemic," he said. "Technology-facilitated remote ordering and delivery and curbside pickup resulted in consumption in virtually any setting. These developments have created 'omnichannels' that allow restaurateurs to distribute their products in near limitless ways. And, yet … consumers have shown a preference for returning to more traditional consumption. Statistics indicate that a large number of patrons prefer to order and consume their food and beverage on-premise, [where they're] able to enjoy ambiance, fellowship and, especially, great service as well. Look for your customers to demand a return to exceptional hospitality and be prepared in the new year to provide it."
Matt Simmons, Hospitality Consultant and Beverage Educator, Bottles Nation, said that due to factors brought on by the pandemic, the difficulty of finding qualified and experienced talent still hurts. The hospitality industry "has been decimated on the talent side … HR and talent were prevailing issues in new and established spaces nationwide and will remain so going forward. I expect owners and managers will have to be making calls on menu style and placements they haven't made in years. The landscape is fiscally driven by the consumer these days. Trends are really about what the customer will do and not what a space provides, the opposite of conventional hospitality. The lead bartender may not have the chops to order products and manage cost, let alone create. This takes us backward, arguably to a space where familiar classics and easy nostalgia under model and menu rule the day. Underwhelming to the nerd and influencer but reliable, smile-worthy and familiar to regular and consistent experienced guests."
Beverage Consultant Len Panaggio expects the low- and no-alcohol movement to continue to grow "as the millennials are looking for drinks with no alcohol or very little. I see mocktail lists growing and offering a flavor journey. They are looking for experiences and they, as a group, are willing to try obscure or literally unknown flavors."
Frank Martucci, Director of Beverage & Nightlife at Bally's Corporation also expects the demand for low-and no-alcohol items to continue to gain ground. "This is taking over market share of menu print and will continue to drive more creative cocktails and mocktails in 2023," he said. He also predicts that increasingly health-conscious guests "will continue to look at healthier options of spirits, beer, wine and mixers when consuming and selecting their beverages." Martucci said the guest experience remains paramount. "The days of just going out for a beverage, brunch or dinner is more determined on the WOW effect of their visit," he said.
For spirit trends, Martucci said, "Look for beverages to have more spicy and unique citrus-forward cocktails in 2023 … Guests will continue to seek premium spirits when choosing their [cocktails], with tequila leading the way, followed by bourbon, Cognac and rums." Simmons expects obscure gins, rums and liqueurs such as Hpnotiq, Midori and Jägermeister to populate more cocktail lists, along with "toppers, bubbles, sour beer and unexpected new [spirits] like soju and sake to make their way into niche spaces on printed menus as well."
Factors Influencing Wine Outlined
Jonathan Feiler, Group Wine Director, Ocean House Management, sees low- and no-alcohol trends persisting in the new year. Also due to climate change and supply chain issues, wines from some areas will continue to be scarce. "With the weather patterns and shipping lanes still becoming a factor, we will continue to see many of our favorite wines rise in price and be in short supply," he said. "We will have to look at new or forgotten regions such as the Mâconnais and Côte Chalonnaise in France for Chardonnay and to Chile for Sauvignon Blanc and Pinot Noir to fulfill our wine needs."
Jessica Granatiero, The Savory Grape, thinks the organic and natural wines category will "continue to expand. Consumers are more health-conscious today and care more now than ever about how the grapes are grown and how the wines are made. Plus, natural wines today are more approachable for the consumer than they were three to four years ago. We've noticed that clients also want to see the certification that wines are organic and not just grown organically—the labeling is important to them. We're always searching for new and interesting organic and natural wines to include in our product mix at the store."
Elisa Wybraniec, Wine Director, Coast Guard House Restaurant, sees consumers going out less to conserve money, but spending more when they do. "Beverage decisions, like other purchases, are influenced by economic forces," she said. "In 2022, the direction of beverage choices seemed to be motivated by value and experience. This entailed trading up on wine purchases, starting the meal with a specialty cocktail and ending the meal with a dinner libation. We're seeing this direction of consumer choices continuing in 2023. Guests conceivably going out less but elevating the less frequent dining experience with their beverage choices."
Matthew MacCartney, Private Wine Consultant and Wine Director, Newport Mansions Wine & Food Festival, said he is seeing the lines between Old World and New World varietals continue to blur as everything from grape-growing practices to climate change have influenced all styles of wine. "Nowadays, one can easily confuse, as I recently did in the MW Stage 1 exam, no less, a high-quality cool-climate Margaret River Chardonnay from Vasse Felix that I was sure tasted exactly like a high-quality Premier Cru Burgundy," he said.
"I will continue to reserve the term 'Old World' or perhaps, more appropriately, 'Old Old World' for countries like Armenia, Georgia, Ukraine and Israel who can trace their winemaking back thousands of years—5,000 [years] in the case of Armenia," he continued. "Due to religious or political reasons, wines from these countries have remained in relative obscurity, but strangely, almost all at once, these wines have crossed my path this year and what a pleasant surprise it was. Expect to see some well-known international varieties, but also many, many great wines made from indigenous varieties like Saperavi in Georgia or Argaman from Israel."
Nicole Mattiello, Vice President of Marketing and Business Development, Pranzi Catering, expects Champagne and sparkling wines continuing to be a hit with guests. "I think 2023 is the year of Champagne and bubbly," she said. "People LOVE Champagne. All kinds of it: Prosecco, Asti, Spumante, Sparkling Rosé and Classic Brut Champagne, to name a few. We are getting tons of requests for Champagne towers and Champagne-inspired cocktails. Aperol Spritz, French 75 and Champagne with cotton candy are some of the most popular. We also are noticing coupe Champagne glasses becoming very popular amongst the drinks served at our events. Craft cocktails including a bubbly topper are certainly making an appearance in 2023. Cheers to that."
Beer's Continued Recovery
As the industry continues to recover from the effects of the pandemic, taprooms can expect sales to continue to strengthen. "Taproom sales growth in early 2023 should be a given with COVID restrictions completely lifted and customers becoming more comfortable being indoors again this winter and into the spring," said Matthew Gray, Board President, RI Brewers Guild and Owner, Ragged Island Brewing Co. in Portsmouth. "We also anticipate that high gas prices and inflation costs could translate to much more local travel among craft beer fans in Southern New England."
As in other categories, low- to no-alcohol is gaining steam. Big-name brewers like Heineken and Guinness have jumped on the alcohol-free bandwagon with their own zero-alcohol offerings. Panaggio expects their popularity to increase, while Martucci predicts "the seltzer market will level out and guests will continue to look at canned cocktails with more of a premium, all-natural appeal."
Jamie Buscher, Brand Development Manager, Craft Collective and Co-founder of RI Inclusion, Diversity, Equity, & Action Committee, sees a continued shift in tastes from IPAs and sours. "While pilsners are far from new, we are seeing both consumers and industry professionals beginning to shy away from ultra-hoppy IPAs and heavily fruited sours in favor of the lighter offerings from the breweries we represent," she said. "A few years ago, stores were fighting over milkshake IPAs and now they're clamoring for more traditional German and Czech styles that are light, crisp, refreshing and generally lower in calories. It also seems like the hype of hard seltzer is being replaced by ready-to-drink cocktails and natural wines. The one trend that seems to be here to stay is supporting local, whether we're talking about wine or beer, and I hope that never changes."
We reached out to dozens of industry professionals and understand not every sector is represented. What do you see in the future? Time will tell and we look forward to hearing from you too.