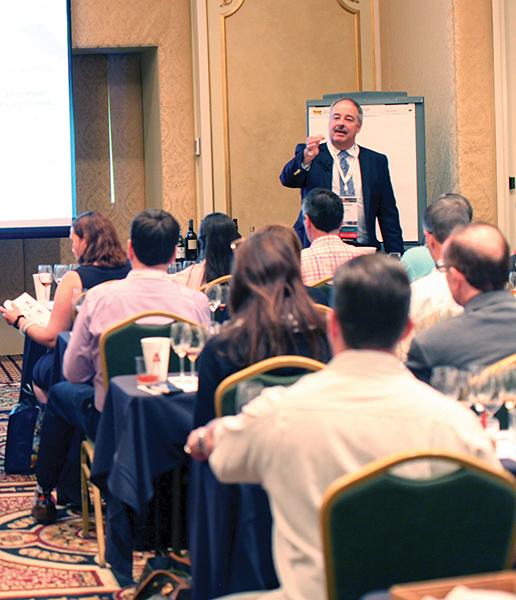 By Edward M. Korry, CHE, CSS, CWE
The Society of Wine Educators (SWE) held its 39th Conference in New Orleans during August 12 through the 14. There were approximately 425 attendees, of which 20 were from the Ocean State. That's an impressive showing reflecting a deepening commitment to education and leadership in self-improvement by beverage professionals in our state.
The question is why would so many undergo the expense of time, travel, lodging and conference fees to attend an educational event in today's world of easily accessible information about wine and spirits? It held over 60 sessions. Most, but not all, had tastings. Some were by category, appellation, varietals, verticals or reflecting a theme such as altitude, several were food pairing sessions involving dynamic chefs of New Orleans. There were a few surprises such as the emerging regions of Georgia, Turkey, Slovenia, China, England, The Finger Lakes and Arizona.
The fact that 25 of the sessions were delivered by Masters of Wine, Master Sommeliers or Certified Wine Educators is relevant because the information one receives at trade events tends to be brand focused — these were not, presenting the audience with deeper understanding of their topics. Some of the non-tasting seminars were outstanding, such as Understanding and Answering Questions About the Wine-health Connection, by Dr. Tilda Parente, CSW, MD, and destroyed many commonly held myths.
A few highlights included Let's Talk Turkey: Discovering the Charms of Turkish Wines. The audience tasted unique wines, made with ancient varieties such as the unpronounceable Öküzgözü or Boğazkere. The same applied to the Wines of Georgia session with Master of Wine, Lisa Granik, who had us taste more familiar Rkatsiteli and Saperavi. Both countries face similar daunting challenges, the former because of the Islamic environment and the latter because of poor relations with its powerful Russian neighbor.
The presentation by Sarah Malik, CWE, on English Sparkling Wines demonstrated why the wine world is taking them seriously. The wines had lovely fruit character, complexity and acidity with laser-like intensity. The session by Roger Bohmrich, MW, on Wines of China Today gave us a real treat, since none
of the wines are available in the U.S. This huge emerging region, which has seen significant foreign investments driving improvements to quality wines, could affect us all in the near future. It ranks second worldwide in vine acreage and fifth in worldwide consumption. The province of Ningxia is at the center of these international efforts, and while on the same parallel as Napa, it is high in elevation, arid and suffers from extremely cold winters, requiring the vines to be buried under three feet of dirt to survive!
The best balanced came from the joint venture of Domaine Franco Chinois represented by a Marselan Reserve, a cross between Grenache and Cabernet Sauvignon. Another varietal that was presented was a Cabernet Gernischt, which is genetically identical to the old Bordeaux variety Carmenère, Chile's iconic grape.
Eric Hemer, one of two worldwide who holds all three designations of MW, MS and CWE and also Sr. VP of Wine Education for Southern Wine & Spirits, presented on Wine and Regions of Northern Italy; Fernando Pavon of Emiliana winery in Chile presented on the wines of Colchagua Valley; Evan Goldstein, MS, presented on Portugal's iconic grape, Touriga Nacional; Jim Clark on How Cool is the Cape – about South Africa's wines and the list goes on.
There were also awesome spirits tasting seminars. That's important because the SWE not only offers a premier spirits certification (Certified Specialist of Spirits), but the Conference hosted its inaugural Certified Spirits Educator (CSE) exam. The examination is the most difficult comprehensive spirits assessment in industry. It tests the candidate's knowledge of spirits, their tasting skills and their teaching ability.
There are four components to the certification including two tasting exams, one that tests the ability to produce detailed tasting notes, and form a conclusion as to how and why each spirit is representative of its category. The second tasting is blind; candidates attempt to identify three spirits within a category, write a tasting note for each spirit, and, based on their knowledge of the production and aging processes, identify and explain the similarities and differences in the flavor profiles of each spirit.
Perhaps this recap of the activities, which didn't address the networking and community of wine and spirits lovers, explains why so many from the Ocean State ventured to New Orleans.
Visit www.societyofwineeducators.org for more information or go to https://apps.jwu.edu/chefschoice/pvd/searchsections.aspx to see what educational opportunities exist right here in our state.
Ed Korry is an Associate Professor and Department Chairman of Beverage & Dining Service at Johnson & Wales University, Providence. He is also serving as President of the SWE and has attained both its CWE and CSS certif ications, and holds a WSET certif ication. Johnson & Wales University offers courses to assist in certif ication exam preparation. RI, MA and CT beverage professionals should visit the university's website.