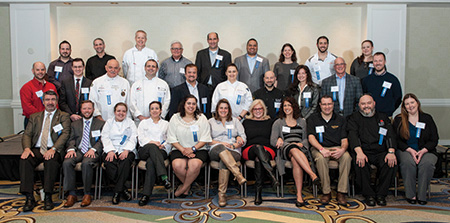 The Rhode Island Hospitality Education Foundation (RIHEF), along with ProStart® and Founding Sponsor US Foods, held the fifth annual Rhode Island ProStart® competition on March 10. Two student teams from William M. Davies Jr. Career and Technical High School were crowned the winners of the Culinary Arts and Food Service Management Competition. More than 30 area professionals judged the student teams.
"I am so proud of all the hardworking students who dedicated months of practice and preparation for this event," said Dale J. Venturini, President and CEO of the RI Hospitality Association and the RI Hospitality Education Foundation. "It's because of students like this that Rhode Island is nationally-recognized for its outstanding culinary scene. I look forward to watching the students' skills continue to progress and eventually become part of the skilled workforce we have here in Rhode Island." The two winning teams will compete in the National Restaurant Association Education Foundation's ProStart competition on April 29 – May 1 in Dallas, Texas.
Front Row, from left to right: Jules Olley, Tobey Sanborn, Jen Harpin, Rebecca Lentrichia, Alyshia Johnson, Kelly Ann Rojas, Dale Venturini, Melanie Rich, Kevin Thiele, Eric Steinhauer, Kim Paquette. Middle Row, from left to right: Vinny Costable, Joseph Parker, Karl Guggenmos, Ray McCue, Peter Figueiredo, Richard Agnieszka, David Dadekian, Amy Barclay, Steve Martel, Sam Glynn. Back Row, from left to right: Steven Trabucco, Brian Hamilton, Jamie Dwyer, Greg, Gamon, Joseph Vigliotti, Socrates Ramirez, Kristin Gennuso, Matthew Tortora, Emily Weidner.
From left to right: Dale Venturini, Lorena Rodriguez, Casey Torres, Zurisadai Avila-Sosa, Carmen Fernandez, Avia Payne, Caroline Velasquez, Elise Calhoun, Gabriella Fegundes, Pastry Chef Instructor Amy Hitzemann, Chef Instructor Santos Nieves, Chef Instructor Peter Fangiullo, Joseph Vigliotti.