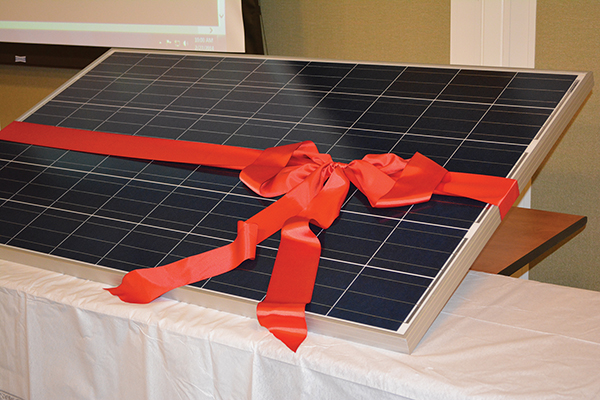 Executives and state officials celebrate solar energy systems
By Dana Slone
Allan S. Goodman, Inc. and Eder Bros., Inc. hosted ribbon-cutting ceremonies for their new solar energy systems located atop of their facilities in East Hartford and West Haven, respectively, on February 27, 2014. These projects will draw significant benefit from the Connecticut Public Utility Regulatory Authority's (PURA) Zero Emission Renewable Energy Credit (ZREC) program, underscoring the role businesses play in reducing their environmental impact.
Dave Heller, president of Allan S. Goodman, said their warehouse rooftop's 234-kilowatt solar energy system will save the company some 80 percent off each electric bill and pay for itself in five years. Eder Bros. hosts a 325-kilowatt system on their warehouse roof. The 1,302 solar panels, which cover 50,000 square-feet, will cut Eder Bros. electric bill by about 65 percent, said Senior Vice President Cutter Smith. EnterSolar, the company that installed the systems, will help monitor the production and consumption of solar energy.
Wine and spirit wholesalers such as Eder Bros. and Allan S. Goodman, help bring 36,000 products to market for more than 400 suppliers. Their state-of-art systems help distribute the more than 300,000 tons of alcoholic beverages sold within the state. A full story on the solar projects was published in the February Connecticut Beverage Journal.