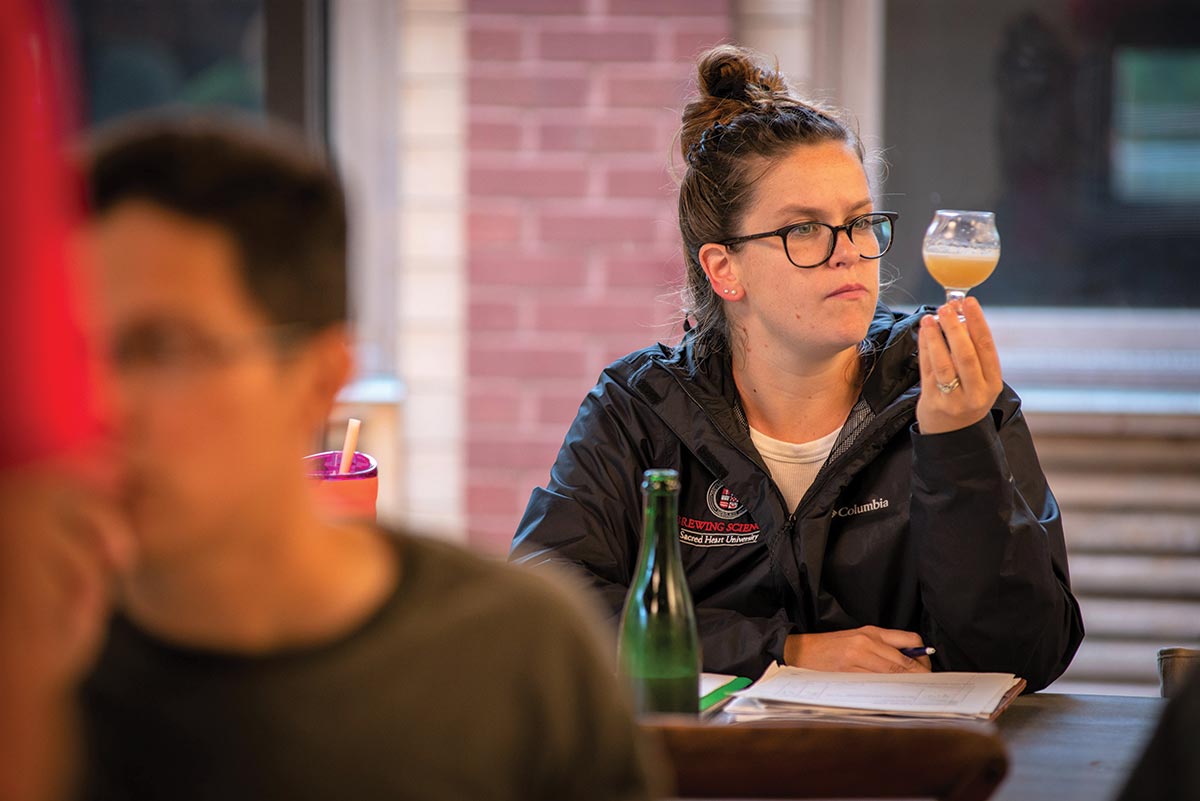 Sacred Heart University partners with Back East Brewing Company and Pink Boots Society
From Staff Reports
Sacred Heart University in Fairfield has partnered with Back East Brewing Company and the state chapter of the Pink Boots Society to develop a new scholarship for women who want to enter the brewing industry. Each partner will contribute half of the scholarship amount.
Called the Connecticut Pink Boots Society Scholarship for Women in Brewing, the goal is to address low female representation in craft brewing by giving an additional access point to education. The Pink Boots Society is a global nonprofit organization that encourages women in the alcoholic beverage industry to advance their careers through education. The organization started in Oregon and now has chapters throughout the United States, Europe and South America. The full scholarship covers SHU's one-year brewing science certificate program in Sacred Heart's St. Vincent's College.
"We couldn't be more ecstatic about the [CT] Pink Boots Society Scholarship for Women in Brewing," said Vinny Cataudella, Associate Dean for Success and Engagement at St. Vincent's College. "We share the commitment the Pink Boots Society has to help women advance their careers through education and are proud that SHU's brewing science certificate program can provide a vehicle for women looking to start or advance their careers in the brewing industry. This scholarship will help further diversify the student body within the program and, as a result, the industry overall."
Mariah Billian and Abby Bibens are co-leaders of Connecticut's Pink Boots Society chapter. Billian, of Waterford, is tap room manager at Outer Light Brewery in Groton, and Bibens, of Glastonbury, worked for a number of years in the state's craft beer industry, and is currently the tap room manager at Hop Culture Farms & Brew Co. in Colchester.
Billian previously worked in the restaurant industry and was also a pastry chef. She said she always had a love for beer, so when an opportunity opened up at Outer Light, she decided that was the career she wanted to pursue. "I'm so glad I made that change; I made the right choice," she said. Similarly, Bibens worked at a liquor store when she was younger while pursuing other career paths. She enjoyed sharing, tasting and trading beer with a friend, she said, and eventually the hobby turned into a passion and then a career.
Bibens and Billian became involved with the state's Pink Boots Society chapter in 2018 for the camaraderie it creates and as a place where women gain a sense of belonging, they said, where they can be passionate about beer or alcohol without feeling judged.
As reported in depth in the December 2021 issue of The Beverage Journal, "Leading the Way Forward," it's no secret that many women in the beer industry have experienced toxic and abusive
work environments.
When Billian and Bibens discussed the issue with the Connecticut Brewers Guild president, Phil Pappas, the idea of starting a scholarship with SHU—similar to the NEBCO African American Brewers Scholarship and the Athletic Brewing Company Scholarship, both of which support African Americans in the industry—came up. The two women took the idea to the Pink Boots' national chapter and decided to create a scholarship for women.
"We're excited," said Bibens. "This is an opportunity to encourage more women to be part of the brew industry and to have a voice. Now women in the industry can confidently say, 'I went to school; I know what I'm talking about.' Everyone is on the same level." The scholarship will help fuel equality among industry professionals, and once everyone sees that, "wonderful things can be achieved," Bibens said.
To be considered for this scholarship, a female student must be admitted into the brewing science certificate program and identify as female or non-binary. Priority consideration will be given to students who reside in Connecticut and demonstrate financial need, as determined by submission of the free application for federal student aid. Learn more at sacredheart.edu.