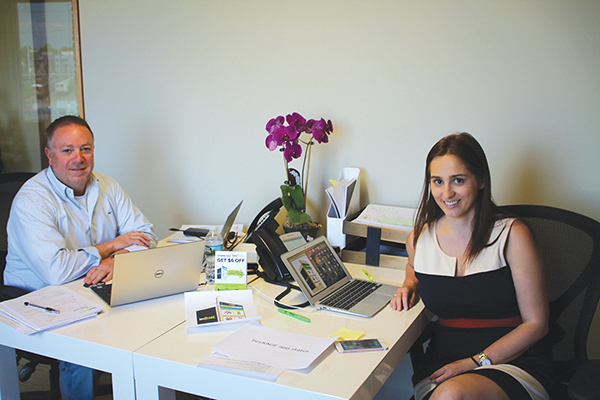 New Connecticut-based mobile app incents brands sales
By Lauren Daley
Dounya Irrgang has always loved entertaining and couponing. One day, she had the idea to combine her passions. "I'd always see mail-in rebates in liquor stores; I'd do Groupon, couponing — the crazy coupon lady, you know," she said with a laugh. "It was fun, but a lot of work."
So Irrgang came up with bevRAGE — a mobile app that would allow someone buying beer, wine or liquor to earn rebates back instantly — not by mail, but directly to their PayPal account, by taking a photo of their receipt and uploading to a phone app. At the same time, beverage brands who signed up with bevRAGE would be able to get their names out to consumers — whether they were Budweiser or a tiny craft brewery — and also see who was buying their products and from where.
"I started to talk to my friends who work at suppliers, and they thought it was a great idea," said Irrgang, now the CEO of the Stamford-based bevRAGE. "It's not just about saving, but about discovering brands. When you go into a liquor store, if you see a certain wine that you've never tried before is $5 off, you might be more willing to buy and try something new."
The beverage industry-specific digital rebate platform works both on- and off-premise, she said. Brands pay only when a purchase is made, and they "receive highly detailed data" enabling them to make targeted marketing decisions.
Irrgang said they currently work with some 80 brands, including Budweiser, Guinness and Bacardi, allowing them to "gain relevant and targetable data on consumer behavior." Irrgang explained, "Let's say Budweiser is going to spend x dollars on ads on national TV and they really hope people are going to go a store and buy it. But they're not sure if they will, and there's no way to track that. With this app, they know exactly how much product they sold, and they know age demographic and location of the consumer."
Beverage companies get a direct way to communicate with consumers, for whom the app is free, which can build brand loyalty, said Irrgang. For instance, if a consumer uploads his receipt for Dos Equis, the beer brand "can contact the customer with a push notification and say: 'How did you like your glass of Dos Equis? Go to the liquor store and get $3 off when you buy a 12 pack," she said.
Kevin Hickey, market manager at Bacardi USA, said, "I think it's the next platform to connect with the consumer. It's really functional. This is the next technology [we need] to engage with the consumer. It shows you the metrics behind it — how many people redeem, activate. It [is] information you can't really get otherwise. You can't get it through an ad. Unless you do a focus group and say, 'How did you find out about us?' and they're willing to tell you … This is the missing piece."
bevRAGE gets paid by suppliers, through a processing fee, when someone buys their product. Right now, they work in Connecticut, Rhode Island, Massachusetts, New Jersey and New York. They will soon branch out into other states, Irgrang said.
"I think it's going to really take off," said Dimitrios Zahariadis, president of the Connecticut chapter of the United States Bartenders Guild (USBG), owner of Cocktail Chemist, general manager at Anchor Bar and partner at Highland Brass Co. in Waterbury.
"For bartenders who want to make extra cash, if they take a few minutes, it can be beneficial, and it's super easy. When people come into the bar, I tell them, 'Hey, if you order [a participating brand], take a pic of your receipt and they'll give you money.' … You get $2 per referral." For a bartender, "That could be a nice little chunk of change at the end of the month," said Zahariadis, who recently hosted bevRAGE reps at a USBG CT chapter meeting.