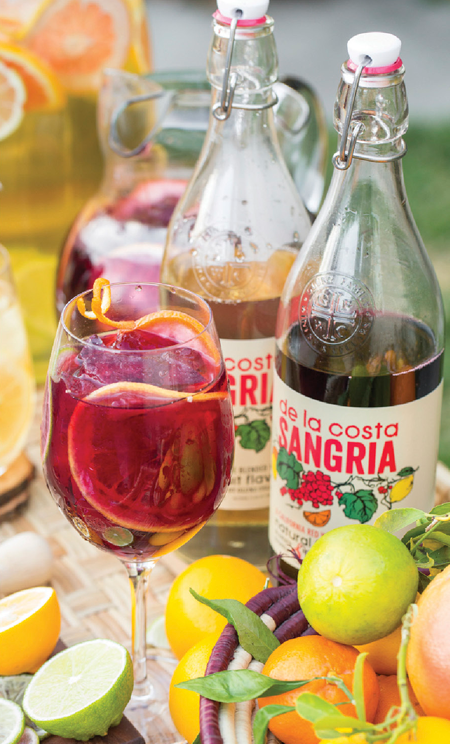 Glunz Family Winery Uses Century-Old Skills to Craft Fine Bottled Sangria
By Kristen Bieler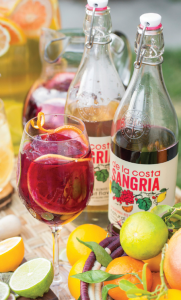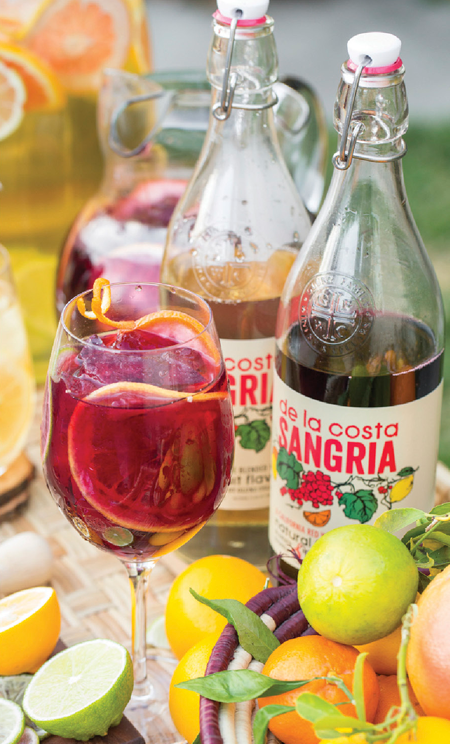 The key to creating an exceptional sangria is as obvious as it is rare: Start with high-quality wine and all-natural citrus extract—and don't water it down. "Most sangrias have artificial flavorings and tons of water added, whether listed as ingredients or not," says Matt Glunz, who runs the Paso Robles-based Glunz Family Winery, where he crafts De La Costa Sangria with his brother, Steve.
It should not be surprising that the Glunz brothers craft their own extract—"we use real lemon, lime and grapefruit peels and high-proof brandy; it's so intense aromatically that a little goes a long way," Steve explains. They learned the trade from their grandfather who made perfumes and flavors during Prohibition.
But the family's legacy of pioneering in the beverage alcohol industry dates back even farther, when Louis Glunz emigrated from Germany in 1871 at age 17 (with his friend Oscar Mayer), and opened a wine, spirit and beer shop in Chicago. The first to bottle Schlitz beer in 1893, essentially creating the beer wholesale business, Glunz began bottling his own cordials, spirits and wine. Subsequent generations expanded into almost every facet of the industry; in the 1950s, third generation Louis Glunz—Matt and Steve's father—started a wine wholesale business to service the Midwest.
It was Louis' love of Port that lured him to California, where he opened a bonded winery in Paso Robles with 20 acres in 1992, focusing on small-batch fortified wines.
Although Louis had been tinkering with sangria mostly as a hobby since the 1970s, it was Steve and Matt—who between them worked for Gallo, Penner-Ash and Murphy-Goode among others before joining the family business—who saw the potential for a high-quality sangria in the market. They decided to make De La Costa a national focus for their winery (which also produces Pinot Noir, Grenache and Cabernet).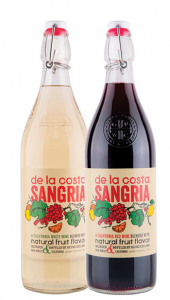 De La Costa's White Sangria is made from Sauvignon Blanc picked early to retain high acidity. "We ferment it dry then add a bit of sweetener and our citrus-infused brandy. Most sangrias are low-alcohol because they have so much water added; ours is pure wine with 11% ABV compared to most which are closer to 6% ABV" describes Steve. "This is what separates us from most other sangrias on the market."
A blend of Zinfandel and Merlot, De La Costa's Red Sangria starts off as "a dynamite bottle of wine," states Matt. A hint of tannin and dark red fruit flavors make it a bolder, more substantial red sangria than what many are used to, with bright acidity that keeps it balanced and refreshing, even on ice.
With early successes in Costco and Whole Foods, De La Costa is branching out into new markets. "Once people taste it, they understand why we are more expensive—around $11.99 for a one liter bottle; the quality is there," says Steve Glunz. "Often sangria is made with the dredges of whatever wine is leftover. For us, sangria is the priority."