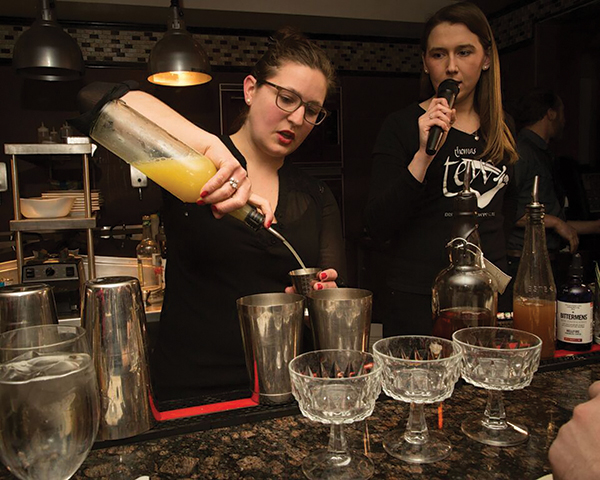 Secretary of the United States Bartenders Guild Rhode Island (UBSG RI) chapter, Elizabeth Sawtelle, won the Second Annual Winter Fest cocktail competition on February 15, 2016. Newport's The Revolving Door and Thomas Tew Rum hosted a party that brought together Ocean State cocktail crafters and enthusiasts. Sawtelle works at Nick's on Broadway in Providence's West Side. Thomas Tew Single Barrel Rum is made by Newport Distilling Co. and available in the state via Horizon Beverage Company, Origin Division.
Elizabeth Sawtelle of Nick's on Broadway; Adrienne Nicole of Vanderbilt Grace; Brent Ryan, Owner, Thomas Tew Rum.
The judges: Brent Ryan, Co-Founder/Master Distiller, Thomas Tew Rum; Ryan Belmore, "What's Up Newport"; Chris Almeida, USBG RI Chapter President.
Photos by Chris Almeida.