New Harvest Coffee & Spirits
130 Westminster Street
Providence, RI
Part café part whiskey bar, Providence's New Harvest Coffee & Spirits combines fine coffee and craft cocktails under one roof. Located in Arcade Providence, a historic shopping center in downtown, New Harvest roasts its own coffees and serves them alongside a variety of whiskies. Guests can also enjoy coffee cocktails, classic cocktails from New Harvest's full bar and pastries from local bakeries Humble Pie Company and Foremost Baking Company.
Bar Manager: Ryan Zins
Cocktail: The Bitter Truth
Recipe:
» 1 oz. Koval Barreled Gin
» ¾ oz. Zucca Rabarbaro Amaro
» ¾ oz. Campari
» ½ oz. Fresh lemon juice
» 2 dashes of Abbott's Bitters
» Zested orange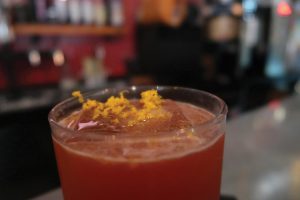 Method: Combine gin, amaro, Campari and lemon juice with ice in a cocktail shaker. Pour into glass with ice, add a few dashes of bitters and top with zested orange.
"I have always been a fan of bitter cocktails," said Bar Manager Ryan Zins. "The way an amaro and the bitterness of Campari coexist is fantastic. Add the smoothness and complexity of Koval Barreled Gin and you have one fantastic cocktail. The fresh lemon and shaved orange add a much-needed brightness to help round out the flavors. Sometimes the truth can be a bitter pill, but it can also be delicious."