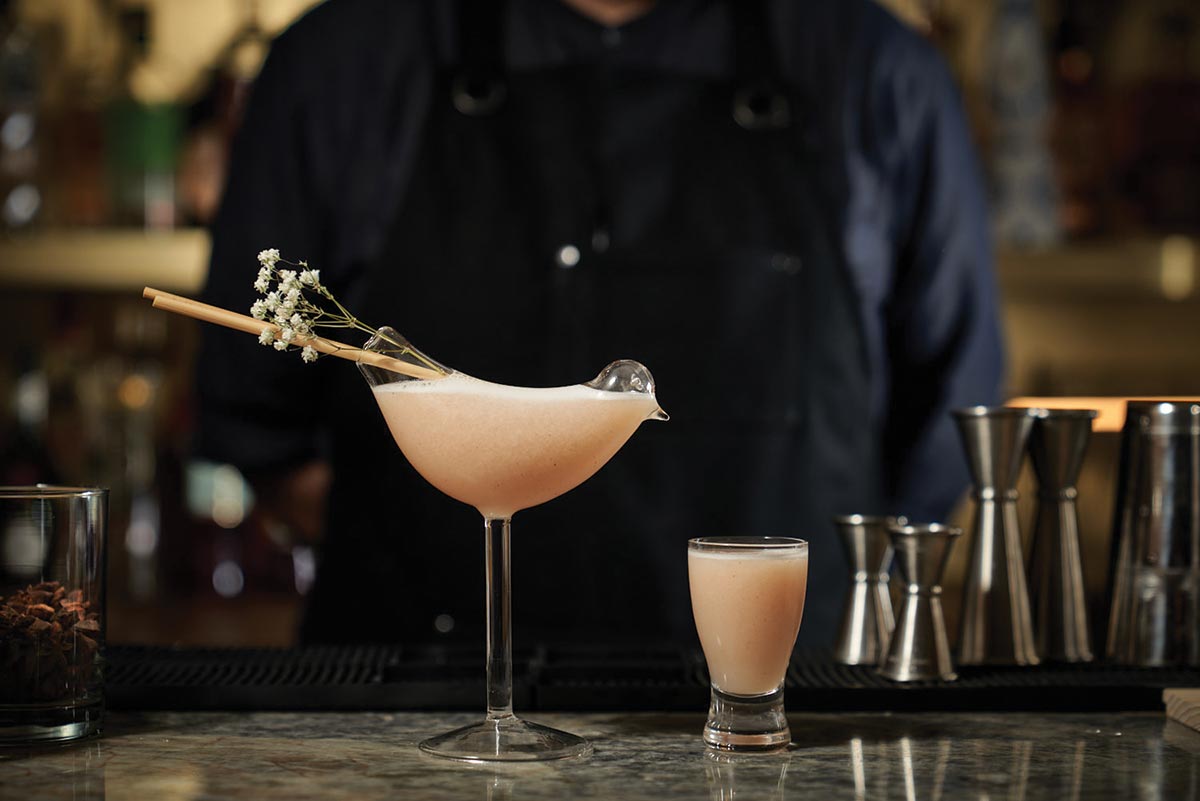 Moon Greenwich
130 East Putnam Avenue
Greenwich, CT
One of the newer additions to the Fairfield County restaurant scene in Cos Cob, Moon Greenwich offers guests a dining experience that is a fusion of Japanese, Chinese and Thai cuisine accented with an American twist. Entrees include fresh fish and sushi sourced from all over the world. Moon's cocktail list features bubbly creations, classic cocktails infused with Asian flavors and market-inspired concoctions, with a focus on farm-fresh produce. "Moon's cocktail and beverage program is focused on continuing the art of seasonally driven craft cocktails," said Moses Laboy, General Manager and Beverage Director. "When creating a craft cocktail menu, I always start my inspirational journey in the kitchen's walk-in," Laboy said. "I find inspiration in the menu offerings the chef has crafted. Then, I start playing with ingredients that I can incorporate into the cocktail program." The Okisan cocktail is anchored by Suntory Whisky Toki, a Japanese whisky which, he said, blends well with the flavors of Japanese yam, lemon juice and orange bitters – the perfect cocktail to enjoy on a spring day on Moon's newly opened patio.
General Manager & Beverage Director: Moses Laboy
Cocktail: Okisan
Ingredients
» 2 oz. Suntory Whisky Toki
» 1 oz. house-made Japanese yam sweetener
» .5 oz. fresh lemon juice
» 4 dashes Peychaud's Bitters
» 2 dashes Regans' Orange Bitters
» Garnish: baby's breath sprig
Method: Combine whisky, yam sweetener, lemon juice and bitters in a Boston shaker. Add ice and shake until cold. Strain into a bird glass via a funnel and garnish with a sprig of baby's breath.
While Laboy was in the process of creating the Okisan cocktail, a co-worker suggested he use Japanese yams in the recipe, which led Laboy to develop the yam sweetener as the best way to capture their flavor.
"This sweetener combined with the Scotch-like smokiness of Toki makes for a delicious, multilayered cocktail," he said. "The finishing touch to the Okisan was its vessel. Pre-opening of Moon, I had selected some fun cocktail vessels, including a bird-shaped and a pineapple-shaped glass. With the cocktail's vibrant color, it was a clear choice putting it into the bird glass. Finished with baby's breath, the Okisan is always Instagram-ready."