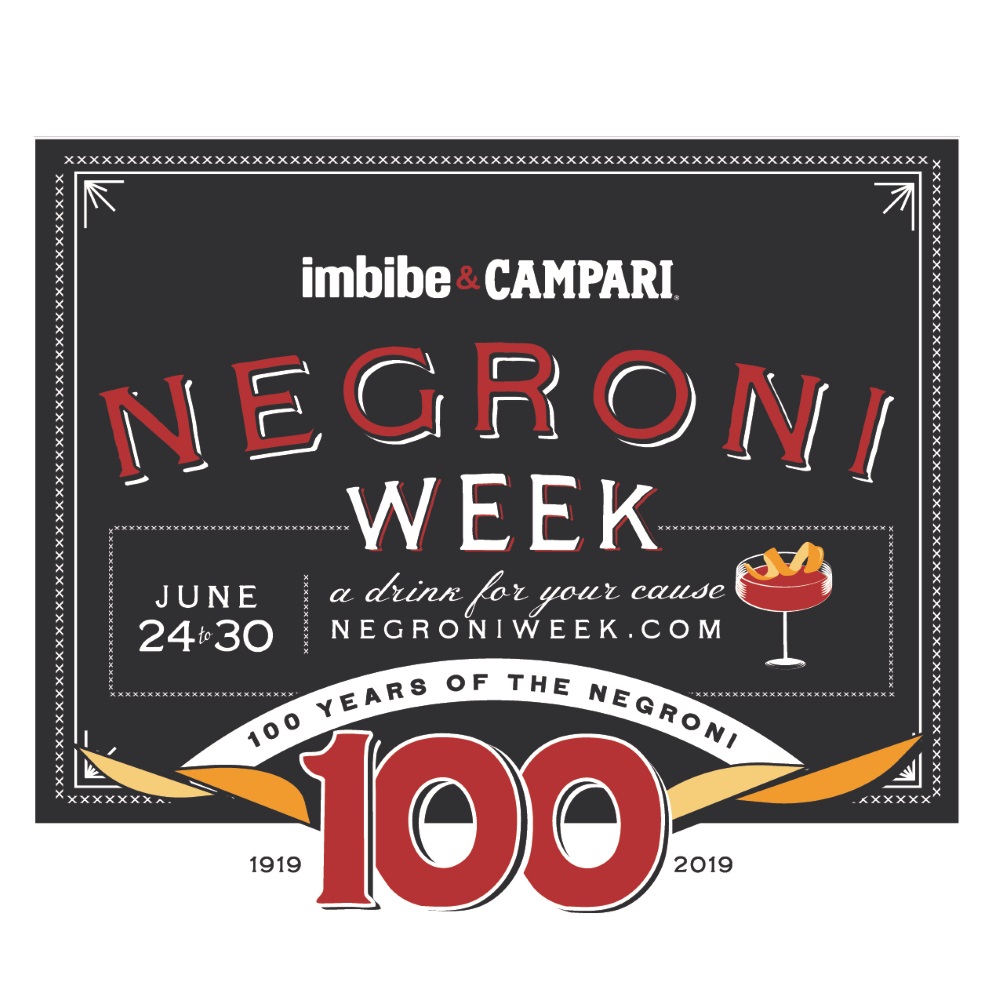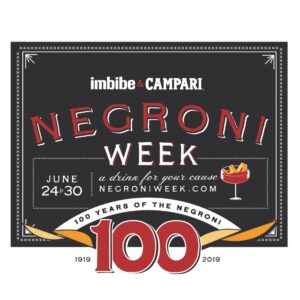 Campari, Italy's iconic bittersweet red aperitif, and Imbibe Magazine, present Negroni Week® for the seventh year. The international charity initiative will take place from June 24 to June 30 in bars, restaurants and retailers around the world, all dedicated to celebrating the world-renowned cocktail with the common goal of raising funds for charitable initiatives. Negroni Week 2019 marks an additional milestone for the Campari Negroni, as the cocktail celebrates its 100th anniversary.
Since it began in 2013, when just 100 passionate bars participated, 2018 saw 10,000 venues in 87 countries participated to raise an $585,000, bringing the total funds raised since the initiative began to nearly $2 million. For 2019, Campari has committed to contributing $75,000 in total to the participating U.S. Negroni Week charities, such as City Harvest, God's Love We Deliver, James Beard Foundation and more. Of the total committed contribution, $10,000 will to go to the top fundraising bar's or restaurant's charity of choice, and the remaining funds will be divided equally among all the other participating charities. Southern Glazer's Wine & Spirits will contribute an additional $10,000 for a total of $85,000 going to Negroni Week causes. Imbibe also donates $7,500 to the charity of a randomly chosen participating venue.
In partnership with the USBG National Charity Foundation, Campari will be co-hosting the second annual Campari National Day of Service which will take place on June 25. The two organizations will lead 53 volunteer activities across the U.S. that support causes like animal welfare, parks development and food aid in 49 cities. The initiative encourages bartenders, trade industry friends, distributor partners, media and more to venture out into their communities and celebrate what Negroni Week is all about: giving back. To sign up visit www.camparidayofservice.com.
Continuing a long-held tradition, industry icon Tony Abou-Ganim will again lead Team Negroni bike rides through San Francisco, New York City and Las Vegas to benefit the Helen David Relief Fund, a program of the USBG National Charity Foundation that assists women in the bar industry who are fighting breast cancer. This year, Abou-Ganim and Team Negroni have set the goal of raising $100,000 to celebrate 100 years of the Negroni. To sign up and for further details visit www.usbgfoundation.org/team-negroni.
To sign up as a participating Negroni Week venue, businesses can simply select their charity of choice from more than 40 Negroni Week charity partners and make an initial donation of $25 or more at www.NegroniWeek.com, up until June 20th at 11:59 PDT, when registration closes. Participants who have registered by June 20th are also encouraged to return to the website throughout Negroni Week, and until August 1st, to donate additional funds they've raised.