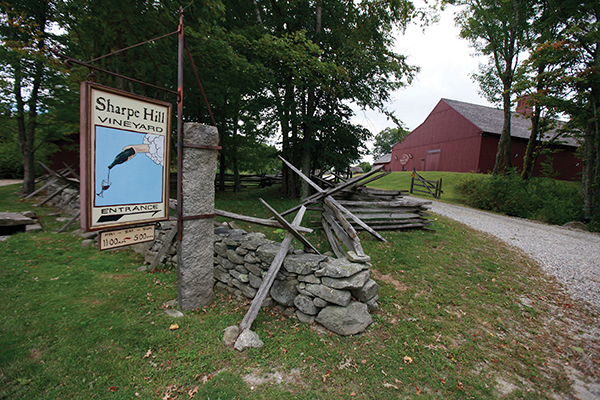 Owners create destination dining and winning wines
By Nancy Kirsch
Hobbyist grape growers and winemakers for some 15 years or so, Steven and Catherine Vollweiler fulfilled their dream by opening Sharpe Hill Vineyard in Pomfret, Connecticut to the public in 1996.
In 1991, they purchased the land, which now includes 25 acres of vines. Some time later, Howard Bursen, an experienced winemaker and Pomfret resident, became the company's winemaker. "I was an amateur," said Steven. "I knew we'd need a professional."
Steven's mother was born in France and his father, who was born in Germany, lived in France for many years before moving to the United States. "Steven is first-generation American; he was raised with [French] wine culture. We traveled and drank the best wines all over the world," explained Catherine.
"We wanted a world class winery; we dreamed that we could do this ourselves in America."
Sharpe Hill Vineyard is also home to a Zagat-rated restaurant, the Fireside Tavern. Featuring several wood-grilled entrees, the Fireside Tavern earned four stars from The New York Times.
It's not solely the restaurant that earns accolades; Sharpe Hill Vineyard's wines, both reds and whites, have earned hundreds of awards for excellence in international and national competitions. One of its white wines, the Ballet of Angels, is the best selling New England-produced wine in New England,said Steven.
Acknowledging their flexibility to launch the winery on their own schedule, Catherine explained, "We could do it first class, with no rush, to put [the vines] in properly. We pioneered the St. Croix grape [in the northeastern United States]." In addition to the St. Croix, other reds include a Red Seraph, a Cabernet Franc, two rosés and a Pontefract, a Port-style dessert wine made solely from the vineyard's St. Croix grapes.
Although the majority of vineyard and restaurant visitors are from Connecticut and adjacent New England states, Steven doesn't believe the farm-to-table trend impacts their business. "That's a small niche," he said. "It won't make a big difference. In 2014, we sold eighty-five percent of our wine in retail outlets outside the winery," he continued, noting that the bulk of their annual sales – some 12,000 cases – are purchased in New England.
What the couple intended to create for themselves and their family has become a destination spot for New Englanders. The historic site, with the original 1750 house and an even older barn, makes it very special, said Catherine. She continued, "We're all together on the same journey. Make a quality product and everyone will find you. New Englanders patronize us…love us. They will do it to everyone else on the [Connecticut] Wine Trail."
To that end, the Sharpe Hill Vineyard takes pride, Catherine said, in helping nurture winery startups by offering advice and sharing their expertise.
Sharpe Hill Vineyard
108 Wade Road
Pomfret, Connecticut 06258
Vineyard View will be published quarterly as part of our continuing local focus. Contact
dana@thebeveragejournal.com to be featured.