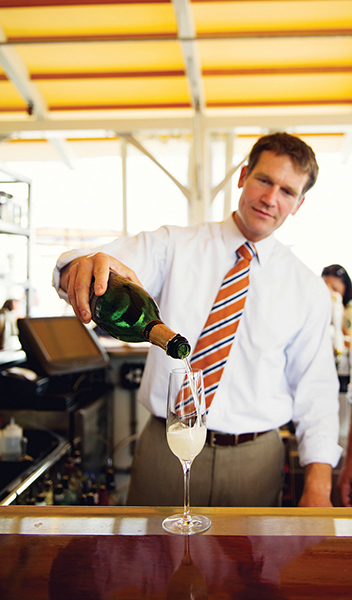 Beverage Director talks sourcing, flavor and trends
By Lauren Daley
As Beverage Director of the Newport Restaurant Group, the largest restaurant group in Rhode Island, Shawn Westhoven is all about sourcing from local Rhode Island brewers, vineyards and distillers whenever possible. He also sources herbs hyper-locally — as in, his own Newport backyard.
After graduating from Johnson & Wales University's Culinary program in 1996, Westhoven worked as a cook at Castle Hill in Newport, where he "fell in love with wine." He has since held various posts within Newport Harbor Corp., which owns NRG, Castle Hill and Papa Razzi, a group of Italian restaurants in Massachusetts. Today, he is the Beverage Director of all 14 of Newport Harbor Corp.'s restaurants. From wine-based cocktails to home-grown herbs at the bar, he's got some interesting ideas.
Q: You like to source locally. Where do you get your supplies?
A: For apples, peaches, cider, herbs, we work through the same people that our kitchens get their ingredients from, usually Farm Fresh Rhode Island … They buy from local, small Rhode Island farms, list [products] online, and our chefs order from their website. They're a middleman between small farms and restaurants, and it's great for small farms who aren't big enough to reach out to restaurants.
Q: What local beer, wine and spirits do you like right now?
A: Our draught lines are heavy on Rhode Island breweries. In our Newport restaurants, people are vacationing and want a local beer, not something they can get back home in Indiana or somewhere. We've got such great breweries in Rhode Island; we're really lucky.
The Boathouse incorporates some from southeastern Massachusetts, like Buzzards Bay brewery in Westport and Westport Rivers Winery. At Trio in Narragansett we have Whaler's, which is a really small brewery [in Kingston], Grey Sail in Westerly, and Newport Storm, which makes a private beer for all our restaurants in the summer, called Castle Hill Windward Weiss. We also use Revival, Trinity, Foolproof; we sell a lot of local beer.
For Rhode Island spirits, we use Sons of Liberty, Thomas Tew. For wines, we do a little with Sakonnet Vineyards, Newport Vineyards, and a lot with Westport wines.
Q: Why do you like sourcing locally?
A: It has a lot to do with local economy, really. Local distilleries, wineries, breweries — all those guys live in our towns. If we're making them money, they're spending money in our economy, and the people they're spending money with can spend money in our restaurants.
There's also an argument for [environmental] impact, especially with vodka. You could ship vodka in from Russia and Poland — but Smirnoff is here in the U.S. And Grand Ten Distilling, Bully Boys Distillers, are here in Boston. Why would you not reduce shipping glass bottles around the world? Same with produce. Why ship a potato across the country for French fries if we grow potatoes here in Rhode Island?
Q: You grow your own hops at home. How'd you get into that?
A: When I was in culinary school, it was something a lot of my classmates were toying around with because it was cheaper to brew than to buy beer (laughs). After I got my culinary degree, I got back into it to see if I could make a better beer, because the beer I made in college wasn't that great. I'm also into gardening, so I got hops plants, harvested the hops, let them dry, and they were awesome. This time of year, I do … an IPA. You can smell the super floral citrus aroma.
Q: You grow lemon verbena, Meyer lemon, rhubarb, chamomile and fig in your backyard, too. Do you use them in your restaurants?
A: The Smokehouse in Newport uses the lemon verbena that I grow at home. In the spring, I take the plants in, they spend summer at The Smokehouse; bartenders pick the herbs fresh from the plants. In the fall, I take them home and put them back in the ground.
"Garden Party" uses Riesling, lemon verbena and cucumber vodka. Lemon verbena is interesting because it doesn't have a flavor — it's aromatic, like a zest. It smells like fresh lemon but doesn't impart acid, whereas lemons give you acid and don't hold aroma as well.
We also use local peaches and do an infusion with peaches and bourbon. Bourbon has that vanilla [essence] from the charred barrels that tends to [match] well with peaches. You can serve that straight or you can make a Manhattan with peach flavor to it.
Q: Anything else you're experimenting with?
A: I want to start using what I grow in my backyard to make my own vermouth, just experimentally … People think it's a hard spirit, but vermouth is wine that has been fortified with brandy to keep it from going bad, and to balance the harshness of the brandy, it's sweetened with simple syrup. In really good vermouths, there are aromatics — orange peel, hops, lemon verbena — anything aromatic to add complexity.
Q: What are you experimenting with in the bars?
A: One interesting cocktail we're doing at Papa Razzi is a Figcello. We take dried figs, soak them in vodka for five weeks, and it turns a dark brown color like Coca-Cola®; it pulls a ton of flavor out of the figs. We've been using that with some bourbon, and some amaro.
There are also a lot of people who want to go out with friends, but who don't want alcohol. So we're working on being able to offer them something non-alcoholic so they're comfortable being out, interacting with a bartender. For example, freezing fruit juice ice cubes and pouring soda over it, and adding a simple syrup. Or freezing lemonade and using those cubes in an iced tea. Or just blending fresh watermelon.
We've been working on other cocktails made with wine, other than sangria, because sangria is everywhere. "Garden Party" is a good example because it uses Riesling wine. We have a martini at Papa Razzi made with gin and Sauvignon Blanc instead of vermouth, as vermouth is basically wine. It's got a crazy grapefruit citrus smell, really intense on the nose. It's fantastic.