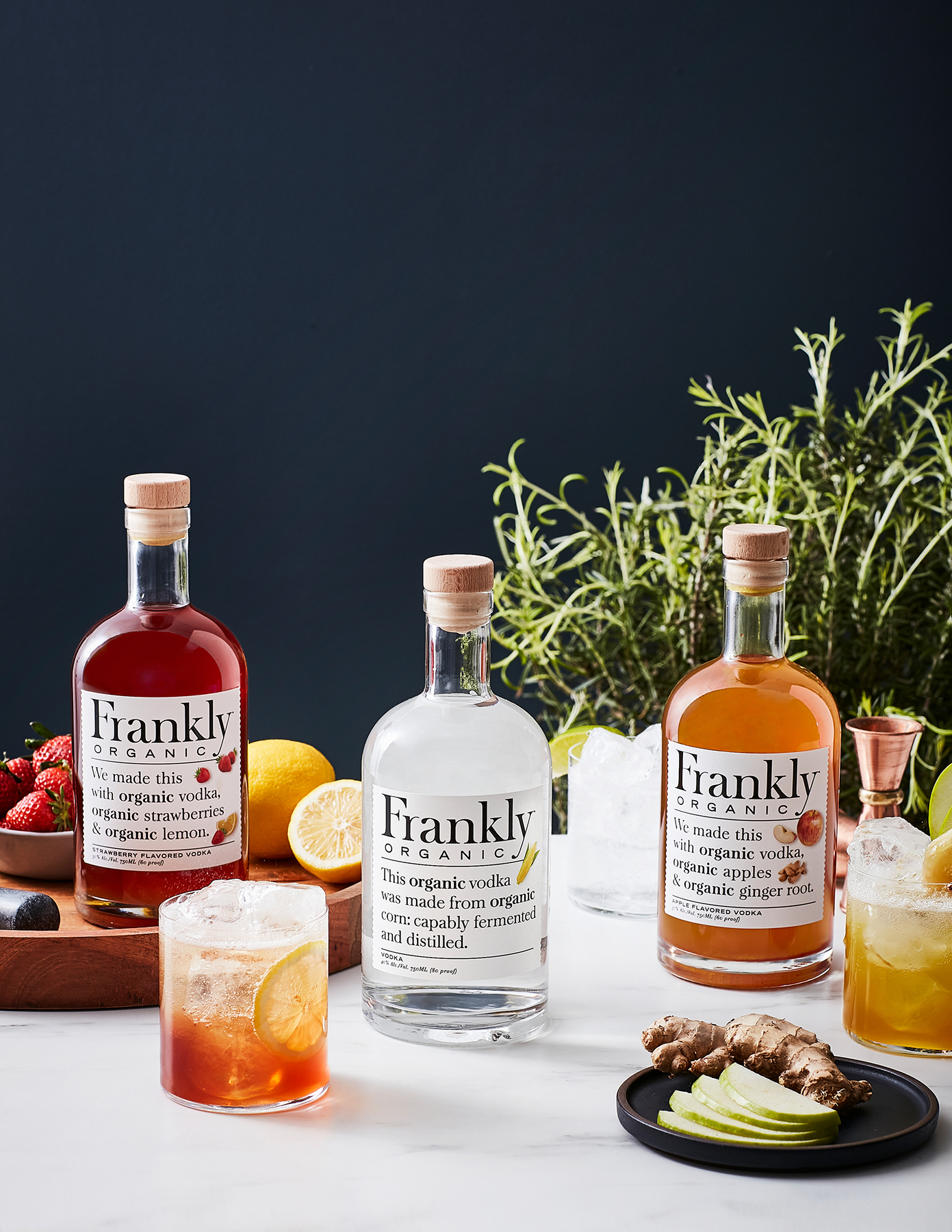 The sluggish category sees new energy from innovative technologies 

and a craft-driven push towards terroir-expression, new ingredients, 

and an emphasis on flavor
By Brad Japhe
Vodka remains far and away the most consumed category of spirit in the United States. But although it accounts for one-third of all spirits sales (according to Nielsen)—with whiskey a distant second at 25 percent—vodka has been on a slow and steady decline for over a decade, according to data from IWSR Drinks Market Analysis. And it rarely enjoys the top-shelf placement of, say, craft gin or Japanese whisky.
Yet there are new signs of life in the category. Growth—and excitement—in the vodka space today are being fueled by craft-minded distilleries who are flipping the script on vodka. And their numbers are growing: In 2010 there were less than 400 craft vodka brands on American shelves; a decade later, there are over 1,500.
Rather than striving for the long-held holy grail of "smooth and neutral," these producers are focusing on more pronounced flavors coming from the quality raw ingredients and water sources they are using. Fewer distillations, less filtering, novel new technologies, and an emphasis on provenance are driving the vodka conversation today (even the TTB removed the "flavorless, odorless, colorless" words from vodka's definition in 2020) as producers—both small and large—aim to appeal to a new generation of drinkers.
"As drinkers are appreciating and paying more attention to what's in their glass, a space has been created for examining and appreciating the flavor of vodka," observes Nicole Salicetti, bartender at Llama San in New York City. "I know it still sounds crazy to say flavor and vodka together, but [the category has to undo] years of their own marketing." It's no longer the bland and boring "chicken" of the spirits world, Salicetti says.
Water and Ingredient Purity Takes Center Stage
"Vodka is profoundly impacted by the character and quality of the water used," explains Alan Dietrich, CEO of Crater Lake Spirits in Bend, Oregon. "Mineral content, pH, hardness, all have a huge influence."
Although H2O accounts for a majority of the liquid in any 80-proof vodka, it has long been overlooked by producers who focused instead on filtration techniques or quantity of distillation runs. In other words, they were more concerned with what they were taking out of the spirit rather than what they were putting in. Dietrech is turning that notion on his head. Water sourcing is a key part of how vodka expresses its terroir, he believes. "The uniqueness of the water in Central Oregon is probably a far greater contributor to the superior quality of Crater Lake Vodka [than any element of production]," he adds.
In Quebec, Canada, St. Lucifer Spirits is turning to technology to upgrade its water game. To craft its Dirty Devil Vodka, the distillery first purifies spring water through reverse osmosis, then hyper-oxygenates the liquid through a patented process which adds five times the amount of oxygen or ordinary water. The resulting product is an enlivened vodka that showcases its corn base while tempering any ethanol burn.
Even large brands are increasingly focusing on water source as a primary quality driver. Austin, Texas-based Deep Eddy credits the taste and texture of its vodka to the deep water aquifer from which they obtain their spring water, which offers greater purity than a surface source, the founders believe (the brand is even named for the deepest spring-fed swimming hole in Austin).
The focus on ingredient integrity and transparency which has transformed many other beverage alcohol categories will be an important growth area for vodka as well, believe many experts and producers alike. Husband-and-wife team Philip and Kristen Risk launched Austin-based Frankly Organic Vodka with organic fruits, roots, and botanicals—all of which are listed on the front of the bottle in bold font. The subtly sweet flavor profile is entirely natural, they explain, a result of the corn base—sourced exclusively from small, sustainably-minded farmers—as Frankly eschews any refined sugars or artificial flavors that other less-transparent spirits brands may contain.
Building Flavor Vodka Through Chemistry
At Buffalo Trace, master distiller Harlen Wheatley is the man behind some of the most sought-after whiskeys on the planet. In fact, many Pappy Van Winkle fanatics would be shocked to learn that any vodka on shelves could possibly share a DNA with their vaunted bourbon. But for over a decade now, he's been bottling CLIX, made from a base of red winter wheat, plump rye, yellow dent corn, and malted barley. Its slow path to the glass harnesses advanced chromatography to elevate nose and palate on a liquid that's distilled exactly 159 times.
"In 2007 we installed a MicroStill system that allowed us to focus on the details," explains Wheatley. "For the first batch, it took us about 4 months to complete and make about 250 gallons of vodka through multiple grain recipes and distillations." 
At $300 a bottle, CLIX has become as coveted as Pappy, Wheatley shares. "Convincing our Buffalo Trace drinkers is the easy part," he adds. "Our fans do know our reputation as a spirit producer, and we want our consumers to have confidence that we apply that same passion for making bourbons and whiskeys to our vodkas."
Large, established producers are embracing new techniques to add flavor as well. SKYY is reformulating its vodka to include a hint of salinity, imparted from minerals sourced directly from the San Francisco Bay Area. The resulting vodka is then filtered through California limestone, which also amps up the saline note.
When it comes to applied science, though, the sky's the limit for The Air Company. The tech brand is using a proprietary distillation system to turn ambient carbon dioxide into pure ethanol. Even more mind-blowing: it tastes great—summoning faint edges of lemon around cereal grain.
Going Against The Grain
In the U.S., the top selling vodka brands—including Tito's and Smirnoff—are typically distilled from corn. Higher-end labels like Grey Goose and Ketel One are made from wheat. But there are some surprising tonalities to be mined from unconventional ingredients.
From England's West Dorset coast, Black Cow is made by Jason Barber and Paul Archard, whose family has been dairy farmers for four generations. They distill the milk of grass-fed cows; the resulting vodka shows light cream and fresh cracked pepper flavors, and a rich, creamy texture.
"To make our vodkas, we distill fresh produce and fruit on our copper stills using the same artisanal methods we rely on to make our flagship brandies and fruit liqueurs," says Lance Winters of St. George Spirits, alluding to the pear and apple that's part of production. "Combining these distillates with a non-GMO base spirit results in unique liquids that stand proudly among the rest of our portfolio."
It's no surprise that other established fruit brandy distillers entering the vodka space are looking to craft flavor-forward spirits that accentuate the character of the ingredients grown in their orchards. Rootstock Spirits, created by the DeFisher family, fifth-generation fruit farmers in upstate New York, added Tree Vodka to their line-up of pear, apple, and plum brandies. Head distiller Collin McConville uses calvados production techniques in order to highlight the fresh, slightly sweet apple flavors and aromatics of the two dozen apple varieties they cultivate. While not a flavored vodka, the apple undertones of Tree are unmistakable.
For the famed Japanese whisky producer, Suntory, the magic behind its Haku Vodka is in the mold. "Koji is cooked rice that has been inoculated with a fermentation culture," explains Gardner Dunn, senior ambassador for the brand, which launched its clear spirit in winter of 2018.  "This is used to form a mash which is then distilled in pot stills to create a rice spirit. It's then distilled a second time, some in a pot still and some in a column still. Those liquids are then blended and filtered through bamboo charcoal in a process unique to [our distillery]."
The goal for these producers is to craft a vodka that expresses the character and flavor of the raw materials. "That can be a challenge when producing spirits over 190 proof off the still," admits Ryan Lang, owner and distiller of Middle West Spirits in Columbus, Ohio. "But we found a certain strain of red winter wheat that provides a soft vanilla tone to the product even at 191.5 proof off the still. The process of heads and tails cuts is performed by sensory analysis to keep the best of that material so that when finishing an 80 proof bottle, minimal filtration is needed."
Building Texture, Beyond Smoothness
Of all the ways in which a vodka can accrue craft bonafides, texture isn't the most obvious. Yet it's a key consideration amongst a new generation of distillers vying for relevance in the space. Barry Young has wielded that baton to expert effect. A nip of his Boyd & Blair Potato Vodka is not unlike sipping on silk. "The mouthfeel and natural viscosity that Boyd & Blair has comes directly from the starch of the potato coupled with the impact of champagne yeast," according to the distiller. "The goal was always to be the un-vodka of vodkas. In fact, I do everything I can to give the spirit more flavor."
Even larger producers are emphasizing texture qualities beyond simply "smooth." Chopin Family Reserve relies on extra rare young potatoes from Poland to deliver a earthiness as well as creamy mouthfeel, and New Amsterdam, the gin producer that turned to vodka in 2011, cites its 95 percent corn base for its vodka's rich, mouth-coating texture—as well as for its hallmark flavors of lemon-zest and frosting.
To build a vodka with great textural and flavor complexity, Chris Montana, founder of American Liquor Co. (the country's first Black-owned microdistillery) in the Midwest, combines four different base ingredients. The "four-crop" blend marries together locally-grown Midwest winter wheat, light rye, Rio Grande potato, and white corn vodkas to yield what Montana describes as a "definitely not neutral" vodka. The wheat adds berry notes and the rye contributes a peppery kick, while the corn adds sweetness and buttery aromatics and the potato brings rounded, creamy texture and mouthfeel.
Unshackled by regulation, armed with innovation, craft vodka producers are winning over skeptics; making it clear that you can't afford to remain neutral when it comes to this rapidly evolving category.