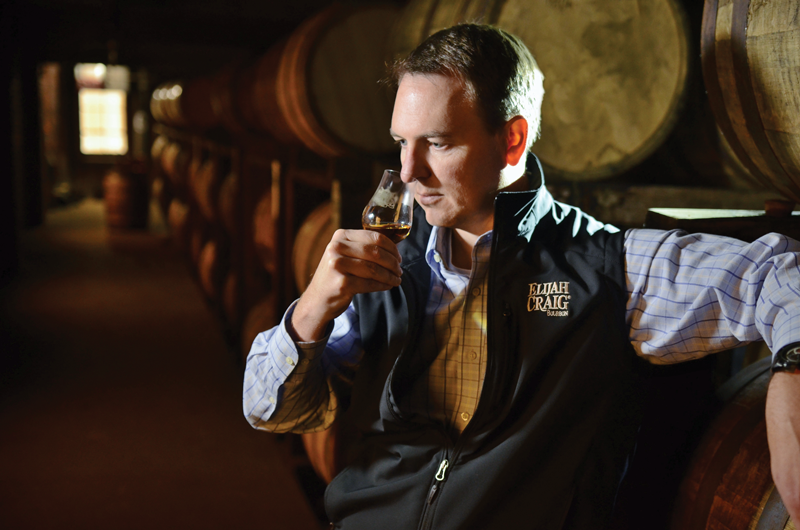 It is only fitting that the spirit of Elijah Craig, "The Father of Bourbon," is right in the thick of America's current whiskey boom. Rev. Craig's namesake bourbon continues to set the pace for a Heaven Hill Distillery portfolio that is loaded with up-and-coming labels.
For instance, at the 2018 San Francisco World Spirits, Elijah Craig Small Batch was named "Best Small Batch Bourbon," placing second overall only to portfolio-mate Henry McKenna Single Barrel, named "Best Bourbon" across all categories. In that same competition, Heaven Hill's Pikesville Straight Rye received a Double Gold designation.
Pikesville also took home "Best of Show American Rye" at the 2018 WSWA Spirits Tasting Competition, where Elijah Craig Small Batch was named "Best of Show Bourbon." And Elijah Craig Barrel Proof was named the 2017 Whisky Advocate "Whisky of the Year."
The accolades have certainly been coming in bunches—and that is no accident. "Heaven Hill Distillery's pedigree of producing bourbons and whiskeys with award-winning flavor is a tale of more than 80 years of family passion," notes Heaven Hill President Max L. Shapira. "We don't make whiskey to win awards, but it certainly helps validate all that we do here to make our American Whiskey the best way that we know how."
The success of Elijah Craig—one of the fastest-growing super-premium whiskey brands in the country—is a special point of pride for Heaven Hill as the U.S. market has suddenly become saturated with new labels touting their special selection and/or limited production. Heaven Hill distillers were singling out a small number of barrels of the finest bourbon to make Elijah Craig long before the term "small batch" even existed.
Stronger than ever, Elija Craig Small Batch is enjoying a leadership role within a dynamic portfolio. "Heaven Hill Distillery prides itself in nurturing storied brands and Elijah Craig is an example of one that has seen tremendous growth and popularity, as a result," states Elijah Craig Brand Manager Max Stefka.
Tapping this name recognition in a novel way, Heaven Hill recently implemented the Elijah Craig Firestarter program, which celebrates "entrepreneurs who are torching the status quo" in areas like fashion, food and charity. The name is a double-entendre because it not only refers to the creative impresarios featured in the program, but to Rev. Craig himself, who was the first person to age Kentucky whiskey in charred oak barrels. Currently Firestarter spotlights Chef Alan Jackson of LA's Lemonade and Peyton Jenkins and Colin Hunter of Alton Lane menswear. "By partnering with entrepreneurs through the Firestarter program, consumers can connect with a modern idea of who Rev. Elijah Craig was," explains Stefka.
Extended Whiskey Family
Small Batch is just one of the Elijah Craig expressions produced by Heaven Hill. The even smaller single-barrel offerings include two age statements—18 Year Old and 23 Year Old—and Barrel Proof, which is uncut 12-year-old bourbon bottled straight from the barrel.
The roster of whiskey complementing Elijah Craig includes bourbons Evan Williams, Larceny, Old Fitzgerald, Henry McKenna and Fighting Cock; plus Pikesville and Rittenhouse ryes and Bernheim Wheat Whiskey. "We protect brands that epitomize the time-honored traditions of American-whiskey making," says Master Distiller Denny Potter. "Whether it's distilling the classics in our portfolio like Elijah Craig or preserving storied brands like Pikesville [added in 2015], I see it as my responsibility to continue the legacy of quality and history."
Creating or relaunching a whiskey brand can be a bit of a chess game. Potter recalls the story of Larceny, which was named for Old Fitzgerald distillery owner John Fitzgerald. He was also a treasury agent, and according to legend, had exclusive keys to the bonded warehouse, where he was said to help himself to his favorite barrels: "As we launched it, we only had enough wheated bourbon inventory to go into around 10 markets. Five years later, we finally got our stocks in a place for us to launch nationally."
With so many bourbon and other whiskey expressions from Heaven Hill, consumers certainly have a choice of styles and how to serve them. Countless internet threads argue about the best way to serve it, but is there really a definitive answer?
"Bourbon is personal," says Potter. "I always like to say, 'whatever way you like to enjoy bourbon is the best way,' so the same goes for a good time."
---
Heritage Gems
While the whiskey world seems awash in limited editions, three from Heaven Hill stand out for their combination of rarity and quality.
Heaven Hill 27-Year-Old Barrel Proof
Small Batch Kentucky Straight Bourbon Whiskey was produced at Old Heaven Hill Springs Distillery before it was destroyed by fire in 1996. Only 41 barrels passed taste-testing for inclusion. Housed in a custom wooden box bearing two H's on each side signifying the Heaven Hill, the one-time release, shipping late fall 2018, will be available in limited markets for SRP $399.
The annual release of Parker's Heritage
Collection, in memory of Master Distiller Parker Beam who was diagnosed with ALS in 2010, is highly anticipated worldwide. Originally conceived to showcase the quality and broad range of Heaven Hill's whiskey holdings, the past five editions from 2013-2017 have raised over $1 million for ALS research and care. The 2018 edition (110 proof; $89.99), finished in orange Curaçao barrels, begins shipping in September.
Old Fitzgerald
The fall 2018 edition of Old Fitzgerald Bottled-in-Bond Kentucky Straight Bourbon Whiskey—the second of its kind—comprising barrels produced in October of 2008, and bottled in August of 2018, ushers in the latest hallmark series to the bottled-in-bond legacy. It meets the strict requirements of a bottled-in-bond: the product of a single distillery from a single distilling season, aged a minimum of four years, and bottled at 100 proof. SRP $90.