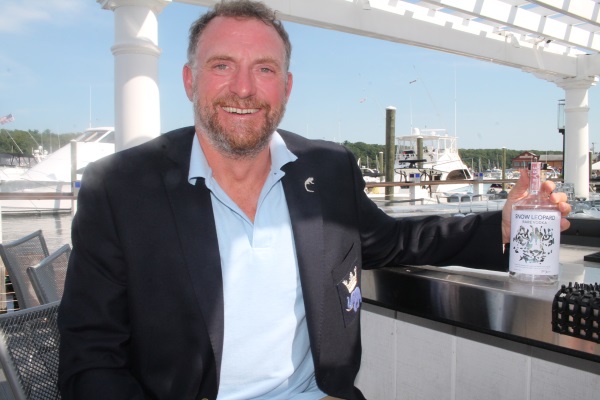 Spirit entrepreneur aims to impact wildlife conservation, one martini at a time
By Savannah Mul 
Where might you find Stephen Sparrow? Likely kayaking, exploring or photographing wildlife. Now you can find him launching a vodka. The self-proclaimed "wilderness man" found his vocation in his many travels and its fruition is set to benefit a unique cause: snow leopards.
It was this love of nature and exploring that led him to create the Snow Leopard Trust UK and the Snow Leopard Vodka brand. While trekking the Himalayas, which he completed in 2005, he learned about endangered snow leopards and the International Snow Leopard Trust.
In 2006, he registered his own charity – Snow Leopard Trust UK – yet lacked the funds for the sort of impact he hoped to make. After talking with friends, he began producing vodka and called it Snow Leopard Vodka. Fifteen percent of all profits go directly to the Snow Leopard Trust UK to aid conservation efforts of snow leopards in Asia.
"It's about using the consumer choice to do something amazing and getting a highly endangered creature off the endangered list so future generations can live in a world with snow leopards," Sparrow said. "I believe in the goodness of human nature."
Rhode Island became its first U.S. market launch via Rhode Island Distributing Co. this spring. Sparrow visited in July, supporting his brand in the Newport area. The vodka is billed as the "first luxury vodka made from the rare spelt grain, and natural spring water." Distilled six times, it has a fresh floral and anise aroma, produced under Master Distiller Joanna Dawidowicz.
There are a variety of launch programs planned for the Rhode Island market, including the "Real Million Dollar Martini," during which participating bars will create their own take on a martini featuring Snow Leopard Vodka.
One dollar from every martini sold will go to the Snow Leopard Trust UK charity fund. The end goal of this campaign: raise $1 million for the trust. Sparrow will teach local brtenders and bar managers about the Snow Leopard brand and declare them "Snow Leopard Rangers," complete with a certificate recognizing their training and knowledge gained about endangered snow leopards and the vodka. From there, a brand building program will begin.
When a customer orders a drink featuring Snow Leopard Vodka at a participating bar, the bartender will give the guest a branded postcard encouraging the customer to make a connection via a time-honored tradition: writing. "In this busy, crazy world we live in, we never have enough time to see the people we care about," Sparrow said. The postcard campaign offers the customer a method to reach out and connect with a loved one while sharing snow leopard information.
Other initiatives during the launch include in-store product tastings and local brand education sessions as well as conservation and cocktail events at local venues.
"It'll be about how many people can we engage, and adopt this brand as their choice vodka," Sparrow said. Sparrow remembers back to when he first experienced a rare sighting of a snow leopard in 2010 during a stay in Mongolia. He said he felt humbled about his commitment and work to save the less than 5,000 snow leopards remaining in the wild.
To date, Snow Leopard Trust UK has raised about $300,000 USD and Sparrow hopes the launch in Rhode Island will gain momentum and raise the goal of $1 million. "This will be a good test market," Sparrow said. "We can learn here and take it further."
Snow Leopard Trust UK and Snow Leopard Vodka Founder Stephen Sparrow at BLU Restaurant in East Greenwich, Rhode Island.
As of July 2016, the following places are participating in the "Real Million Dollar Martini" program: The Breachway Grill in Charlestown; BLU on The Water in East Greenwich; Cap'n Jacks Restaurant in Wakefield; Eleven Forty Nine in East Greenwich; The Grange in Providence; Malt in Newport; Perks & Corks Café in Westerly; The Revolving Door in Newport; Salt Water Harborside Dining in Newport; Tavern on Broadway in Newport; Trio in Narragansett, Ogie's Trailer Park in Providence and TwoTen Oyster Bar and Grill in South Kingstown.