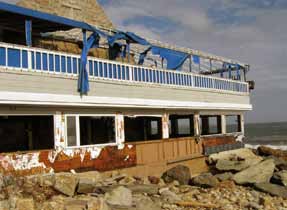 Your Business May be Eligible for Disaster Loans
by Lauren Daley
For the lucky ones, Hurricane Sandy meant only a few days of lost business. For some, it meant thousands of dollars of food tossed out. For others, it means tens of thousands of dollars to completely rebuild their business with employees out of work in the meantime. For many, each day that goes by now is a loss on some level.
Superstorm Sandy devastated much of the East Coast when it struck on October 29 and 30. In many parts of Connecticut and Rhode Island, the "Frankenstorm" flooded streets and buildings, demolished buildings and tore down trees. Pounding surf surges wiped away beaches, flooded businesses with sand and water, and left many in Connecticut, and at one point, one quarter of Rhode Island, without power for days. Many small business owners along the Connecticut coastline were "struggling with one of the most severe storms in generations," according to the Associated Press.
Bryan Malcarney, owner of The Blue Lemon in Westport, Conn., estimated he lost about $10,000 worth of business in four days, due to shutting down and tossing food. Luckily for him, Malcarney's other restaurant, Rory's in Darien, fared well in the storm and was "crazy busy. We did over 100 dinners and lunches a day, and we only seat 30," he said. "It was interesting; I had some guy keeping his bar running because I let him use my generator, said Malcarney. "I gave out ice. In the restaurant community, everyone takes care of each other."
At The Beach House in Milford, chef manager Nicci Tripp told WSFB-TV that she threw out "all my meats, all my produce, all my dairy, every single thing, because when the power goes out you have to lose everything." Tripp said her restaurant has lost tens of thousands of dollars and is hoping insurance will cover most of the cost.
As of press time, Nicole Griffin of the Connecticut Restaurant Association did not have exact numbers for how many restaurants lost power and how many were still without. "Most of the damage to businesses and homes in Connecticut was on the shoreline, and that includes restaurants. Depending on the location, some restaurants sustained power outages and minor wind damage, while others were severely damaged and flooded," Griffin said. "Towns like Old Saybrook and Fairfield were especially hard hit by Sandy and unfortunately, some restaurants on the water in those towns might take quite a while to recover. Restaurants, like many other businesses affected by this storm, are working through their insurance companies and trying to recover and reopen for business," said Griffin.
Federal assistance has been made available to Connecticut businesses through FEMA. Governor Dannel P. Malloy announced that those affected in Fairfield, New Haven, Middlesex and New London Counties must register with FEMA by phone or online to receive aid.
To register by phone, call 1-800-621-FEMA (3362).  The TTY line for people with speech or hearing disabilities is 1-800-462-7585. The line is open from 7 a.m. to 10 p.m. every day. To register online, applications may be completed. For disaster assistance questions, call the FEMA helpline at 1-800-621-3362 State officials and FEMA are assessing damage in Litchfield, Hartford, Tolland and Windham counties to determine if they will be eligible for aid.
The Connecticut Small Business Administration will be offering loans to homeowners, businesses, and non-profit organizations. You can access SBA Disaster Assistance online or call the Buffalo call center at 800-659-2955. The SBA has streamlined its online process for applying for disaster loans in Connecticut. The new application will take less time to complete than the previous application.