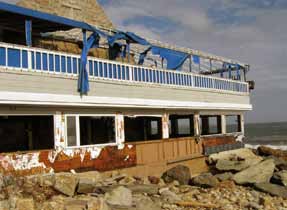 Your Business May be Eligible for Disaster Loans
by Lauren Daley
For the lucky ones, Hurricane Sandy meant only a few days of lost business. For some, it meant thousands of dollars of food tossed out. For others, it means tens of thousands of dollars to completely rebuild their business with employees out of work in the meantime. Each day that goes by now is a loss on some level.
Superstorm Sandy devastated much of the East Coast when it struck on October 29 and 30. In many parts of Connecticut and Rhode Island, the "Frankenstorm" flooded streets and buildings, demolished buildings and tore down trees. Pounding surf surges wiped away beaches, flooded businesses with sand and water, and left many in Connecticut, and at one point, one quarter of Rhode Island, without power for days.
"Our restaurant has a hole through the front of it. We have five feet of sand inside our restaurant. I can't even get down there to look around right now because the road is blocked by the National Guard and the State Police," said John Bellone, owner/manager of Maria's Seaside Café in Westerly. "We're seasonal and were already closed for the season, so we're not losing business— but structurally, we're devastated. I have no idea how long it will take to get back to where we were."
Bellone's restaurant is located in one of the hardest hit areas in all of Rhode Island—the Misquamicut area of Westerly. The popular tourist destination on the Rhode Island/Connecticut line looked "closer to a lunar landscape than a popular tourist attraction," according to the Durham-Middlefield Patch. The Day in Connecticut called it a "post-apocalyptic desert" scene.
Chief of the Misquamicut Fire Department Louis Misto told The Day that the storm wreckage in Bellone's area was "epic… "I've been chief for 12 years, and I have never seen anything like it." He said at least 10 structures were "destroyed, demolished or missing," including a beachfront snack shack that was utterly swept away— only its foundation was still standing.
Rhode Island Gov. Lincoln Chaffee toured the Misquamicut area on October 30 with other state officials. Chafee said business owners in Misquamicut are in shock from the damage by water and heavy surf — much worse than last year's Tropical Storm Irene, according to the Associated Press.
Chafee announced November 4, 2012 that he formally signed a revised request to President Barack Obama for declaration of a major disaster for the State of Rhode Island. He specifically asked for Small Business Administration disaster loans for Newport and Washington Counties. "This support will help Rhode Islanders who have suffered losses in the storm and help them return to normal," he said in a statement.
The Coast Guard House in Narragansett suffered a great deal of damage from its panoramic perch on the ocean's edge. Co-owner Robert Leonard said, "We are definitely planning on rebuilding. It was never a question for us. It's a historic landmark and we have great employees. We are lucky. When you see others…and in New York and New Jersey…we at least have a building to rebuild."
Glen Fobert, owner of EZ Midway Liquors in Westerly said, "We're near Misquamicut, and I feel so bad for the bars, restaurants and homes down at the beach. My heart goes out to them. They have to wait to even assess when they can rebuild or fix."
Fobert said alcohols sales were down the week of Sandy, though he wasn't yet sure of exact numbers. But one thing's for sure: his ice sales were up. "Most people in this area are still out of power, so they're more worried about keeping whatever they have cold. We kept selling out of ice, and kept on calling the ice man. He was delivering as much as he could."
An employee at Warehouse Liquor in Westerly said they lost two days of business, closing Monday and Tuesday. But they got off easy compared to other businesses in the area. At Bowen's Wharf in Newport, Michelle Gagne—a spokeswoman for several business owners at the Wharf, which has about 40 retails shops, restaurants and galleries—told the Associated Press that owners had up to two feet of water inside their stores when the flooding was worst.
Dale J. Venturini, president of Rhode Island Hospitality Association said that they will not have an estimate of money lost for several months, but that loss estimates are in the multi millions of dollars range, due to loss of food, loss of revenue due to having to close, loss of workers' wages, clean up from fallen trees and other wind damage.
"Most hard hit was Southern Rhode Island and Newport," Venturini said. "Some businesses are totally lost and they are working with their insurance companies about rebuilding. Most of the power has been restored; however, there are several hospitality businesses that will need to be rebuilt."
Venturini added, "As with any disaster, it brings out the best in people. We had one of our members open up their showers to the public as well as others providing free Wi-Fi and other services to those without power or without homes."
Chafee announced on November 2, 2012 the establishment of an emergency loan fund in the amount of $1 million to assist Rhode Island businesses that have been affected by Hurricane Sandy. The loans are being made available through the Rhode Island Economic Development Corporation's (RIEDC) Small Business Loan Fund.
To qualify, businesses must supply evidence of damage sustained from Hurricane Sandy or business interruption caused by the storm. Businesses must also show that they have adequate insurance to cover storm damage and meet other minimum lending requirements. Rhode Island businesses interested in more information about a storm assistance loan may contact the RIEDC's Finance Department at (401) 278-9100.
At press time, there was a warning for another Nor'easter to strike the shores again. In Narragansett, Leonard said, "Waves are already to starting to crash over the seawall."