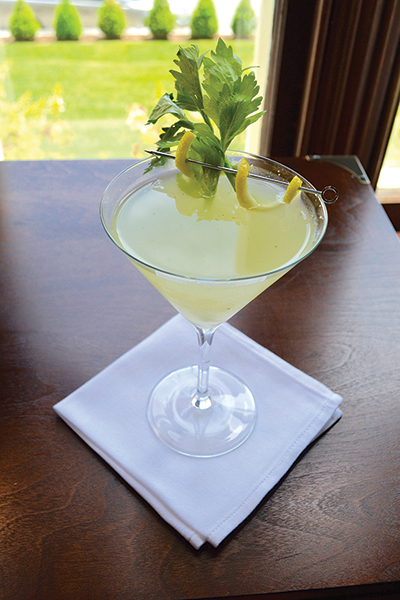 Room No. 9 Speakeasy in Spicer Mansion
15 Elm Street
Mystic, CT
The recently-opened Spicer Mansion is Mystic's new ultra-luxury destination. The hotel bar, Room No. 9 Speakeasy, is located behind a bookcase and down a set of stairs, and features a cigar lounge, rare rye whiskies and creative cocktails with accompanying food fare.
Food and Beverage Director: Charlotte Berdensey
Cocktail: The Curious Traveler
Recipe: Mix
4 oz. vodka
1.5 oz. Yuzu juice
1″ piece of fresh celery
4 whole white peppercorns
2 dashes of celery bitters
Pinch of salt
In the shaker, muddle the celery stalk with the peppercorns, then combine all ingredients and shake. Double strain into a chilled martini glass, garnish with a celery blossom and lemon twist. "For the most inquisitive, here is a refreshing drink that will allow you to discover a depth of flavors that please and surprise the palate," said Charlotte Berdensey, Food and Beverage Director, Spicer Mansion.