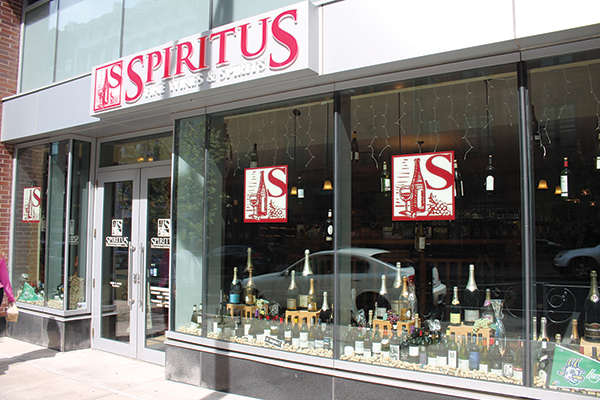 Spiritus Wines
220 Asylum Street
Hartford, CT
Square footage: 2,000
Years in operation: 8 1/2 years (in current location)
By Savannah Mul
Some people try to prepare for a life-changing moment that lies ahead of them, but for Gary Dunn, owner of Spiritus Wines, that moment was rather unexpected. From 1995 through 1996, Dunn took a leave of absence from his IT career to move to Paris with his wife Jenny, who was embarking on studies for a doctoral dissertation and needed research from the French National Library. Dunn wasn't sure what his time in Paris would hold for him.
He quickly became immersed in the French culture and was intrigued by how wine served as a daily part of life. Dunn and his wife began to learn as much as they could, shopping at French wine shops and traveling to vineyards. "Paris was so unexpectedly life changing," he said. "Wine is such an intriguing part of their culture."
When the Dunns arrived back in the states, they were living in Pennsylvania and found they longed for a more diverse wine culture and offerings. They made the decision to return to Connecticut, Dunn's home state, and found a trusted wine shop, Spiritus Wines, in the capital city. Dunn returned to his IT career, but was seeking more.
In 2006, Dunn learned Spiritus Wines was for sale and decided to purchase the store, which had been in its original location on Main Street in Hartford since the 1980s. With that, Dunn left his 16-year IT career. The Main Street location was small, he said; and he wanted to expand. When he saw the retail space on Asylum Street for sale, he moved the business to where it stands today.
"The move was for the larger space and to be in the heart of downtown," he said. "The building is closer to the daily work crowd." The store's main focus is wine, as it rings in about 70 percent of the store's sales, with the lowest bottle priced at $8.99 and the highest at $1,000, he said. Spiritus Wines offers a full wall display of wines priced at $20 and below.
"We do try to educate our customers about wine and demystify it. Unfortunately, wine can be intense. There is so much to choose from," Dunn said. "I feel it's important to have a local, trusted source where they [consumers] can go to get recommendations and learn about wines."
Spiritus Wines is designed geographically; each aisle represents a country and region. "It's organized [in a way] that makes the most sense to me," Dunn said. Of its decor, he said, "I want the store to be warm and inviting with the cork floors and the lighting."
Dunn's wife Jenny exercises her knowledge and admiration for their wines by writing reviews on items they carry for their weekly emails. Spiritus Wines has also found success in its Wine Club, which has been in place since the store's inception in the 1980s, and over the years has developed many loyal customers through the program.