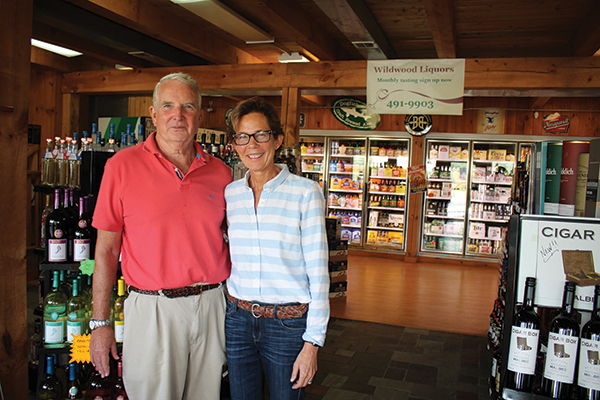 Wildwood Liquors
5 Kingstown Road
Wyoming, RI
Square footage: 1,800
Years in operation: 8
By Savannah Mul
Wildwood Liquors is situated right between Interstate 95 and Route 138. Owner Ed Russell said the storied "location, location, location" has indeed shaped the business into a "friendly and trusted shop for locals" and a convenient stop for vacationers coming through the highways.
Shoppers are greeted by an open space layout with wide aisles and good visibility, along with a large chalkboard above the register showcasing new products, store tastings and featured brands. The concept was designed by Russell's wife and business partner, Kimberlie Rayner-Russell.
"Customers like the space," Russell said. "The breadth of products [we carry] in part, reflects what our customers like," he said. "We have to have discipline of what comes in and what comes out."
Rayner-Russell has been the face behind implementing that discipline as she studies the trends, the sales figures and pays attention to what people are asking for on a weekly, sometimes daily, basis. With the explosion of flavored vodkas, aged whiskies and bourbons, innovative craft beers and emerging wine varietals, the owners say it is a "constant shuffle game" of keeping what sells, removing what doesn't, analyzing the market and anticipating shopper preferences.
The owners rely on in-store tastings to see how customers react to a certain brand. "As we get closer to our customers, we're trying to respond to them. The combination of flavors in the market [puts] more pressure on shelf space and when we introduce a new product, we want to offer customers a taste," he said.
One trend Rayner-Russell is not yet ready to scale back on is rosés. She commented on the store's large variety and high summer sales and doesn't believe this wine is just for the summer season anymore. "As long as we're selling it, we'll keep getting it," she said.
Russell explained an interesting demographic trend in their store over the past few years, and believes other retail owners may also be witnessing it as well. Generally speaking, millennials are more experimental in their purchases, from craft beers to hand-crafted spirits and different wines, juxtaposed with older customers, who are more loyal to a certain product and repeat that purchase each visit.
Wildwood Liquors stocks approximately 500 active SKUs of beer, wine and spirits. Depending on the season, Rayner-Russell said beer and craft beer make up a majority of the store's sales with wine and spirits following closely behind. She said that stocking small novelty items, such as wine-themed napkins, magnets, sodas, limes, lemons, cigars, corkscrews and bottle openers, add convenience to the customers' shopping experience while giving Wildwood Liquors additional store sales.
"People like different things," Russell added. "We've developed a great customer base and our focus is on building our personal relationships with them."