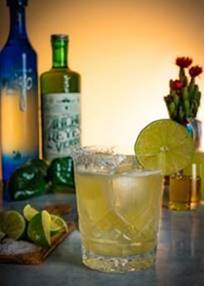 Liven up your spring and get creative with mezcal, tequila and gin. Refreshing and colorful, consumers will enjoy fresh focus on favorite seasonal flavors.
Juan to Juan
1 part Montelobos Mezcal
1 part Ancho Reyes Original
¾ part fresh lemon juice
½ part simple syrup
2 dashes Angostura bitters
Shake, serve in a coupe glass, garnish with a lemon wheel
Ancho Verde Margarita
1 part Milagro Silver Tequila
1 part Ancho Reyes Verde
1 part Fresh Lime Juice
1/3 part Agave Nectar
Add all ingredients to a shaker, add ice, shake hard and strain over fresh ice into a rocks glass with half its rim salted. Garnish with a lime wheel.
Montelobos Picador
2 parts Montelobos Mezcal
1 part fresh lime juice
½ part simple syrup
Combine ingredients over ice and shake well. Serve over fresh ice in a rocks glass with a salt & black pepper rim and orange slice.
Brockmans Berry Tea Recipe
1 part Brockmans Gin
½ part Elderflower Cordial
¾ part Red Berry Puree
½ part Lemon Juice
Chilled Red Berry Tea
Shake all ingredients except the tea with ice. Strain into a Collins glass with fresh ice. Top with tea and stir. Garnish with crushed ice, a long thin slice of cucumber, a blackberry and a small sprig of mint.