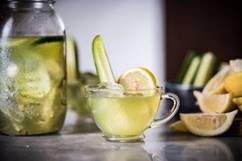 Enjoying Irish whiskey, Guinness and green beer at a local Irish pub may be synonymous with the St. Patrick's Day holiday, but consumers can also get into the Irish spirit by dining in. This list offers creative and green-spirited creations to try for the holiday.
Sailor Jerry's Throw Shade
2 parts Sailor Jerry Spiced Rum
Juice of half a lime
1 ½ parts simple syrup
8 mint leaves
Amber lager
Muddle simple syrup and mint. Add Sailor Jerry Spiced Rum and shake over ice. Double strain. Serve in beer mug or pint glass on the rocks and top with Amber Lager.
Reyka's Matcha Bee
1 ½ part of Reyka Vodka
1 ½ part matcha honey syrup*
¾ part fresh lemon juice
Q Soda water for topping
Lemon peel for garnish
Combine ingredients, shake and double strain into a flute, and top with soda water. Garnish with lemon peel.
*Matcha honey syrup: Add 1 teaspoon of matcha green tea powder to 4 parts boiling water. Add in 4 parts of honey and whisk. Simmer for 5-10 minutes. Allow to cool and bottle.
Maria Verde
1 part Ancho Reyes Verde
1 ½ parts Reyka Vodka
½ part Lime
5 part Maria Verde mix***
Pickled Carrot, pickled onion and pickled jalapeno
Add all ingredients to a shaker, add ice, shake briefly to mix, and strain over fresh ice.
Drambuie Green Street
1 ½ parts Drambuie
1 Spicy Ginger teabag
3 parts Cucumber Juice
½ part Lemon Juice
Infuse one tea bag in up to 1/2 cup of Drambuie for 1 hour. Remove bag squeezing out excess. Combine all ingredients in a tin and shake. Double strain over fresh ice. Sweeten further to taste. Garnish with a lemon wheel.
Monkey Shoulder's Royal Cosmographer
1 ½ parts Monkey Shoulder whisky
¾ part Suze
½ part Maple Syrup Grade A
2 dashes of orange bitters
Add all ingredients to mixing glass. Add ice and stir. Once dilution is reached strain into glass. Twist orange peel over glass. Recipe by Brand Ambassador Seb Derbomez.