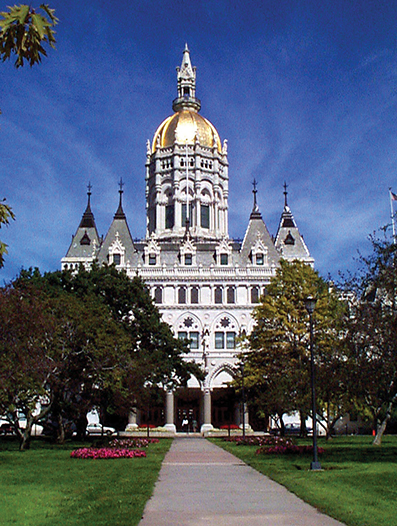 Numbers allow opposite view points to cite proof points
By Lauren Daley
Gov. Dannel P. Malloy's administration recently released figures that they say prove that alcohol sales have increased since Sunday sales were permitted in May 2012. However, the Connecticut Package Store Association (CPSA), which has long maintained that Sunday sales have only hurt package store owners, cite those same statistics as proving the exact opposite.
According to state figures released by Malloy's administration last month: "In Fiscal Year 2012-2013 — the first fiscal year that Sunday sales were approved — keg beer sales increased by 3.04 percent, wine was up by 1.48 percent, and hard liquor was up by 2.91 percent compared to figures from the previous fiscal year." In a memo Tax Commissioner Kevin B. Sullivan sent to lawmakers, he noted: "Some portion of increased sales is likely attributed to expanded days of operation."
But CPSA said those recent statistics on excise tax released by the state don't necessarily reflect a boon to their businesses — quite the opposite. The association cited the .31 percent decrease in total excise tax revenue from alcohol from 2011-12 versus 2012-13 as proof that Sunday sales did not help the state's coffers. They also say stores only saw six days of business spread out over seven, and that some stores lost money due to added expenses. The CPSA maintains that none of the increase could be attributed to Sunday sales because package stores file monthly reports and numbers are not broken up by the day.
"There are lots of factors both economic and weather related that affect alcohol sales volume — an unseasonably warm Memorial Day, better economy, etc. That being said, there is no way to pinpoint that Sunday sales impacted any volume sales number because the volume figures used by the Department of Revenue Services (DRS) include sales at both restaurants and package stores, so there is no way to identify where the sales occurred and why people might drink more," Josh Hughes of the CPSA said.
"The figures at DRS on excise tax, not volume, show a decrease in total sales the year after Sunday sales was effective." Hughes also pointed out that most people who buy kegs at package stores do not buy them on Sunday, and that, "If there were a keg sales volume increase, it is a result of increased craft beer keg sales to restaurants who sell more craft beer, not package stores that don't sell as much."
Economist Stanley McMillen, who was a member of Malloy's 2012 Competitive Alcoholic Liquor Pricing Task Force, said "it's very hard to say" if Sunday sales did anything for package stores or it was of real import for the state's bottom line. He said he agrees with the CPSA that Sunday sales "basically spread out six days of sales over seven." If Sunday sales helped, he said, it's "primarily because people bought in-state instead of going over the border. That's just logic. And if that's true, then Sunday sales didn't do much in, say, Hartford or Bridgeport."
This year, Malloy's state budget proposal (SB 946) to the General Assembly would extend hours even more. Malloy says the changes would provide $3.3 million in tax revenue for the state. It would impact state package stores in three major ways:
It would extend store hours to allow retail sale of beer, wine and spirits until 10 p.m., rather than the current 9 p.m. Sunday hours would extend to 8 p.m., rather than the current 5 p.m.
It would increase the number of stores a single operator can own from three to six.
It would allow package store owners to set their own prices all the way down to actual wholesale cost.
Sullivan said, "Few enterprises are more over-regulated and less competitive than alcohol sales. Even just the recent opening to Sunday sales in Connecticut appears to have increased consumer choice and volume sales with no adverse impact on wholesalers or retailers. Only when pricing is less controlled and more driven by consumer choice can we also take a fair look at taxes."
The CSPA is adamantly against the changes, saying it will only spread business out over the extra hours they are open, and will hurt mom-and-pop package stores suffering increased costs and longer work days with no increase in revenue.
McMillen said, "The governor says by increasing the hours, he'll get $3.3 million in taxes. I don't know how that would happen. The increase in hours doesn't necessarily mean the stores will be open — it means they could be if they wanted to." Malloy presented his proposed budget to the General Assembly on Feb. 18 for the fiscal biennium that begins July 1.
In other legislative news, a bill that would allow farm wineries to sell brandy distilled off-premise has been approved by the Environment Committee. It will now to go the House floor. House Bill 5119 would allow farm wineries to sell brandy made from grapes harvested on premises but distilled off premises. Read the amended version here: http://www.cga.ct.gov/2015/FC/2015HB-05119-R000215-FC.htm.
See more state statistics here: http://ct.gov/drs/cwp/view.asp?a=1441&q=471960