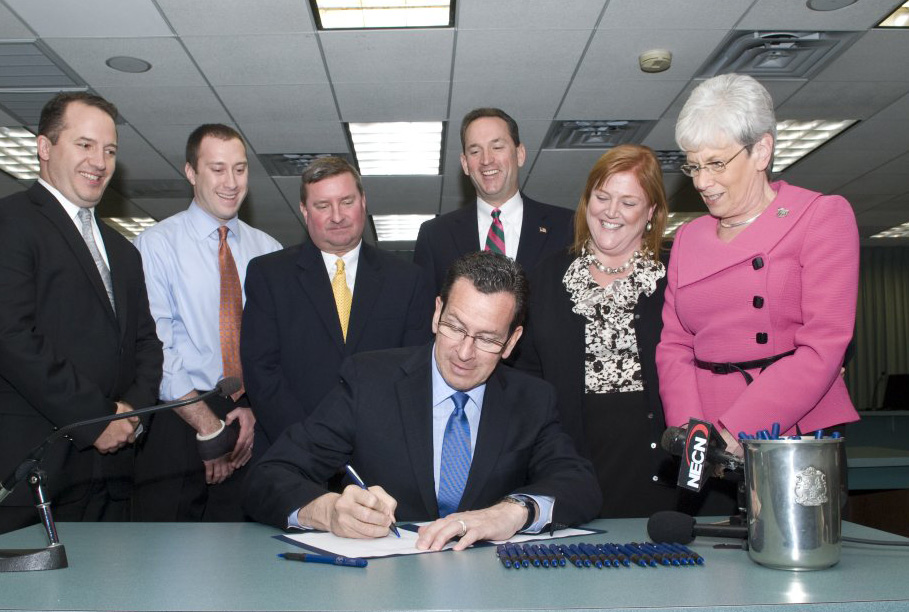 Border Stores Benefit while Many Central Stores Refuse to Open
by Lauren Daley
Daniela Tristine promised her 12-yearold son, a cancer survivor, she will "never open on Sunday." "When my son was 2, he was diagnosed with leukemia. He underwent three years of chemotherapy and we learned early on where to prioritize. Our kids and family are our priority. We will always put them before work," said Tristine, who co-owns Vines Distinctive Wine and Liquor in North Haven, CT with her husband, David. "Our sign would say, 'For Sale' before it said 'Open Sunday,'" said Tristine.
On May 17, Connecticut Gov. Dannel P. Malloy signed into law the long-debated state bill allowing Sunday sales of alcohol in a ceremony in Enfield. The Sunday sales controversy— which had been raging between small business owners and state law-makers for years— ended shockingly quickly, with a 70-minute debate after which the state Senate approved Sunday alcohol sales in supermarkets and package stores from 10 a.m. to 5 p.m. and on Monday holidays.
The law also allows stores to sell one item per month under a limited pricediscount— as much as 10 percent below cost. Besides alcohol sales, the bill calls for expanding the amount of snack foods that can be sold in the package stores. The stores will now be permitted to sell olives, cheese, and crackers.
The Tristines have a sign on their store door that reads: "Valued customers, in spite of the new changes made to Connecticut liquor law, we place the value of our family above money, and have chosen to remain closed on Memorial Day, Fourth of July, Labor Day, Thanksgiving, Christmas and New Years'. We thank you for your business in the past, and hope we can count on your business in the future."
"Customers read the sign on the door and they said, 'Good for you,'" Tristine said. Sale-wise, Tristine said Sunday may not be worth it in the long run. "People I know who opened Sunday said they'd never open another Sunday again," she said. "Three people I know opened Memorial Day and said they would never open another holiday again. Others just switched and now close Mondays." Indeed, the new law has created two camps: the big box supermarkets and state-border package stores— some of whom have been begging for Sunday sales for years— and the small central Connecticut stores who say opening Sunday will, at best, spread sales over two days, and at worst may end up costing the stores in electric bills and employee paychecks.
While Tristine and many like her refuse to open at all, Dominic Alaimo, in Enfield, is basking in glory. "Are you kidding me? I'm elated. My customers are elated. I've been waiting for Sunday sales to happen for years," said Alaimno, who owns Freshwater Package Store on the Massachusetts border. "On Memorial Day weekend, we did double our business from last year. This year's Sunday and Monday sales were 92 percent of what we did on this year's Friday and Saturday. This is incredible. It's amazing."
On June 2, Alaimo drove out to a competitor's package store in Agalon, Mass., "where there are usually a line of Connecticut cars waiting to get in at noon on Sunday. I went there at 12:10 p.m. and there were only two cars in the lot, both with Massachusetts plates." But the tables have turned with this new law, he said. "Now I'm getting customers from Massachusetts here because we're open at 10 a.m., and Massachusetts doesn't open until noon. I wish we could be open until 9 p.m."
John Suchy, Director of Liquor Control Division for Connecticut, said his department does not track gallonage and revenue, but is "encouraged with the anecdotal reports we are receiving about how pleased Connecticut consumers are with their ability to shop at Connecticut liquor retail stores on Sundays and most holidays." Malloy's office did not respond to The Beverage Journal's request for a statement or interview. Malloy has stated previously that the lack of Sunday sales "cost Connecticut businesses millions of dollars as consumers have flocked over our borders in search of more    prices" and that the new law "has a simple focus: making Connecticut competitive once again… This much is clear – the more we can lower prices for consumers, the more competitive our businesses will be."
Malloy has said that Sunday sales would lead to a $6.4 million to $11.2 million increase in spending in the state. According to the state's Office of Fiscal Analysis, Connecticut looks to gain $5.2 million per year in revenue. Consumers crossing the border for alcohol when Connecticut stores are closed represent an estimated $570 million in lost revenue, they said. But opponents dispute these figures, saying they're unsure opening on Sunday will truly rake in this much money—many store owners say it will only spread Saturday sales over two days.
Alaimo praised Malloy and State Rep. Kathleen Tallarita (D-Enfield) for working to bring Sunday liquor sales to Connecticut, adding that the May 17 law-signing was revolutionary: "After Prohibition, power was shifted from the American gangster to the Connecticut politician. It was like that for 80 years. Now the governor and Rep. Tallarita have opened our doors," he said. Tallarita did not respond to requests for an interview.
But Carroll J. Hughes— a longtime lobbyist for The Connecticut Package Stores Association who has vehemently opposed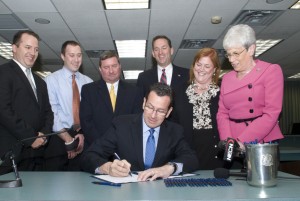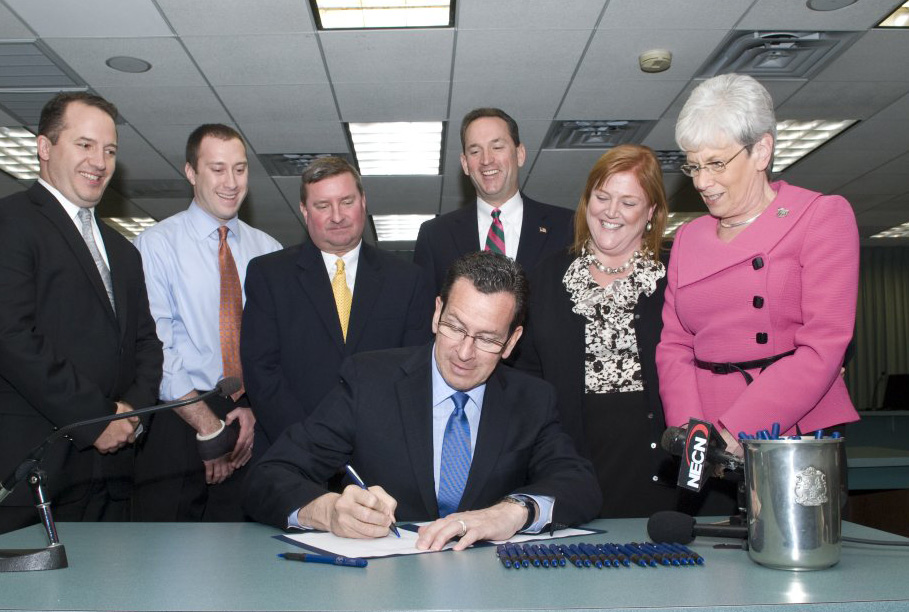 Sunday sales for years— cautioned package store owners against making any claims about good business just yet. "Anyone who thinks they're doing well on Sunday, based on three days, really doesn't understand how a business operates," Hughes said. "It takes at least eight months. By December, they'll have a fairly good idea as to whether they're doing well. There seems to be too many impulsive people around trying to make a conclusion based on three Sundays. Everyone will do well on a holiday… If I calculate right, this may cost people $30,000 or $35,000 (a year.) The conclusion as to whether they're doing well on Sundays should be reserved to the end of the year."
Hughes said that the CPSA had to concede to Sunday sales to avoid worse handshake deal, state legislators cut back on most of Malloy's sweeping proposals, instead creating a 15-member, bipartisan taskforce to study the deregulation of pricing in the industry. The Competitive Alcoholic Liquor Pricing Task Force will, according to the legislation, "examine, review, analyze and compare and contrast with surrounding states Connecticut's liquor taxes, alcoholic liquor quantity and volume discounts, existing alcoholic liquor permit restrictions and alcoholic liquor minimum pricing and price posting in the state and the impacts, both positive and negative, of such issues on consumers and the alcoholic liquor industry in the state."
Legislature states that the Task Force will consist of: one member appointed by the speaker of the House of Representatives; one appointed by the president pro tempore of the Senate; one appointed by the majority leader of the House of Representatives; one appointed by the majority leader of the Senate; one appointed by the minority leader of the House of Representatives; one appointed by the minority leader of the Senate; The Commissioners of Consumer Protection and Revenue Services, or their designees; One appointed by the Governor; and the chairpersons and the ranking members of the joint standing committee of the General Assembly or their designees. Hughes will not sit on the task force himself; the CSPA will be represented by a package store owner yet to be determined.
Of the 134 package store owners who answered The Beverage Journal's online survey, 67 percent of respondents chose to open on the first Sunday, May 20, while 33 percent remained closed. The next Sunday, the day before Memorial Day, 86 percent chose to open, while only 14 percent still chose to stay closed. On Memorial Day Monday, 68 percent of responders opened their doors, while 32 percent remained closed.
As for the rest of the year, 27 percent of respondents said they will pick and choose their Sundays and hours, 23 percent said they will always open Sundays 10 a.m. to 5 p.m.; 18 percent said they would always open Sundays with reduced hours, and 6 percent will never open Sundays. Twenty-three percent were unsure. About one third of respondents said they would open on some holidays. More than half of the respondents— 57 percent—expect their sales to stay the same and just spread out over seven days; 28 percent said it's too soon to say, and nine percent expect an increase in sales.
Most of the 86 anonymous comments left by respondents were against Sunday sales:
• "It took three days to make Memorial Day Saturday's sales last year. Don't see how this helps my business."
• "Our first Sunday was a bust. Sales spread between Saturday and Sunday."
• "Proof is here: was down 22 percent on Saturday from last year's holiday Saturday. Opened Sunday and Monday and made a gross profit of $450. Minus utilities and payroll, and we ended up with a net loss."
• "I cannot stand this bill… This is all a waste of time for nothing. Now, if the governor comes after the retailer to lower liquor prices…he will need to be impeached."
Nathan Elow, co-owner of Good Times Package Store in Enfield, said sales "went well… We're happy, in absolutely in favor of the law. We'll open every Sunday." Vincenzo DiNatale, owner of Ives Road Wine & Spirits in Wallingford in central Connecticut, said "it's too early to tell" if Sundays will benefit his store. "The first Sunday, there were a lot of people who came out just because they thought it was historical. The second Sunday was Memorial Day. At this point, from what little data I have, there's not a huge jump in sales because of Sundays."