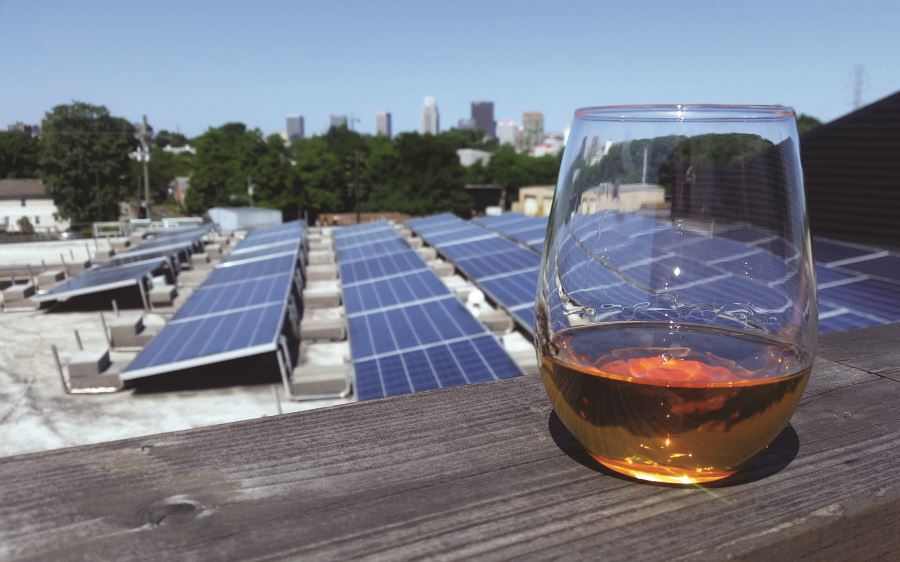 The Bar Scene Keeps Getting Greener
By Amanda Schuster
Pollution and energy waste are real threats to the earth. There may not be a way to reverse the damage done, but at least we humans can do our part to salvage what's left, and there are many ways the hospitality and spirits industry are employing key sustainability initiatives to save the planet.
Final Straws
One simple solution is eliminating the use of plastic straws, which build up in landfills, emitting toxins that can be absorbed into water systems and plant life.
Biodegradable paper straws are common alternative, but become soggy in drinks. Some establishments are opting for compostable straw alternatives such as bucatini style pasta, but these also make for time-sensitive sipping, and can't be used by anyone with a gluten allergy. More durable, reusable alternatives (though they require extra washing) include metal straws or bamboo straws.
Waste Reduction
What's in the cocktail is a key factor. Trash Tiki, a movement founded by Kelsey Ramage and Iain Griffiths, aims to make bartenders from around the world, to make better use of raw materials "destined for the bin" by promoting waste-efficient recipes. They recently partnered with Sombra Mezcal—which is dedicated to preserving the environment in its home of Oaxaca, Mexico through various building, water and energy initiatives—for a Sustainable Virtual Cocktail Competition. Running through August 22nd, the interactions with competing bartenders will all be conducted via the internet. Say the Trash Tiki founders: "Travel is often carbon-intensive and dispensing with it offers an exciting avenue to explore as a future for cocktail competitions."
Sometimes the simplest solutions are the hardest to identify, such as unplugging "vampire" electronics that can drain energy even if not in use, or not running a dishwasher that could be more efficiently stacked. Claire Sprouse of beverage consultation company Tin Roof Drink Community, says eco-friendliness begins with water and electricity usage. Not only is equipping a service establishment with water restrictors on faucets and energy efficient machines better for the earth, it also saves money. For instance, LED bulbs, now available in a broad range of styles, can save hundreds of dollars a year. "These ideas may not be as public facing and exciting as certain technologies, but they're just as important," says Sprouse.
Sustainable Distilling
Meticulous efforts have little meaning if the spirits used to make sustainable drinks aren't earth-friendly. New distilleries have the advantage of building from the ground up with sustainability in mind. Arbikie distillery in the Highlands of Scotland was founded in 2014 by brothers David, Iain and John Stirling as the country's first single-estate concept, growing all of the GMO-free potatoes, wheat, rye and barley used in their gin, vodka and whisky and foraging locally for gin botanicals
Copper & Kings in Louisville, KY, is practically nose to tail, says founder Joe Heron: "Sustainability and responsible commerce is our personal responsibility and the little things add up to big things to making a positive environmental impact, especially if they catalyze a collective effort." Practicing what is preached, they use solar energy for power; distill with two separate closed loop water recycling mechanisms (one for the gas and one for the chilled water for the condensers); use repurposed shipping containers for event and retail amenities; use recycled wood for furniture; and visitors who ride a bike to the distillery get 50% off a tour.
Corporate Halo
Even corporate players such as Bacardí are committed to sustainable practices. Since 2014, they have implemented the "Good Spirited: Building a Sustainable Future" initiative for mindful sourcing, packaging and efficiency and have created the internal Good Spirited Awards. Among this year's winners were awards for an overhaul of their Cataño rum facility in Puerto Rico to reduce water and energy waste; the zero waste-to-landfill status of Tequila Cazadores; 16% water reduction for John Dewars & Sons distilleries; and reducing the glass weight of bottles for the China Martini brands.
Pernod Ricard, Brown-Forman and Beam Suntory are also introducing green initiatives into new projects and for existing brands such as Dewar's, Chivas, Dalmunach, Woodford Reserve and Maker's Mark. Saving the earth is hard, but at least there are ways we can help— one sip at a time.
Other earth-friendly distilleries to look out for:
Deep Eddy Vodka – for efficient water and energy use and local sourcing of raw materials.
Catoctin Creek – recycles all by-products of whiskey production.
Novo Fogo Cachaça – less use of local Amazonian woods for casks, majority of spirit matured in used ex-bourbon casks and planting of private reserve on premises.
Black Button Distillery – local farm and forestry projects for everything from sourcing botanicals and grain to the wood used for casks.
Tequila Ocho – sustainable farming, including "bat-friendly" plantings to ensure pollination for future agave crops.
Chase Distillery – Herefordshire, UK-based operation has a goal to be 100% self-sufficient by 2020.
Square One – 25% wind-generated facility, support of local green businesses
Greenbar Craft Distillery – one tree planted for every bottle sold.
Don Q Rum – an industry pioneer in clean waste and energy efficiency to reduce pollution in the n the Caribbean.