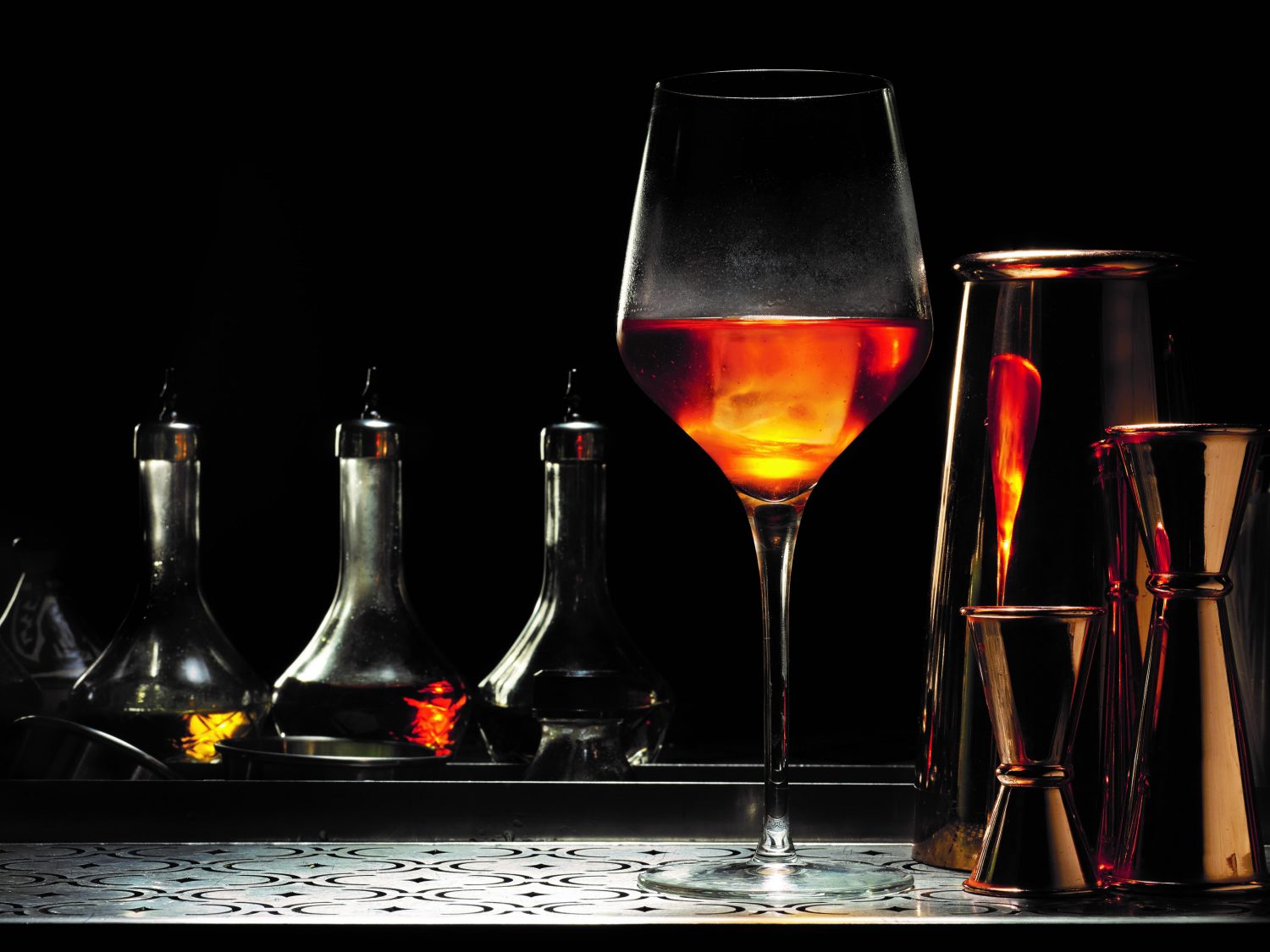 Ancient Beverage Gains Fresh Purpose at the Bar
By Amanda Schuster
Tea—the brewing of leaves, herbs and/or botanicals with water—is an integral part of civilized society all over the world, and the ways people take their tea are appreciated, scrutinized and ritualized. Tea is an umami-rich, tannin-packing ingredient in itself, with a surprising range of flavors, both savory and sweetenable.
Tea also stores well, mixes well, batches well and can be tweaked or tinted to look great. It makes sense that tea has become such an elemental part of cocktail culture.
"Tea is forgivingly versatile," says Max Green, co-owner and head bartender at New York City's Blue Quarter, which exclusively serves tea cocktails. The venue's Arabian Nights chic decor inspires drinks with Middle Eastern-themed ingredients, but tea was also chosen for both its monetary accessibility and shelf stability (it can be stored months if kept in a climate-controlled environment). He says he enjoys watching guests who say they "don't really like tea" suddenly gravitate toward tea cocktails when they taste how well certain teas interact with different base spirits and other ingredients.
Multiple Choices
There are many ways to incorporate tea into drinks. The most obvious is to brew it first, either with hot water (let it cool before mixing), or as a cold brew. Tea can be infused into a spirit by letting it steep for hours at room temperature, and it can be added to a syrup preparation. As a garnish, or for a subtle flavor addition, brewed tea can be frozen into ice cubes, sprayed over a drink with an infuser, or its powder form can be sprinkled over the top.
International bar consultant Lauren Mote says, "Tea is the ultimate (and easiest) way to make simple syrups with complexity." Head Bartender Lauren Swan-Potras at The Roof at Park South in NYC uses a lemongrass tea syrup to brighten summer drinks. At Blacktail NYC, Head Bartender Will Pasternak uses tea in several drinks on the current menu, including punches with brewed tea, spirit infusions, syrups and even a highball with kombucha (fermented, brewed tea with a fizz similar to beer).
Across the country, bar operators like Molly Wellman of Japps in Cincinnati work with local tea shops (in her case, Churchill's) to create tea drinks on their menus with specialty leaf blends. Washington, DC-based consultant Chantal Tseng has long championed tea as a cocktail ingredient, currently using it to match the fragrant nuances of Macchu Pisco.
Tea can also add a pop of color. There are pale to dark hues of green tea, rooibos for brick red, hibiscus for scarlet and turmeric tea for yellow/orange. Butterfly pea flower tea is a popular choice for its distinctive earthy taste and ability to turn periwinkle when reacting with citrus, and the acids in alcohol. Consultant Erika Bogner added its romantic tint to a cocktail she created for a recent event honoring designer Betsey Johnson. Inspired by the elegant tea service at the Fairmont Empress hotel in Victoria, BC, Empress 1908 gin uses the purply tea in its botanical blend.
Marlowe Johnson of Detroit's Flowers of Vietnam says tea is his signature ingredient because of its "incredible ability to interact with alcohol in ways that most syrups/juices/etc can't." He adds the "sympathetic nature of the botanicals" make it a natural match for a variety of spirits both aged and unaged.
Mixers and RTD products—Owl's Tea, Vervet Canned Cocktails and hard kombucha such as Flying Embers—embrace that mixability for no fuss consumption. And long before the tea craze officially hit, Charbay made green tea vodka, and Deep Eddy and Firefly found fans for their sweet-tea flavored vodkas.
Matcha, Matcha More?
Both Johnson and Green agree that some teas (especially in the lighter green spectrum) might be too subtle for cocktails, but structure can be built with bolder blends. Jennifer Sandella, co-owner of Barter in Detroit, likes the florals in Earl Grey to pair with vanilla, grapefruit and bourbon in their Panorama. Meaghan Dorman, Beverage Director of Dear Irving and Raines Law Room franchises in NYC, recommends using fruit or floral teas for spring/summer drinks especially.
Brian Sassen of Claudio's in Brooklyn has a Green Tea 4 Ways made with grappa, green tea-infused shochu, a verjus and green tea grape reduction, a green tea ice cube and matcha powder. (Johnson cautions to use matcha judiciously since its tannins can be overpowering).
With its origins in the U.K., Milk punch flavored with tea has been an American tradition since the Revolutionary era. These days one can even find it in the milky Thai iced tea frozen daiquiri served at Red's in New Orleans, a city where milk punch is a popular brunch staple. At Black Emperor, Head Bartender Ben Rojo uses Darjeeling and Assam black teas with Scotch and other spirits in his milk punch as a nod to the royal milk tea of Japan.
Of course there is also the much maligned (or adored, depending) Long Island Iced Tea. Most classic recipes call for no tea at all (the "tea" is a mix of spirits and loads of sugary sour mix), but many bars have elevated the recipe by making a sweet tea riff on it. For the Get L.I.T., Bar Manager Victoria Errio at Bar Helix in Denver steeps peach tea until it's reduced and concentrated, and mixes it with Buffalo Trace Bourbon, Plantation Pineapple Rum and peach syrup.
The claimed health benefits of tea have long been reported, though it can be argued that when mixed with alcohol, tea becomes more of a modifier than a medicine. Even so, relaxing with a good drink is always beneficial to the soul, and tea has a natural way of making things good.