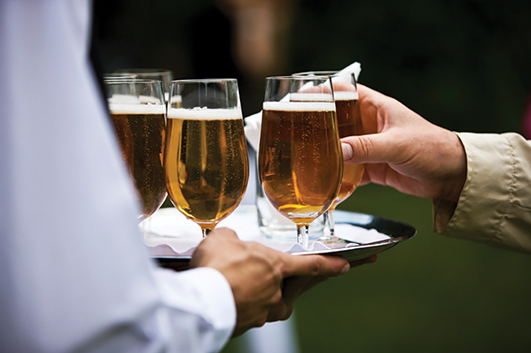 By Jennifer Broderick, ED.D., CHE, CSW
Have you dined somewhere recently and realized that perhaps your server could benefit from further training? Might you have ordered a second (or third) adult beverage if you had more confidence in the server's ability to suggest something that paired well with your meal? Will your dining experience cost the restaurant your repeat business?
If we consider the costs associated with missed beverage alcohol opportunities: restaurant sales, beverage alcohol profit, server tips, server's confidence to suggestive sell to customers and server productivity all come to mind.
Many inexperienced servers have little knowledge in serving or upselling beverage alcohol due to age of the worker or exposure to the nuanced products and elements of the beverage trade. As training is at the heart of a positive consumer experience, it becomes a critical step to consider when working with inexperienced servers, regardless of their age. Keep in mind that the majority of these servers are a blank slate and can be molded to focus on your specific sales mission.
Time and expense are often the roadblocks to consistency in training programs for both inexperienced and tenured servers. Culinary/hospitality students who are taught to open and pour wine at the table, noting the producer, varietal, region, and vintage for the consumer's approval, gain familiarity with the products that tends to expand more with every opportunity to practice.
The same holds true for inexperienced servers who spend time practicing spirits and beer knowledge that will translate into a level of comfort when speaking about these products. Many times, the server's level of comfort involves a "story" that is attached to the product. When a server can show passion in the form of a factual story about a brand that resonates with the consumer, the result may be the creation of a lifelong fan.
There are definitely challenges to teaching 18 to 21-year old servers how to sell beverage alcohol. The legal restrictions alone can be daunting when considering how to create knowledge and understanding of various spirits, beer, and wine for the server who is not of legal age to consume alcohol
In Connecticut, Massachusetts and Rhode Island, the minimum age to serve alcohol is 18. In other states, 21 may be the minimum to serve spirits, although an 18 year-old may serve beer and wine, or a server as young as 15 may serve any alcohol, but only at an off-premise location. Just try to keep it all straight!
The good news: 18- to 21-year-old servers in restaurants and bars across the country can sell beverage alcohol effectively, if they have had the opportunity to experience the products they seek to sell. Many states do permit underage tasting of alcohol, with a variety of legal stipulations, and parameters such as with parental permission (some with parental presence, and some without, both in private homes and in public), religious purposes, under the care of a doctor, and when working in a government capacity.
Indeed, culinary/hospitality students are permitted to taste alcohol in 11 states. For the purpose of sensory analysis and experiential learning, culinary students are legally permitted to taste (and spit!) beverage alcohol. Culinary/hospitality students have the guided classroom opportunity to make notes, ask questions, and evaluate beer, wine and spirits, gaining knowledge and confidence in a way that is not available to underage servers in the industry. This is an instrumental, and sometimes life-changing, process for students who may immediately recognize their passion for the world of beverages.
Those students who become servers and have a firm grasp of alcoholic beverage products can truly differentiate themselves from other servers as they knowledgeably guide customers through the restaurant's beverage menu. They have the ability to facilitate an exceptional dining experience by making beverage suggestions that complement the food. They can also tailor the experience for the customers, guiding them to new, unusual, or premium items, and in turn, adding revenue for the restaurant and themselves in the form of higher tips.
Programs that can help inexperienced servers gain confidence include food and beverage pairings training to expand their palate and experience. Another option is free online games platforms. Designed to incorporate concepts, these games are utilized in culinary/hospitality classrooms. Two of these online options, Kahoot and Quizlet, can be accessed directly from the servers' smart phone, once the quiz has been created. Prizes for the top three to five players ratchet up the interest and commitment. Correct answers to the questions and speed of answer entry really make the knowledge review fun.
Great servers sell beverage alcohol. Culinary/hospitality students learn, study and know their craft. Therefore, students, such as those who have attended, or are currently attending, Johnson & Wales University, have experientially studied beverages and can sell them in your restaurant with confidence. Challenge them.
Jennifer Broderick, Ed.D., CHE, CSW is an Associate Professor at the College of Culinary Arts, Johnson and Wales University in Providence. Prior to the last five years of teaching at JWU, her background comprised 36 years of industry experience, mainly in restaurant operations management. She has held a General Manager position at Brinker International's  Romano's Macaroni Grill and Managing Partner positions at Buca di Beppo and Outback Steakhouse.