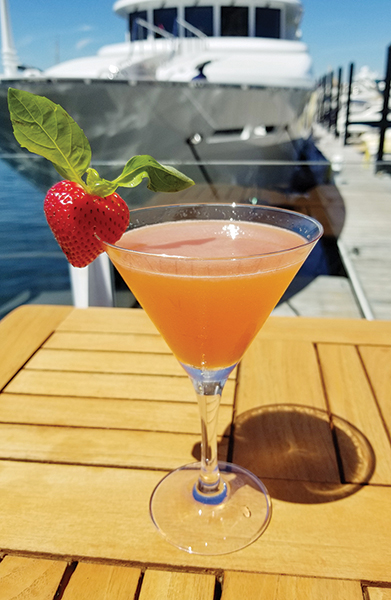 Forty 1° North
351 Thames Street
Newport, RI
The Grill at Forty 1° North provides a dockside getaway from Newport's bustling waterfront scene. Grilled meats, seafood and a raw bar, with organic and locally-sourced selections, are accompanied by a full bar selection of cocktails, wines and beers. With an open-air dining area, bar seating at a covered pavilion and an indoor dining room, as well as The Oval Bar and Lounge, guests are welcomed with options.
Bartender: Cindy Erwin
Cocktail: The Duchess
Recipe:
2 oz. Uncle Val's Botanical Gin
.75 oz. Fresh lemon juice
.75 oz. Simple syrup
Splash of club soda
1/2 Strawberry
2 Basil leaves
Muddle the basil and strawberry in the bottom of a Boston shaker. Add gin, lemon and simple syrup. Shake and double strain into a chilled cocktail glass and top with a splash of club soda.
"One afternoon in late July, I was working at the Oval Bar on the main floor. I had a guest who was drinking cosmos and the topic of gin came up," said Cindy Erwin. "He was adamant that he hated gin of all types. Of course, I had to prove that I could make a gin drink that he liked. Shortly thereafter, The Duchess was born."