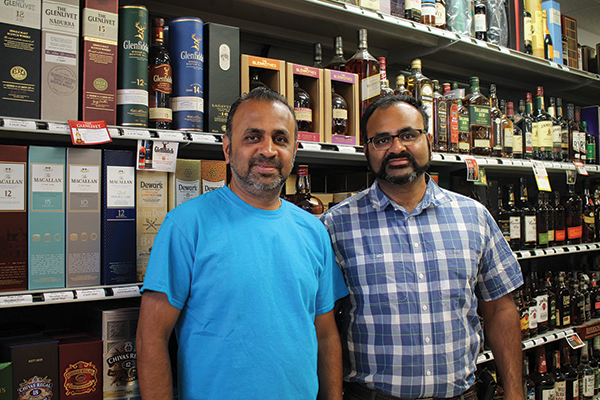 The Wine Cellar
73 State Street
North Haven, CT
Square footage: 4,500
Years in operation: 5
By Savannah Mul
The bountiful selection of imported and domestic wines, spirits and a constantly rotating craft beer selection welcomes shoppers to The Wine Cellar in North Haven. Above the wine racks are regional identifiers to help shoppers browse selections, but when Manager Kinjal Patel sees a customer lingering in an aisle, he heads over to assist.
"I try and read the customer," he said, asking questions to help make selections. Customers know they can still rely on recommendations, even if he isn't on hand for an assist, through shelf-talkers that read "Kenny's Choice" with a black star next to it. "[Doing this] makes buying easier for the customers," Patel said. Developing trusting relationships is at the heart of his customer service.
Offering 1,600 SKUs of wine in 750 ml bottles and 2,600 SKUs in 1.5 ml bottles, Patel said, "Wine is the main focus of the store. I enjoy the wines." Attending distributor-hosted tastings helps him narrow down the selection to bring in. "Some people are always looking for new and different wines to try and don't want the same type," Patel said. "If they had a Cab last night, they are looking for something new the next."
On the spirits side, Patel always looks for small-batch producers with rare allocations to offer to his shoppers, as well as the common household name brands. Boxed selections of Knob Creek's 2001 Reserve and Knob Creek 25th Anniversary sit on the top shelf. Patel also offers a growing selection of Japanese whiskeys. Further down the shelves sits a rainbow of vodka offerings. "I'd say it takes up about 40% of the shelf. It's the most drinkable spirit and popular among everybody," he said.
The store opened five years ago, just as the craft beer market was beginning to boom. Patel researched offerings and dedicated an aisle to craft beers. Since then, he has seen shoppers ranging in all age groups approach this section with "great interest," specifically looking for the next IPA to try.
"IPAs have been very big for us in each age group, but shoppers don't just stick to one type of craft beer … they are always looking for something new to try, which makes it easy to rotate," he said. More options of craft beer and other imported and domestic options are also available in the 17-door cooler.
Patel has been working in alcohol retail in Connecticut for the past 15 years in various roles. "I love what I'm doing," he said. "The best part to me is meeting the different people." Every Friday, The Wine Cellar hosts in-store tastings, whether it's a new craft beer, wine or spirit to feature in a cocktail.