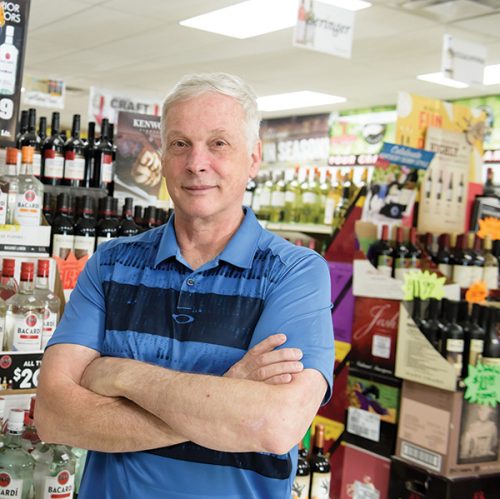 Corkscrew Wine & Spirits
1452 Broncos Highway
Harrisville, Rhode Island
Square footage: 2,700
Years in operation: 7
By Nick Caito
As far as towns go, Burrillville is a little off the beaten path. But that's just fine for Michael and Tammy Craven, Owners of Corkscrew Wine & Spirits. The two find that rural flavor to simply be part of the charm of a town they love.
"There's great campgrounds, great lakes, fishing, boating, great golf courses, and the community is solid," said Michael. "All blue collar."
After Michael's work in the construction business became a casualty of the recession, the Cravens, like so many other business owners, needed to reinvent themselves and jumpstart new careers.
"We had criteria, and they were fun ones. We wanted climate control, a recession-proof business and wanted to have fun with it. And then we saw this, we love Burrillville, and that's why we did it," he explained.
Opportunity came in 2010, when the two bought Corkscrew Wine & Spirits out of bankruptcy court. Having roots in Burrillville and living nearby, it was an easy decision.
The Cravens take special pride in their relationships with customers. The two have nicknames for almost every regular, and will fulfill any special order they can. The store has 3,000 active SKUs and an additional 4,000 more in their system, with the most requests coming for craft beer, in particular.
Among the multitude of beer, cider, spirits and wines, of which there is a section for organic selections, craft beer is a local customer-base favorite, mirroring trends elsewhere. "The craft beer business is evolving, customers are smarter, they're more educated than ever, and you have to be very careful and very selective … [so] what we do is let the customers tell us what they love," Michael said.
In addition to the boost in beer sales, the Cravens have seen big growth recently in spiked seltzer. They say the lower calorie and alcohol content have helped drive sales, as has the availability of flavor variety packs.
Customers are also guided into newer selections by point-of-sale displays in-store and highlighted selections or brands from the store's social media feed.
Being in the far northwestern corner of Rhode Island means Corkscrew also caters to residents of Connecticut and Massachusetts. While the Cravens keep pricing competitive in order to draw people in, they also say it's their "good rapport and service" that keeps customers coming back.
"There's a lot of people who could very easily go to Connecticut or Massachusetts, and they still come to us," Tammy said. "There are customers who will drive past these big superstores and come here. It's a good feeling, it means a lot to us."