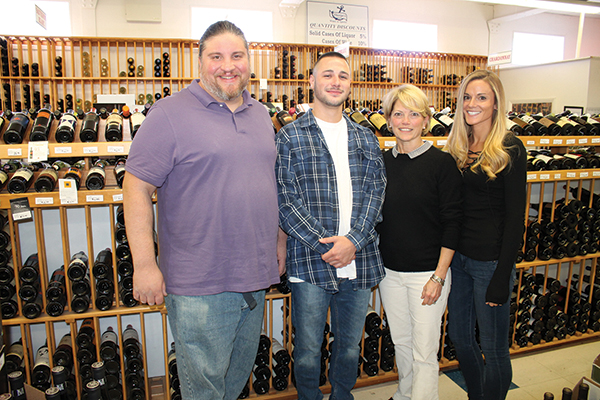 Thorpe's Wines and Spirits
609 Main Street
East Greenwich, RI
Square footage: 3,000
Years in operation: 7
By Savannah Mul 
"You want to go where everybody knows your name…" That feeling of community embodies Thorpe's Wine and Spirits, said employees, who describe the store as "very 'Cheers'-like," due to its connection to the local market it serves. Owner Patti McGreen purchased the store seven years ago, keeping the original name. "It had good brand recognition already in the town," she said.
McGreen said her staff of 16 is always willing to help, answering questions and giving counsel to shoppers looking for the best buy, and in a "social and bright" environment. Store Manager Jackie Forsythe said when it comes to recommending a product, "We just try to give the best advice on what we see what sells or what we know."
Since taking over ownership, McGreen has added improvements to the building including a new roof, new coolers, heating and air conditioning units and updates to the parking lot. She also implemented a new point of sales system and a delivery service organized by Customer Service Manager Tyler McLaughlin. The wide aisles offer room to roam and encourage learning between the staff and customers.
McGreen and her staff increased the product selection in the store to approximately 6,000 active SKUs to keep up with consumer demand on different craft beers, wines and spirits. Of particular interest are the bourbon and Scotch categories, where they carry at least 100 SKUs of each style.
"We really try and make this a destination for craft beer lovers, too," said Beer Manager Mike Berry. "We offer a wide variety of craft beers as well as domestic giants." Berry said they proudly stock local state brews such as Gray Sail Brewing of RI, Whaler's Brewing Company, Revival Brewing Company and Foolproof Brewing among many others.
As for "non-local" beers, he said they stock "anything from Maine, to Washington … to California," or will special order to bring in for a customer. "We've also devoted a cooler door to singles and seasonal arrivals for people to try and taste what they like."
In addition to floor purchases, an increase in popularity among the "behind the counter" purchases of 50 to 100 ml bottles helps the bottom line. McGreen said they sell about 300 of those items daily. Thorpe's Wine and Spirits offers in-store tastings on Fridays and Saturdays on beer, wine and spirits to promote new products or specials.
McGreen, along with her staff, calls the industry "trend driven" and their retail store is "under constant metamorphosis" anticipating the next hot item to stock. "We're not afraid to react," she explained.
"I really like the people who work here and our customers," McGreen said. "And I like the products, too. It's a fun industry to be in and maybe it's our location, but our customers are great. It's an enjoyable day coming from working in corporate America."