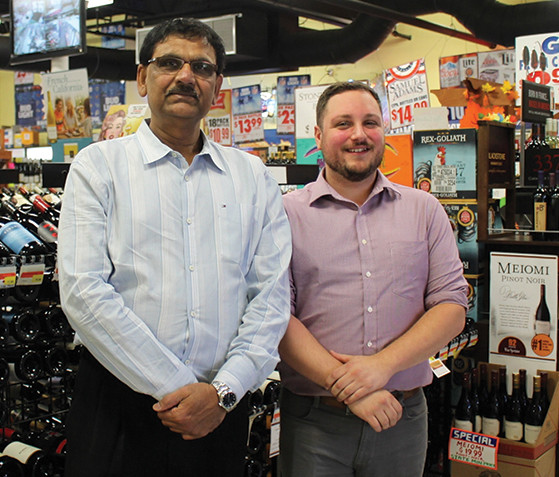 Essex Wine and Spirits
125 Westbrook Road
Essex, CT
Square footage: 4,000
Years in operation: 10
By Savannah Mul 
December marks Bhaskar Sureja's 10th successful year in business at Essex Wine and Spirits. His success has come in many ways, from strong employee retention to quality customer service, coupled with a custom product selection, he says. With previous experience working in the food industry, he knew strong customer service is a backbone in any business. He welcomes customers into his store "with kindness" and a helpful attitude to guide them into finding exactly what they're looking for.
Essex Wine and Spirits offers about 2,500 different SKUs of beers, wines and spirits from brand names to smaller producers. Sixty percent of the store's sales are attributed to wines, Sureja said, adding that the store's selection has been built up through customer recommendations and staff knowledge. Sureja's philosophy toward his employees is similar to that offered to his customers — a sense of partnership.
About three years ago, Sureja hired Bill DiRienzo, who was recently promoted to manager. DiRienzo has since grown the store's craft beer offerings and manages its selections on Beer Menus, an online resource allowing customers to search bars, restaurants and retail stores to see offerings prior to visiting.
DiRienzo said featuring their craft beer selection on the online platform has been "beneficial to the business" because it publicizes their selection for enthusiasts. Within the store, he organizes and presents craft beers similar to how they showcase wines in their store. DiRienzo said, "It's easier to sell something that you honestly believe in." He said his own interest in Belgium sour beers, for example, helps sell those products, as well as build a customer relationship along the way.
Sureja, who gauges social media responses and word-of-mouth traffic, said when he sees his customer count increase he knows his local customers are satisfied. "At the end of the month, we don't look at how much sales we do, we look at the number of customers; that's the important part." Sureja explained. "If my customers are happy, then we're happy," Sureja said.
Sureja believes he and his employees should have a "rest day" and made the business decision to close his store on Sundays. He reflects that he has opened on Sundays before, depending on the holiday season, but said his employees deserve the time off. "We don't lose out on any business, everyone needs a day off," he said.