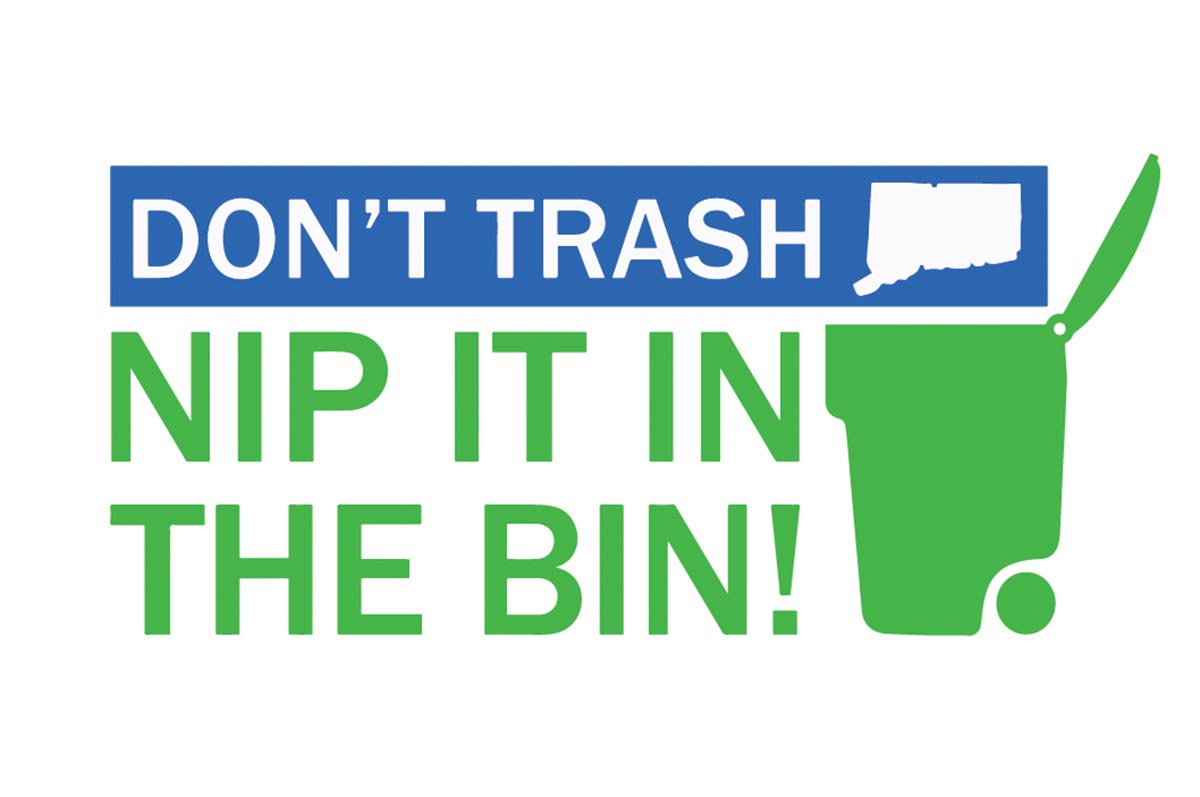 Annual report highlights collaborative efforts
By Dana Slone
Three Tiers for Connecticut issued its annual report for the 2019-2020 efforts across the state in helping to make Connecticut's roadsides, waterways and public spaces trash-free, specifically geared toward wine and spirits containers, especially 50-ml "nip" bottles.
June 2020 marked the end of the first year of Don't Trash Connecticut – Nip it in the Bin!, a dynamic, three-pronged collaboration between Three Tiers for Connecticut, a not-for-profit 501(c)(3) organization representing the three tiers of Connecticut's wine and spirits industry – suppliers, wholesalers and package store retailers – and Live Green, the 501(c)(3) public charity co-founded by Daphne Dixon in 2010.
The five-year public service campaign was designed with three elements: community cleanups, education and public space stewardship. Lawrence F. Cafero Jr., President and Treasurer, Three Tiers for Connecticut, and Executive Director and General Counsel, Wine & Spirits Wholesalers of Connecticut, Inc., reported that the first-year efforts started strong.
"We held two community cleanups that captured nearly a half-ton of litter, we created and distributed thousands of posters and stickers to Connecticut's package stores, we signed a partnership to be the title sponsor of a new litter 'skimmer' boat and planned the kickoff of our spring and summer 2020 activities in April on the 50th anniversary of Earth Day," he said. "Needless to say, the COVID-19 global pandemic temporarily sidelined some of our public events, but, by any measure, we reach the end of our first year with accomplishments that met our goals."
The two community-based litter cleanups in the fall of 2019 in Norwalk and West Haven resulted in approximately 100 volunteers collecting more than 800 pounds of litter, which was then sorted and measured by Live Green to catalog and characterize the material and properly disposed of courtesy of The Junkluggers, based in Seymour, Connecticut. The collected litter featured hundreds of beverage containers of all sizes and materials, including the 50-ml nips and nearly as many deposit-bearing bottles and cans currently covered in the bottle bill, as well as straws, cups, cigarette butts, empty vape cartridges and plastic bags.
In April, Three Tiers for Connecticut contributed $1,000 to help underwrite a creative grassroots program aimed at collecting and recycling nip bottles in the town of Thompson. The Nips for Holiday Cheer program, led by Thompson Together, collected nips from town residents in exchange for gift cards. The collection netted 30 trash bags filled with thousands of nip containers, and the program is slated to continue through the 2020 holiday season.
Three Tiers for Connecticut created a public and media relations campaign involving earned media, social media and consumer-facing point-of-sale material to spread the word about the Don't Trash Connecticut initiative. For its public outreach efforts, the team developed story lines to showcase the Three Tiers for Connecticut campaign, generating approximately $103,000 in earned media value, which is a method used to measure the value of third-party exposure achieved through public and media relations, as opposed to paid media, i.e., advertising, and owned media, which includes websites and social media.
Point-of-sale education began in March 2020, where Connecticut's package store retailers displayed posters and stickers to catch the eyes of their consumers and remind them to properly dispose of their nips, bottles, cans and boxes when they are empty. A total of 5,000 posters were deployed by the members of the Wine & Spirits Wholesalers and the Connecticut Package Stores Association to the state's 1,300-plus package stores.
Teaming up with Connecticut Department of Energy and Environmental Protection to build a strategy to collaborate on the purchase and placement of numerous disposal bins in public locations began with a goal to find the optimal places to locate the bins and ensure that they are serviced regularly. With a litter focus on the land and waterways, Three Tiers for Connecticut inked the signature sponsorship of a litter "skimmer boat" that will be deployed by Housatonic River Clean Up, Inc., in 2021.
"While the COVID-19 pandemic has postponed our planned events, we are busy preparing and looking forward to the day when we can pick up where we left off to help clean up the little piece of the world we live in," he said. "We face the coming year with great confidence that our education, access and litter prevention efforts will post great results. We are also convinced that Three Tiers for Connecticut and our Don't Trash Connecticut – Nip it in the Bin! campaign have all the markings of a model public-private-NGO partnership."