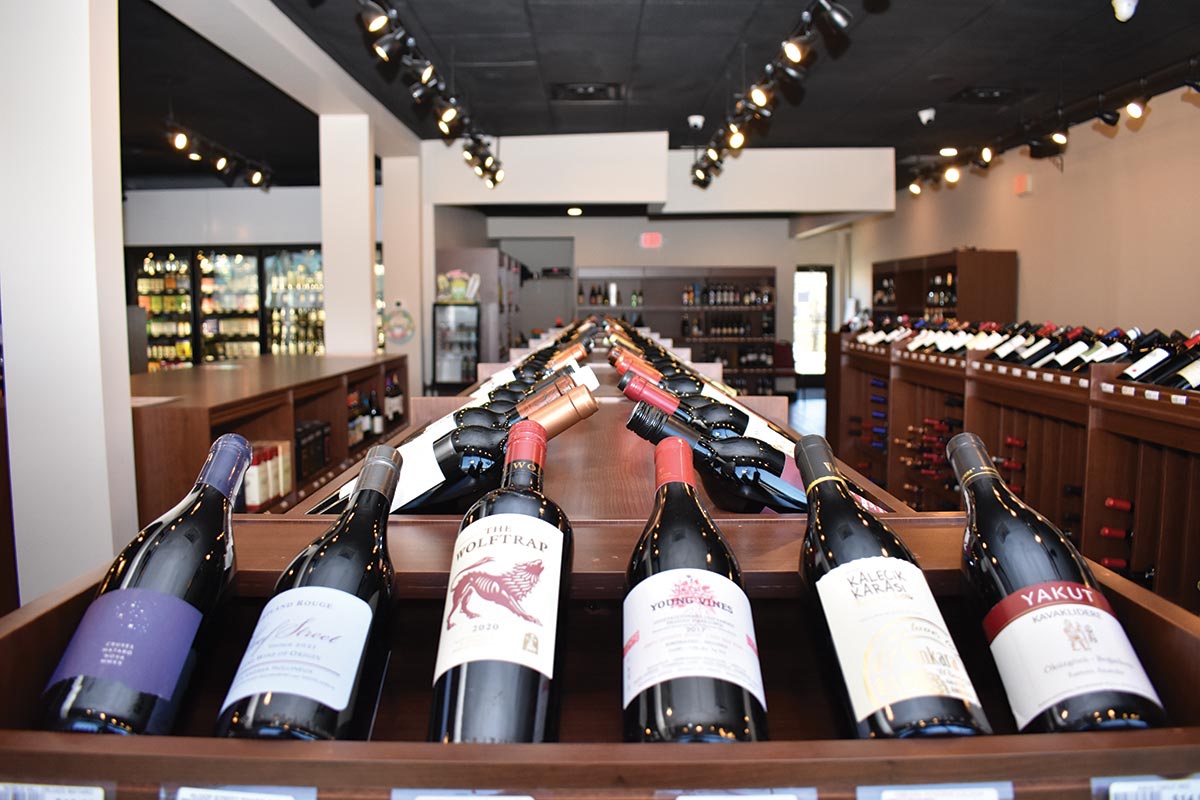 Tilted Bottles Wine, Beer & More
10 Raymond Road
West Hartford, CT
Square footage: 3,750
Years in operation: 3 years
By Sara Capozzi
In just under three years in business, Tilted Bottles Wine, Beer & More has established itself as a destination for customers seeking a unique selection of wines and local craft beer and spirits. Owned by Maulik Vyas, who runs the shop day to day with General Manager Eric Jacoby, the shop has distinguished itself in the walkable neighborhood of West Hartford's Blue Back Square as the place to go when seeking uncommon bottles and personalized service.
Tilted Bottles is located in the space of the former West Side Wines, which was owned and operated by Greg Nemergut for 20 years. The Tilted Bottles team has continued where Nemergut left off, sharing his same philosophy for offering unique fine wines with impeccable service. Nemergut passed away in 2022, but Vyas and Jacoby remember him fondly. "He was an encyclopedia of knowledge," Vyas said. "He knew his wine," Jacoby agreed. "He taught me everything I know and he's still very much integrated into the fabric of the store."
Vyas has gone on to put his own personal touches on the store, installing custom-made wooden shelving, expanding the cooler doors from three to 11 and gradually adding to the craft beer, ready-to-drink and spirits inventory to accommodate the latest requests of its growing customer base. The shop's clientele ranges from West Hartford residents to people across the state who are drawn to its unbeatable selection.
"When we were first transitioning, our goal was to retain as many customers as we could and we were also trying to grow our new customer base, which we have done, I think, a considerably good job at," Jacoby said. "Our customer base is considerably a lot younger than what the store had previously and it's diversified. We're not just selling wine; we're selling beer and canned cocktails and seltzers and spirits. We've grown in pretty much every category."
The Tilted Bottles team focuses on creating relationships with customers, teaching them about wines through hand-selling and hosting in-store weekend tastings and special events, such as its annual high-end Champagne tasting.
"We're very tasting-focused and that's how we get our customers to try products that they normally wouldn't try or take a chance on," Jacoby said. "That's a great way to educate and get our customers to expand their palates and find their new favorite wine; it just takes off from there. We get the same people coming back for the tastings, so it also sort of builds a community and a friendly neighborhood atmosphere as well."
Vyas says the great feedback he receives is motivating. "This is my passion … I'm so proud of what we've created," he said. "I haven't seen this kind of service at any package store I've walked into."
Tilted Bottles gives back to the community often, with donations to local schools, churches and charities including the West Hartford YMCA and Bristol Adult Resource Center and, recently, an association aiding Ukrainian refugees. Vyas also dedicates his time as a founding member and Treasurer of the Executive Committee of the Indian American Package Store Association.