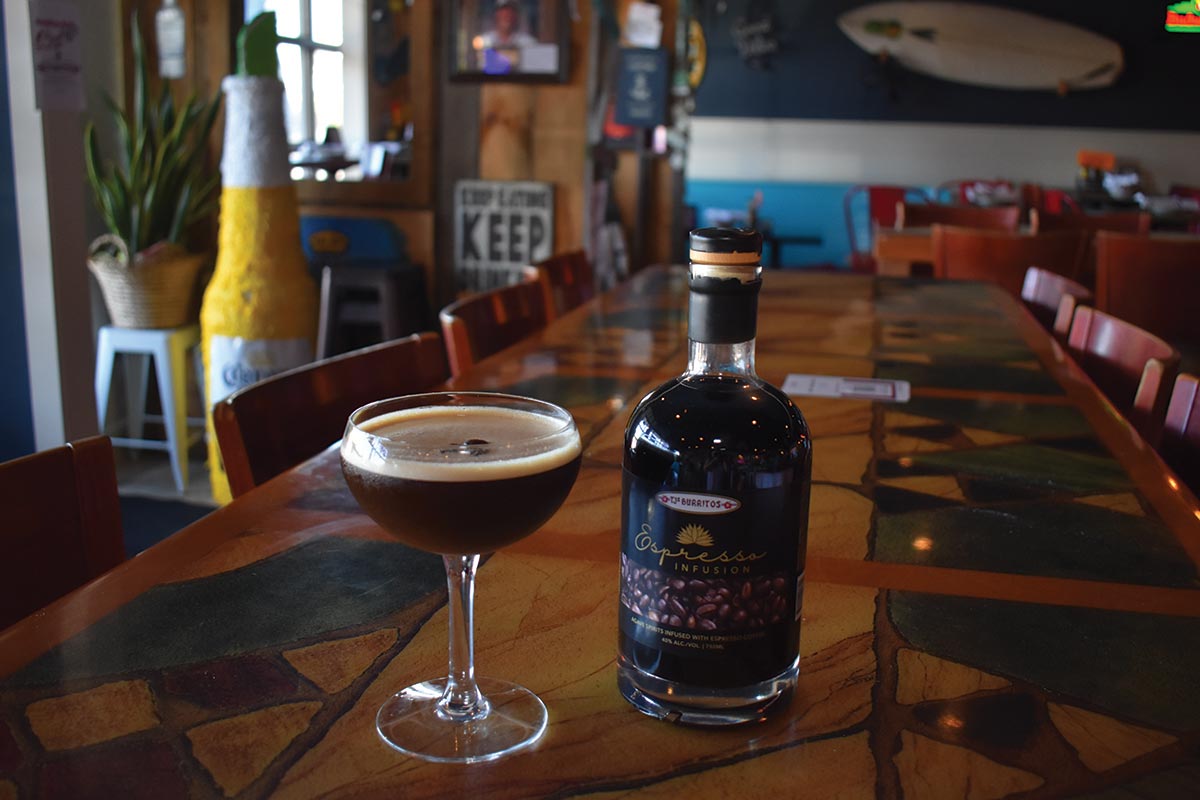 TJ's Burritos
3 Turkey Hills Road #3L
East Granby, CT
Opened in February of 2021, East Granby's TJ's Burritos serves up much more than its marquee name implies. Co-owners Tricia Martin and Jeremy Jackson, with Partner and Executive Chef Stefan Drago, offer guests a variety of experiences under one roof with separate seating at its new bar, dine-in amid the venue's Tiki-themed décor or takeout stations for its coffee and bakery. The menu spans Tex-Mex and American comfort food from its lunch and dinner menu, offering everything from burritos, bowls, salads and sandwiches featuring local farm produce, freshly baked breads and pastries, gourmet coffee and desserts. The goal was to create a surf-style retreat within the plaza on Turkey Hills Road. "You really get that beachy feel," Martin said. "You don't feel like you're sitting in a strip mall. We have live music on Thursdays, Fridays and Saturdays, set up in the little Tiki hut, so the vibe in here at night is really fun." The cocktail menu offers unique craft concoctions to suit any taste, and guests can order cocktail flights to find their favorites. The venue's fall cocktail menu showcases the Pumpkin Chai Spiced Espresso Martini, created by Martin as part of a flight of espresso martinis: one with bourbon, one with vodka and one featuring a housemade espresso-infused tequila.
Owner: Tricia Martin
Cocktail: Pumpkin Chai Spiced Espresso Martini
Ingredients:
» 1.5 oz. TJ's Burritos' Espresso Infusion
» 1 oz. Wild Moon Liqueurs Chai Spice
» .25 oz. Kahlúa
» .25 oz. espresso
» .25 oz. simple syrup
» .25 oz. pumpkin purée
» Garnish: 3 espresso beans
Method: Add all ingredients to a shaker over ice. Double strain the mixture into a martini glass. Top with three espresso beans.
"We wanted to put our own twist on it, being a Mexican restaurant," Martin said. "So, instead of your traditional vanilla vodka, it's made with an espresso-infused tequila. With it being fall, we added our pumpkin purée and a chai spice to give it that pumpkin chai flavor. It's a nice fall drink." Building off the popularity of her housemade espresso tequila, Martin has created a locally made version that soon customers can find at retail or on-premise.
Made in collaboration with Litchfield Distillery, Espresso Infusion brings Martin's housemade espresso-infused tequila tastes into a Connecticut-made agave spirit accented by her coffee bean blend from Drumroll Coffee Roasters in Wethersfield. Newly bottled and soon to be more widely available for purchase at retail and on-premise, it is the key ingredient in the showcased martini launches in-house on her menu. "I couldn't wait for fall to come so I could put that pumpkin chai spice in there," Martin said.