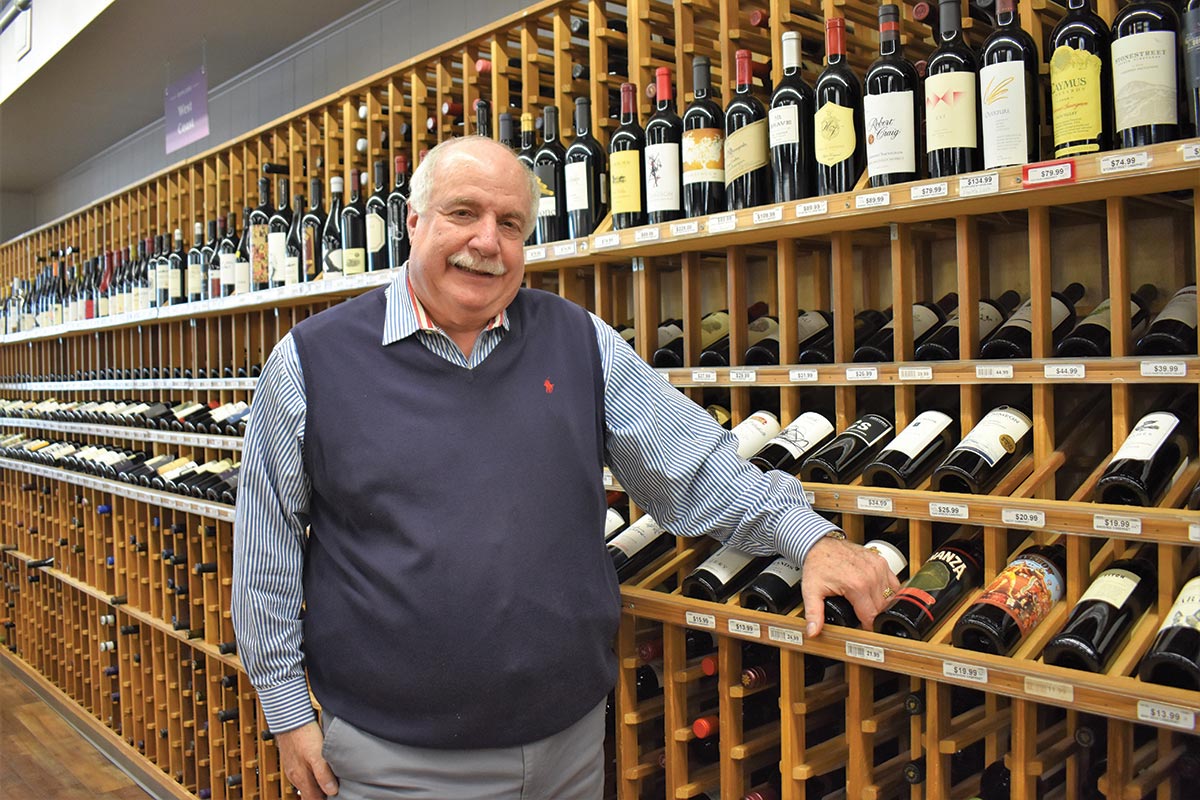 Town Wine & Spirits
179 Newport Avenue
Rumford, RI
Square footage: 3,000; 5,000 with storage
Years in operation: 76 years
By Sara Capozzi
Family-owned since 1954, Town Wine & Spirits is a destination shop for its unsurpassed selection of fine wine and spirits. The store is run day to day by Owner Elliott Fishbein, who has gained a following of fans across the country and even overseas since he took over in the 1980s.
"Selection is big for us," Fishbein said. "We like having a big selection of wines that you'd only find in New York or places like that. And we've been fortunate to be one of the shops people stop at if they're traveling between Boston and New York.
"I think being located here in Rumford, there were a lot of people who were traveling or coming back from Europe and asking about wines and spirits," Fishbein continued. "A lot of professors from Brown were looking for native wines that they were used to from their countries and we had them. So, the business grew from people traveling and looking for some of the things that they found, either at home in their native countries or duty free."
The store first made its mark for its selection of fine French and California wines, at a time when the Golden State wine movement was first gaining popularity. "We traveled to France yearly at that time … bringing the wine back through wholesalers locally and at the same time really working on California because [it] was becoming alive with really cool things; we started going there twice a year," Fishbein said. "So, [this] continues to be one of the better wine shops in that we take it seriously, we invest in the higher-level wines, from the Bordeaux and Burgundy, and, obviously, from California, and we rounded out the selection so it really encompasses the world."
That said, Fishbein offers more than 300 French wines, between 300 to 400 California selections and over 40 different Champagnes. Shoppers will find bottles from every region at a variety of price points, with high-end selections stored in one of the store's three temperature-controlled wine rooms.
Town's huge selection of Scotch has put it on the map for lovers of single malt on a national scale, who stop in when they are in town or traveling nearby. Scotch is a true passion for Fishbein and he has built up the store's following through word of mouth and an email list that has reached nearly 20,000 subscribers.
"It's my reputation and it's my love for it. I promote single malts a lot because I think [they are] some of the finest spirits you can drink," Fishbein said. Visible to passersby, Fishbein recently had the side of the building painted white, with black letters spelling Laphroaig, a reproduction of the lettering from the distillery's iconic warehouse on the south coast of Islay.
A wide selection of other curated spirits awaits, including bourbons, ryes, cordials, tequilas and vodkas, as well as more "esoteric products" such as single malts from Ireland, Japan and France. "It's amazing what we can do with so few square feet of selling space," he said. "It's like coming into a library, especially coming in to look at single malts. If you're just beginning, or if you're just looking for great bourbons, the selection is, I think, kind of awesome."
Fishbein enjoys running the shop with his team of 17 to 18 employees and the daily interactions with his clientele. "It's fun. It's nice seeing people enjoy the labor we put into buying products and even in fine wines, people come in and say, 'Where did you find this?' and we have fun explaining."